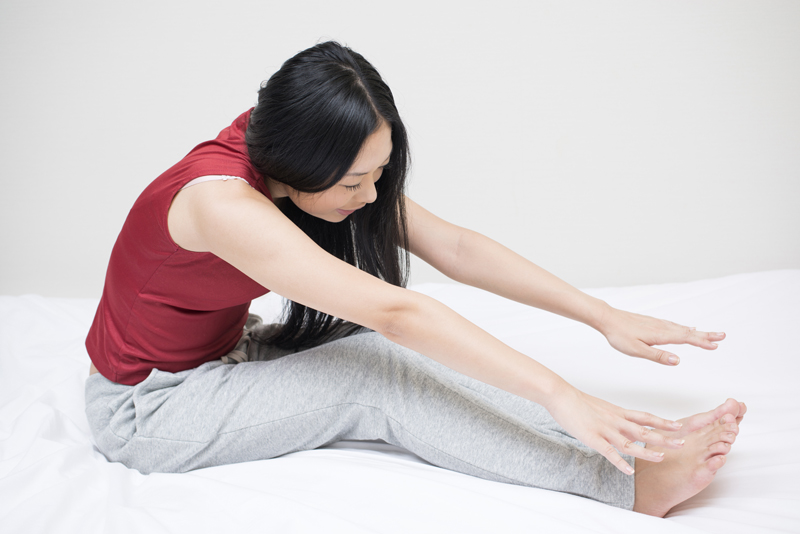 While most student learn about the "five senses" – sight, hearing, smell, taste, touch – in grade school, fewer students learn about an important sixth sense, proprioception. Proprioception involves the sense of where one's body is in space, and is closely related to another important but often overlooked, sense, one's sense of balance.

Sensory nerves in the neck, torso, feet and joints provide feedback, called proprioception, to the brain that allows the brain to keep track of the position of the legs, arms, and torso. The body then can automatically make tiny changes in posture to help maintain balance.

Proprioception affects the ability to balance. Balance is also maintained from visual information, skin pressure, and information from the inner ear (the vastibulocochlear nerve).

Loss of sensation in the joints can cause propblems with proprioception. This can occur in many individuals with neuromuscular disease, including Freidreich's ataxia, Charcot Marie Tooth, myopathy, and spinal muscular atrophy.

Problems with proprioception can contribute to problems with balance, clumsiness, and falling in children and adults. Falling can cause minor injuries such as cuts and bruises, as well as major injuries such as bone fractures and head injury. Many individuals with neuromuscular disease also experience social embarrassment related to balance problems.

Many people with difficulties with proprioception cope by relying more heavily on visual information and feedback from the middle ear to maintain balance. Problems with balance may become hightened in situations such as crowds or darkness, when visual information is not as availlable.

A number of suggestions for reducing falls related to problems with balance and proprioception include improving concentration and attention to movement and forming new body habits such as avoiding moving or switching direction too suddenly. Individuals should also consult their physicians regarding appropriate use of assistive devises such as braces, canes, crutches, walkers, scooters, and/or wheelchairs.

Individuals may find it beneficial to consult with a physical therapist to learn how to fall properly to reduce injury risk. A physical therapist can also help those with neuromuscular disease develop an appropriate moderate exercise to keep muscles as strong as possible.

Home modifications may also be appropriate, such as eliminating obstacles on the floor, replacing deep carpet, making sure furniture is dependable to lean on, and making bathing safer by adding support rails. A professional home evaluation by an occupational therapist or physical therapist may be helpful to learn how to make home more user friendly now and in the future.

Even though often overlooked during elementary education, proprioception provides important sensory information that influences balance. A better understanding of proprioception can help those with neuromuscular disease learn how to better cope with the some of the challenges that they experience.

Resources:

CMTA, (n.d.). What is CMT? CMTA website. Retrieved on 10/27/15 from https://www.cmtausa.org/index.php?option=com_content&view=article&id=75:types-and-causes-of-cmt&catid=10:resources&Itemid=51.

Kids Health from Nemours, (n.d.). Balance Disorders. KidsHealth from Nemours website. Retrieved on 10/27/15 from https://kidshealth.org/parent/medical/ears/balance_disorders.html.

Medvascek, C., (2002). All Fall Down: Staying Upright With a Neuromuscular Disease. Quest, 9:6. Retrieved on 10/27/15 from https://www.mda.org/publications/quest/q96fall_down.html.

NINDS, (2014). Friendreich's Ataxia Fact Sheet. National Institute of Neurological Disorders and Stroke, National Institutes of Health website. Retrieved on 10/27/15 from https://www.ninds.nih.gov/disorders/friedreichs_ataxia/detail_friedreichs_ataxia.htm.

WebMD, (n.d.). Dizziness, Lightheadedness and Vertigo – Topic Overview. WebMD website. Retrieved on 10/27/15 from https://www.webmd.com/brain/tc/dizziness-lightheadedness-and-vertigo-topic-overview.



You Should Also Read:
Learn about accessibility and voting.
Read about handling performance anxiety.
Read about Jerry Lewis and his many contributions.


Related Articles
Editor's Picks Articles
Top Ten Articles
Previous Features
Site Map





Content copyright © 2023 by Jori Reijonen, Ph.D.. All rights reserved.
This content was written by Jori Reijonen, Ph.D.. If you wish to use this content in any manner, you need written permission. Contact Jori Reijonen, Ph.D. for details.