Southwestern Taco Stromboli
As much as my family
love
taco night, whether it be ground beef, fajitas or burritos, I wanted to come up with a fun way to eat "The Taco".
This Southwestern Taco Stromboli is a fun twist. Essentially, a Stromboli is a rolled up pizza. As my children are half Italian and we all crave Mexican food, I thought this would be a great idea.
You can make this into an appetizer or have it as a main meal. Variations for this recipe could be endless. Use whatever you have on hand in your pantry or left over in your refrigerator. Have fun with it and get creative!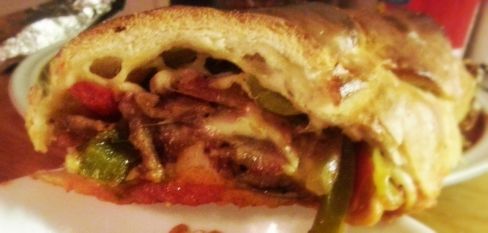 Ingredients
1 lb. prepared pizza dough (or my fool-proof pizza dough - recipe follows)
1 lb. ground beef (preferably chuck)
1 cup diced yellow onions
1 1/2 tsp. ground cumin
1 tsp. Arbol chili powder (or regular store-bought chili powder)
1 1/2 tsp. whole oregano
1 1/2 tsp. granulated garlic
1 1/2 tsp. kosher salt
1/2 cup canned black beans, rinsed
1/2 cup canned sweet corn
1/4 cup diced Hatch green chilies (or 3 jalapeños, de-seeded and diced)
1/3 cup thinly sliced green onions (scallions)
2 cups shredded cheddar cheese
2 bunches of fresh cilantro, roughly chopped
1 egg beaten with 1 tbsp. milk or water
4 tbsp. olive oil, divided
1/4 cup cornmeal
Method
Preheat the oven to 425 degrees F. for at least 15 minutes.
1. Heat 2 tablespoons of the olive in a skillet over medium-high heat until it shimmers. Add the onion and cook until translucent for approximately 5 minutes. Add the browned meat, cumin, chili powder, oregano, granulated garlic and salt to the pan. Mix well.
2. Raise the heat to high and add the cornstarch mixture. Bring to a boil, stirring constantly. Cook for at least one minute and then reduce the heat to medium and continue cooking for 10 minutes, until the meat is nicely coated. Remove from the heat and cool.
3. Add the corn, black beans, green onions, cilantro and chilies to the meat mixture. Stir well to combine.
Assembling the Stromboli
1. Roll out the dough on a lightly-floured surface into a rectangle - approximately 16 inches x 8 inches (this doesn't have to be exact!)
2. Lightly brush the dough with the remaining olive oil (this will prevent the ingredients from making the dough soggy inside.)
3. Working with the longest edge in front of you, layer the ingredients twice in this order (cheese, meat mixture, cheese) using 2/3 of the dough surface, leaving a 2 inch edge of plain dough and the same down the sides.
4. Brush the bare edges with the egg wash mixture, then fold the short edges in first, one inch at a time, brushing again with egg wash after the first fold.
5. Then, using two hands, roll the Stromboli (jelly-roll style, as tight as you can without tearing the dough). Place some of the cornmeal on a parchment-lined baking sheet and brush with the egg wash. Gently roll the Stromboli in the cornmeal.
6. Lastly, make about four 1/2 inch slits at even intervals on top of the dough with a sharp knife.
7. Bake for approximately15-20 minutes until golden brown. Remove from the oven and let it cool down before slicing it.
Fool-proof Pizza Dough
Ingredients
3 cups bread flour (leveled off with a knife), plus a little extra for dusting
1 tsp. table salt
1 1/3 cups water (you may not use it all)
1 packet Fleischman's dried yeast or instant yeast
1 tbsp. maple syrup or honey
2 tbsp. olive oil
Method
1. To begin, dissolve the yeast packet into 1 cup of warm water (110 - 115 degrees). Just put your thermometer in the water without it touching the bottom or sides of the cup. If you are using a regular dried yeast packet (not instant) then use this method. If you have an instant yeast packet you can just add this to the flour. There is no need to dissolve it. It works like magic and so you can skip step 1.
2. In a large bowl, combine the flour, salt, instant yeast packet (if using), and mix together.
3. Make a well in the center of the flour and add the dissolved yeast and the maple syrup or honey. With a knife or fork, gently mix it around until it starts to come together. Then, go in with your hand and bring the dough together. Turn onto a lightly floured board and knead the dough for no more than 5 minutes. The less you mess, the better the dough will be. If it seems too dry and still crumbly, just keep adding a few sprinkles of water until it comes together. If it's too wet, then dust a little more flour on the dough. Shape the dough into a disc.
4. In a large, clean bowl add the olive oil and coat the dough disc all over. Cover with a kitchen towel and leave it in a warm spot, free from drafts. Let the dough rise until doubled in size, approximately 1 - 1 1/2 hours.
5. Make your filling for the Stromboli before going on to Step 6.
6. Punch down the dough and divide it into equal portions if you want to make multiple Stromboli. Roll into a rectangle as thin as you can turning the dough a quarter turn as you roll. Do not turn it over. Just roll and turn, roll and turn in one direction (forward), not back and forth.


Related Articles
Editor's Picks Articles
Top Ten Articles
Previous Features
Site Map



Follow @CateringMom
Tweet



Content copyright © 2022 by Allyson Elizabeth D´Angelo. All rights reserved.
This content was written by Allyson Elizabeth D´Angelo. If you wish to use this content in any manner, you need written permission. Contact Allyson Elizabeth D´Angelo for details.