Regular People - Noah, Abraham and Isaac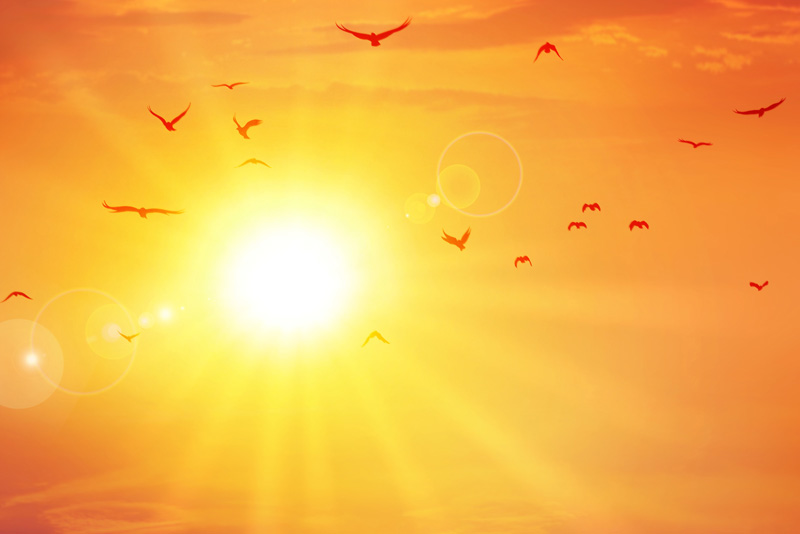 What would happen if God wrote another book like the Bible? One about the people of today. Am I good enough to be in it? Are you?
It is tempting to look at the people in the Bible as perfect examples of godly living – something that we could never hope to be. Were those ancient people so different from you and me?
Open your Bible to Hebrews chapter 11 to find a list of famous Bible people. You may find a heading such as "Great Examples of Faith" or "Heroes of Faith." Get ready to read about the great men and women of the Bible. These people were honored for their faith.
Let's read about a few of these great examples.
Noah
This man built an ark because he believed God when He told him there was going to be a flood, even though he had never seen a flood. God told him that it would destroy every living thing except what was protected on the ark. Noah obeyed and built the ark according to God's instructions. It was big enough to hold two of every animal on the earth, as long as 1 ½ football fields and as high as a 4 story building. In the years it took to build it, Noah must have endured the constant ridicule of his neighbors who hadn't even seen any rain.
Noah built the ark, took his family into it and waited through the flood and until the flood waters receded. He had saved his family and all the animals needed to repopulate the world - all because he believed God.
Was Noah perfect? It doesn't seem so. After he left the ark, there was an unfortunate incident. Noah got drunk and embarrassed himself by passing out in front of his sons. What kind of example of godly living is that?
Read about Noah in Genesis 5:29 – 10:32
Abraham
Abraham was told to leave his very comfortable home land and to go to a land where he would be a stranger. He went because God told him to go. God promised Abraham that he would later receive this new land as his inheritance. He obeyed and went there and lived in tents. Abraham never saw his inheritance while he lived but he believed in it.
Genesis 15:6 "Abram believed the Lord, and He credited it to him as righteousness"
God told Abraham that he would father a great nation. He believed God even though he and his wife were very old and had no children. By faith, his son Isaac was born. Abraham became the father of the Jewish nation.
Abraham believed in impossible things – things that he couldn't see - because God told him what would be. His faith pleased God
Was he the perfect example of godliness?
The Bible tells of an instance that Abraham was not so godly. He and his wife Sarah were travelling. He was well aware that his wife was a beautiful woman and began to fear that the men of the country would kill him in order to take Sarah for their own. He came up with the brilliant plan of passing Sarah off as his sister. He felt that the men would treat him well because of her. Genesis 12:10-13 "Say you are my sister so I will be treated well because of you."
That isn't behavior that I associate with a godly man.
Read about Abraham in Genesis 11-25 and Exodus2:24
Isaac
Isaac was the miracle child given to Abraham and Sarah. In their old age, Isaac was born, becoming the first descendent in fulfillment of God's promise to Abraham. When he was old, Isaac blessed his sons Jacob and Esau in regard to their future, even though he hadn't seen it. He believed God's promise.
Was Isaac perfect?
Again, Isaac didn't always behave like a hero of the Bible. He tended to lie under pressure and sought to avoid confrontation. He fathered twin boys but wasn't a great father. He favored one over the other.
Isaac fell into the same unattractive behavior as his father, when he found himself in a tense situation. Some men asked him about his wife and he said "She is my sister", because he was afraid to say, "She is my wife."
Read about Isaac in Genesis 17:15- 35:29, Romans 9:7-8, Hebrews 11:17-20, James 21-24
These heroes of the faith didn't always lead honorable lives. They didn't always trust God with their problems. They often acted on their own, but when they believed in and acted on God's promise of a future, their faith pleased Him.
These men are called heroes of the faith even though they were normal people with normal flaws. You and I have not been perfect in the past and will not be perfect in the future. This is no surprise to God. There was one perfect person on this earth – Jesus Christ. What do we have to do to be counted worthy of God's approval? Faith in Christ and holding on to the promise of salvation pleases God.
"And without faith it is impossible to please God, because anyone who comes to Him must believe that He exists and that He rewards those who earnestly seek Him." Hebrews 11:6
Read about Jacob, Joseph, Moses and Rahab.
You Should Also Read:
Adam - the First Man
The Adulterous Woman of the Bible
Unamed Woman - Persistant Prayer


Related Articles
Editor's Picks Articles
Top Ten Articles
Previous Features
Site Map



Follow @LynneChapman
Tweet





Content copyright © 2021 by Lynne Chapman. All rights reserved.
This content was written by Lynne Chapman. If you wish to use this content in any manner, you need written permission. Contact Lynne Chapman for details.