Irish Red Ales and Stouts for St. Patty's Day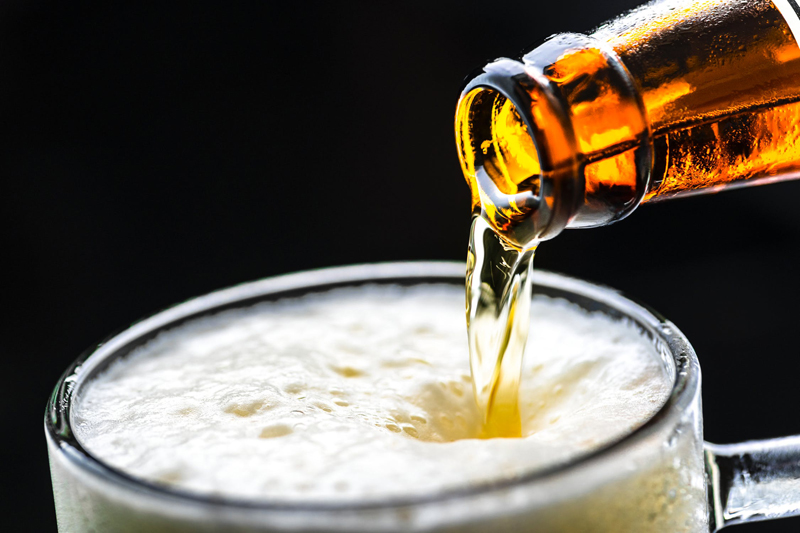 It's the color of money, the grass in spring, jungles, pixies and moss. Green - the symbol of Ireland, gateway to St. Patty's Day and the national color of Ireland. Green promotes relaxation. In dark tones, it may be viewed as a masculine and conservative color that implies wealth, but in bright sunlight, green may symbolize youth or a tenderfoot. The color is all-encompassing, as is the celebration of St. Patrick's Day in the U.S., where it has become a day to celebrate life.

"May you always have a clean shirt, a clear conscience, and enough coins in your pocket to buy a pint," the Irish toast reminds us. Ireland used to be known for meat and potatoes, Irish whisky and a full pint. With the expansion of food chains like Sainsbury's and Tesco Markets, people in Ireland have a diet much the same as the average American, including enough fast food to push the scales into the upper limits.

Celebrity chefs Paul Rankin and Darina Allen have done much to update traditional Irish recipes for the 21st century. Coupled with the Slow Food Movement that promotes locally-sourced, quality foods prepared with old-world care, the promotion of Irish Fusion cuisine on St. Pat's Day scores high marks among those who enjoy food, paired with Irish Stout, Red Ale, or locally sourced whisky.

Potatoes have long been viewed as a staple of Irish society, but they were actually a new-world food, viewed as a curiosity when they were introduced to the European continent in the 16th century. Potatoes were not initially accepted as a food of sustenance until a century later. Traditional Irish Stew, introduced in the 1800s, was made with lean neck mutton-chops, potatoes, onions and water. Today's chefs may add carrots or turnips, but purists insist on keeping with tradition.

Colcannon, cál ceannann, referred to white cabbage or kale from which it sprang. Made with mashed potatoes, cabbage and leeks, this hearty dish occasionally has milk, scallions, cream, salt, pepper and butter added. Served with ham or Irish bacon, colcannon demands a beverage with rich flavors to complement the softer flavors, and hoppiness to cut the starches.

Traditional Irish beer styles include Irish Red Ale or Lager and Dry Irish Stout. Irish Reds glow with a coppery-red aura, with a thin eggshell or slightly tanned head. Aromas are rich in caramel with a buttery toffee edge in ale versions. They have a roasty grain profile that may exhibit a slick mouthfeel, but are usually quite dry in the finish. Bitterness is low to medium, but no fruity esters are found in this style.

With no interference from fruit flavors, they merge well with traditional potato and kale dishes, and quench the saltiness found in ham and bacon meat. Classic examples include O'Hara's Irish Red Ale of Carlow Brewing in County Carlow, Ireland; Smithwick's Irish Ale of Guinness Ltd, St. James Gate, Dublin, Ireland; Beamish Red Ale of Beamish & Crawford, Cork, Ireland; Caffrey's Irish Ale of Thomas Caffrey Brewing Company, Belfast, County Antrim, Ireland; and Murphy's Irish Red (lager) of Murphy Brewery Ireland Ltd., Cork, Ireland.

Historically, Dry Stouts were developed in answer to London Porters. Although they are now not as assertive as porters, they once were the trump-card that won the game of highly assertive beers. Flavors are of roasted grain with a slight acidic edge. They may be crafted with Chocolate malt, Black malt, and Roasted Barley malt, with the addition of some flaked barley to add creaminess. Dry Stouts may shine as black as an onyx ring, or gleam with the dense mahogany browns so often found in nature.

Draught versions are known as Dry Irish Stouts, but bottled versions begin at higher original gravities, and are called Foreign Extra Stouts. These Foreign Extra Stouts max out at about 8% ABV, while Dry Stouts clock-in at 4-5% ABV.

Guinness Foreign Extra Stout, made by Guinness Ltd. at St. James Gate, Dublin, is crafted at 7.5% ABV, and is one of the most popular imports among Foreign Extra Stouts. Classic versions of Dry Irish Stouts include: Guinness Draught Stout (also in nitro-can) of Guinness Ltd., Dublin, Ireland; Murphy's Stout of Murphy Brewery Ireland Ltd, Cork, Ireland; Beamish Stout of Beamish & Crawford, Cork, Ireland; O'Hara's Irish Stout of Carlow Brewing Company, County Carlow, Ireland; Dorothy Goodbody's Wholesome Stout, Wye Valley Brewery, Stoke Lacy, England; and Orkney Dragonhead Stout of Orkney Brewery, Orkney, Scotland. Pair these up with a luscious Irish Stew for an overall Irish experience. Beannachtam na Feile Padraig!

Sláinte!

You Should Also Read:
Beer Inspired by Tradition
Quick & Easy Scotch Caramel Cake Recipe
Brauhaus Schmitz - Philadelphia German Bier Hall


Related Articles
Editor's Picks Articles
Top Ten Articles
Previous Features
Site Map





Content copyright © 2018 by Carolyn Smagalski. All rights reserved.
This content was written by Carolyn Smagalski. If you wish to use this content in any manner, you need written permission. Contact Carolyn Smagalski for details.