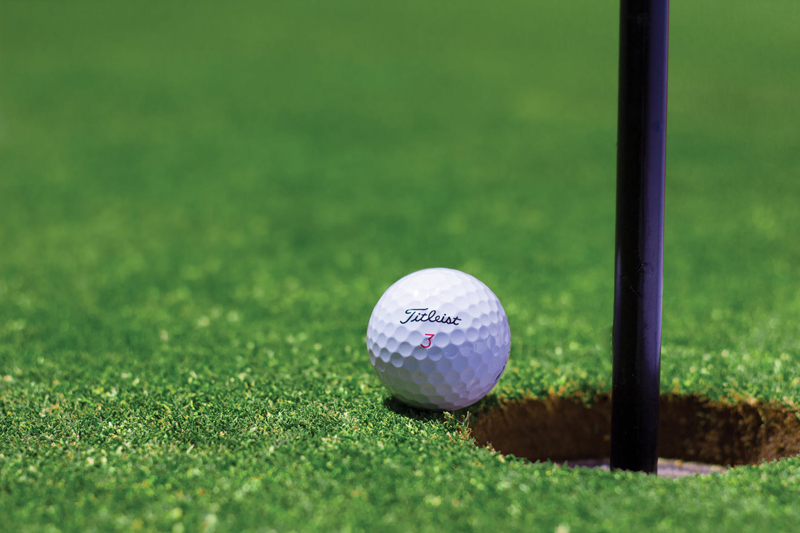 Putting is a golf shot that doesn't always get a lot of attention and may not be practiced enough. Many golfers go out to the driving range and see how far they can hit the ball. Few put in the time needed on the putting green to perfect their stroke.

There are three parts of every putt that should be mastered – line, speed, swing. An accurate golfer with good putting skills is just as successful as one who hits 300 yards. Here are some tips to help improve your putt.

Read the Break
Before you hit a putt you should know how the green breaks and have a "line" in mind that you want the ball to follow. Some putts may break right then left and then right again so by the time the ball gets to the hole it was actually straight. If you can't see the break then sometimes straight is the best line. Be sure not to read too much into it.

Gauge the Speed
Speed is everything in putting. On difficult or large greens sometimes you just want to get it "close" meaning hit the ball hard enough to make it to the hole in case your line is off. This means that not only do you need to judge if it's uphill or downhill but also account for the type of grass and how it has been cut. Temperature and moisture should also factor into your decision about speed of the putt.

Swing a Pendulum
Keep your putting stroke very simple with head over the ball and your body still. No matter how far away you are from the hole there is never any reason to swing a putter above your knees. The optimal putting stroke is like a pendulum. Once you have your line and know the speed bring the club back with a relaxed stroke and let it come through in a pendulum motion. Be sure not to power through the ball. Let the club do the work.

Get in a Routine
Many golfers have a ritual or routine they go through before each shot. It's a good way to focus your thoughts on the last 3 or 4 things you want to remember before hitting the ball. Other golfers use a practiced routine to clear their head and concentrate on the upcoming shot. Find out what is best for you and then be consistent and perform the routine every time.

Before the Round
Practice your putting before every round of golf you play. This is not the time to learn a new stroke or strategy but rather to get an idea of the greens at the facility on that particular day and to see how your putting stroke feels before the round. It's a good way to loosen up without exerting yourself before the 4 hour round.

Be sure to work on your putting stroke equally as much as you practice your drive and long irons. Many practice facilities have a putting green where you can take as much time as you need to get in the groove. You will be amazed how many strokes you can cut off your score with an accurate putter.


You Should Also Read:
The Short Game


Related Articles
Editor's Picks Articles
Top Ten Articles
Previous Features
Site Map





Content copyright © 2022 by Sandy Eggers. All rights reserved.
This content was written by Sandy Eggers. If you wish to use this content in any manner, you need written permission. Contact Sandy Eggers for details.