Confetti fell from the ceiling, the room started swirling, and pink elephants blasted through the walls the moment Steve Mashington was pronounced Philly Beer Geek 2012. This may sound like an exaggeration to you … and it is … but the rush felt by the 2012 beer master felt no less spectacular than winning an Academy Award. Now that life has calmed a bit for "Smashington," (his official Beer Geek name) we asked him to share his thoughts about the competition itself. Read carefully, future Philly Beer Geeks. Smashington's words of wisdom may be the cutting edge you need for future success as you prepare your chariot for the Coliseum of Beer.

Q. What does it feel like to win the prestigious title as Philly Beer Geek 2012?

Smashington: "It's a pretty amazing feeling. There were a lot of great competitors, so to come out on top is a truly great achievement. The euphoria lasts several days, but the enjoyment lasts a year."

Q. How did you feel that night?

Smashington: "Shocked, inspired and grateful. I was pretty confident after the final round, but unbelievably nervous."

Q. Tell me about your Philly Beer Phila-sophy.

Smashington: "My beer philosophy has been shaped over the past 13 years - working in and around beer, while traveling the world, has opened my eyes to so many different avenues. The cultures that are created around beer in different parts of the world and the value system that is placed on it is incredibly unique. But the one thing that consistently comes back to me is how the beer culture in Philadelphia is simply unrivaled anywhere else in the world. I'm not saying there are no other great beer towns, but the vibrant, rich culture that Philadelphia enjoys is unparalleled. Nowhere else will you find such a large metropolitan area where beer is as celebrated, revered and enjoyed as it is by the people of the Greater Delaware Valley."

Q. What about your Philly Beer Geek Moniker?

Smashington: "Smashington is pretty simple since it's a combination of my first initial and last name. However, in brewing terms, it just kind of fits (mash tun = mashington). Sometimes when people drink they get smashed, etc. So it has a whole host of double entendres."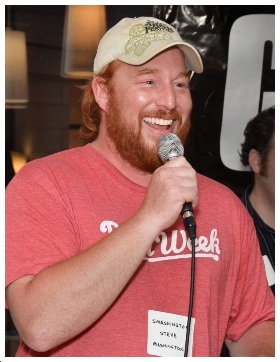 Q. You seem to have a magnetic personality and a lot of friends in the beer industry. How did you get your connections?

Smashington: "I started working in a college bar in Newark, DE called the Deer Park. That led to another job in college working at Stewarts Brewing Co. From there I just continued to meet people and travel. Throughout my travels, I've met a lot of great people and established some great friendships. During my tenure at Yards, I had so many responsibilities that I established great relationships with many people in all areas of the brewing industry. Retailers, distributors, vendors, other breweries, employees, the press … all of them were part of my day to day responsibilities. It just made my job easier if I had a good relationship with them."

Q. You were really taking a risk by competing for Philly Beer Geek. This was your first attempt at trying to win the title, but you had previously been a judge for Philly Beer Geek when you were a Yards employee. A loss could have been more embarrassing for you than for the average competitor. What were your thoughts about competing under such pressure?

Smashington: "I was unbelievably nervous the few days leading up to it. I couldn't really sleep to tell you the truth. Yes, I was pretty scared of not winning. I felt like I had more pressure on me than anyone. Being a judge in the previous year certainly put more pressure on me than anyone, at least in my opinion. I was also nervous to lose because I was dreading the inevitable hazing I might receive from my friends for not winning."

Q. There were a lot of different styles among the judges, both in the Semi-Finals or the Finals. Were any of them intimidating to you? Who and why?

Smashington: "I know most of the judges and I think that lends both assistance and a disadvantage. Doug Marchakitus was, without a doubt, the hardest one to read, so he was pretty intimidating. Doug has an amazing poker face, so trying to get a read of his opinion is pretty difficult. I just couldn't tell what was going through that dude's mind. Scoats and I go way back, so I knew that he was going to bust my chops more than anyone (and it's deserved). But not knowing Marilyn at all was probably the most intimidating. Knowing the judges can help you in terms of answering questions and what not, but I didn't know much about her so it was quite a challenge."

Q. Did you bribe the judges? With what?


Smashington: "Bribing the judges is part of Philly Beer Geek. We went a touch overboard this year, but it was all kind of last minute. I brought in some Olde Bartholomew Barleywine from Yards (vintage 09 and 11) and my lady-friend Tara made peanut butter bacon brownies that were infused with Arcadia Cocoa Loco stout (damn they were good!). Jeff Lavin topped it off by giving them a bottle of Westveltern 12. So it was a pretty amazing bribe. I don't think that is what made we win, but it didn't hurt."

Q. Jeff Lavin looked pretty happy that you won. Did he have any memorable comments before, during, or after the competition?

Smashington: "Jeff was pretty determined to help me win. I think that's a great sign of a sponsor. He organized a bus trip down for the Hulmeville, throws a party for the winner at the Hulmeville and helped me put the final costume together. He didn't have any overt comments, but I felt the pressure to win because I really didn't want to let him down."

Q. Was it unnerving to have random questions thrown at you by six celebrity judges?

Smashington: "Not so much. I anticipated that part of it. If anything, it was more frustrating since I felt like I kept getting the most difficult or unanswerable questions."

Q. What was your favorite part of the Philly Beer Geek Competition?

Smashington: "The blind beer tasting and the final question. Those are the parts that really separate the contestants. It's pretty apparent at that point that everyone has an amazing knowledge of beer. That's where it comes down to tasting experience and creativity."

Q. At what point did you ask or answer a question that made you proud to be a beer geek?

Smashington: "That's a tough one. I've always been a beer geek, so in a sense all of the questions made me proud to be able to answer them."

Q. How did you come up with the idea to bring Ben Franklin back with you through time travel?

Smashington: "I was thinking of all the different people that I could travel through time and bring back and this one just kept sticking out in my head. Ben Franklin is probably the most famous person who identifies with Philadelphia. Coupled with his passion for imbibing and conversation, it just seemed like a no brainer."

Q. Tell me about that crazy beer-can belt. Did you buy it?

Smashington: "The beer can belt idea stemmed from a Duff-Man costume I made about 11 years ago. I'm convinced I was the first person to make one and I strutted around NYC on Halloween like the cock of the walk. I realized that if I was going to be traveling through time I should be prepared. Jeff Lavin made the belt during the day of the competition. I called him up and said 'We need a beer can belt.' Several hours later, voila!"

The annual Philly Beer Geek Competition began in 2007 as an anchor event of Philly Beer Week, a ten-day celebration of "Philadelphia, the Best Beer Drinking City in America." Co-founders Carolyn Smagalski, the Beer Fox of BellaOnline, and Jason Harris, Owner of Keystone Homebrew Supply in Montgomeryville and Bethlehem PA, launched the competition to reward "the individual who exhibits the greatest universal knowledge and passion for Philadelphia Beer."  Steve Hawk has joined the Co-founders on the Board of Directors and as an Event Planning Coordinator.
Steve Mashington won the prestigious title of 2012 Philly Beer Geek  on June 7th, 2012 in the upstairs River Club at Manayunk Brewery & Restaurant in Philadelphia, Pennsylvania.

Next: The Interview continues with Smashington Gets Vetted

Cheers!

Photo Credits: Tom Conville tomconville.com From Top: Smashington for the Win; Smashington in competition; Smashington Bribes the Illustrious Judges

Beer Can Holster:
Hops Holster Beer Can Belt - Holds 6 Cans: Grey