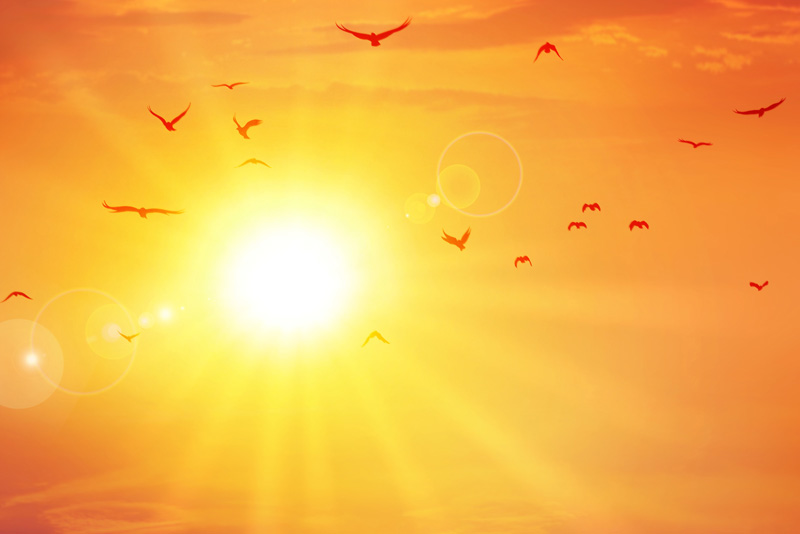 In the midst of hectic environment, a busy street, bumper to bumper traffic or after a long day of shopping, can others look at you and think, "She is different" or "That person is a shining example"? In a generation where people increasingly put themselves first, do Bible believing Christians look any different? Ask any new Christian and he will tell you that Christ changes everything. From the time of belief, a Christian's life begins to change – attitudes, patience, the ability to love others, the presence of hope – everything. However, do we sometimes lose the glow of that first glimpse of grace? Do we eventually fall back into old habits?
In the letter that the apostle Paul wrote to the church at Philippi, there is a phrase about believers shining like stars in the sky. Philippians 2:15 (NIV) The thought is that having believed in Jesus and received salvation – having received a new life - that believers would be noticeably different from the people who do not know him - those who had not received his love.
It seems that people of Philippi were not living up to their calling. Paul said "Do all things without grumbling or disputing" Philippians 2:14a (ESV) The Philippian believers may have been grumbling against the leaders of their church or against each other, but Paul said they were to maintain a good attitude in everything. As believers in Christ, with the Holy Spirit within each of us, we are a family of believers. We have the same promise, the same Savior. We are to love each other as Christ loved us and to submit to each other in humility.
I've been waiting at the check-out behind a very slow shopper. Another person shows up behind me. This person is clearly agitated at having to wait. Do I offer them the spot ahead of me or do I stand my ground because I was there first?


One of my co-workers never does her part in cleaning up the break-room. She leaves her dishes in the sink and crumbs on the counter. I have already cleaned up after her three or four times but she doesn't notice and continues to neglect her responsibility. Do I leave the mess, go to the office manager to complain or quietly clean it?
Believers are to shine like stars in the sky. Like stars, we are to be seen in the darkness. Unlike stars we can't create our own light. We can only reflect the light of Jesus. He is the Light of the world. (John 8:12) It is his light that shines when we treat all people with humility and love.
As I study the bible, I am reminded of this again and again. I still fall into old habits. I am often not a shining star. I complain and I grumble, showing my worst, when what I really want to show is the love of Jesus. Perhaps the best thing I can do is to ask forgiveness every time I slip up. Forgiveness from the person I have offended and from the One I offend each time I don't respond with his love. The best thing I can show others is my confidence that Jesus always forgives even when others don't. I can try again and never give up on wanting to point others to Jesus. His love always shines.
You Should Also Read:
Christians Look Like This
A Christian Leader's Personal Life
A Mission of Mercy


Related Articles
Editor's Picks Articles
Top Ten Articles
Previous Features
Site Map



Follow @LynneChapman
Tweet





Content copyright © 2022 by Lynne Chapman. All rights reserved.
This content was written by Lynne Chapman. If you wish to use this content in any manner, you need written permission. Contact Lynne Chapman for details.