Animal Abuse and Family Violence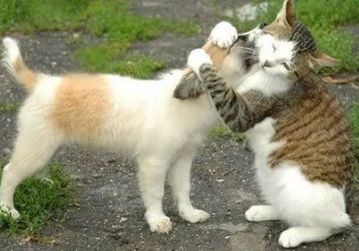 There is nothing so heart wrenching as to dread the impending return of a spouse or parent at home. Many victims attempt to make the home as clean, inviting, and stress-free as possible, in the hopes that nothing will trigger an abusive attack by the aggressor. Many more try to find ways to make themselves invisible. The most common thread amongst victims is the attempt to create an atmosphere that has an air of silence.
Decades of research show that animals play a pivotal role in helping victims maintain as sense of equilibrium. However, research also found that having animals in an abusive household is a double-edged sword. Many victims of domestic assault see the acceptance of an animal into the home by the aggressor as an indication of gentleness within the abuser, a silver lining around that deep, dark cloud. Most victims cannot fathom that the animal could be used as leverage against them. The human-animal bond has demonstrated itself to be pivotal for the emotional stability of victims. Studies indicate that more than 70 percent of reported abuse cases relied heavily on a companion animal as a source of comfort and affection. Unfortunately, 75 percent of all investigated domestic violence cases indicated that animal abuse was present in the household.
Aggressors typically allow a pet to come into a home as a manipulative factor to increase the level of human suffering. Acts of animal abuse are meant to demonstrate the torment family members could face, or as a means of controlling the situation, as most victims see their pets as a valued member of the family and will keep their mouths shut in an effort to protect it. Surveys were conducted to explore why women waited so long to take their children and seek the safety of an abuse shelter. More than half stated it was because they did not want to have to abandon their animal and feared for its safety. While these figures are alarming and upsetting, it provided constructive feedback.
Women who could not bring along their family pet were faced with abandoning the animal, bringing the animal to the pound, or staying in the home. The implication of this discovery was that many women would not abandon the animal until faced with perceived life threatening circumstances. This information began a transformation in battered shelter care programs in the United States, which led to an amazing shift in the perception of domestic abuse. Initially, four centers opened that accepted family pets. These areas showed an almost immediate increase in activity. It was discovered that women were 11 times more likely to call the authorities about animal, child, and domestic abuse to stop the aggressor.
American Humane Association started the Pets and Women's Shelters (PAWS) (800-227-4645), and the Humane Society initiated the
Safe Haven for Animals
program. These organizations continue to make heavy strides towards keeping victims of abuse and their pets out of harm's way, by offering productive, safe alternatives in the event that local shelters are not yet equipped to take in animals. This is accomplished through successful collaborative efforts with domestic violence prevention agencies to offer pets' short and long-term care without the fear of the animal being put down, or suffering further abuse. Each year more shelters, veterinarians, rescue groups, and foster care homes join this movement to put an end to family violence and animal abuse. These efforts have also made it possible to compile a
Pet Abuse
database. This is a beneficial resource when there are suspicions of domestic abuse, as most animal abusers also hurt people. People that find the courage to report abuse help to make this list more complete. In turn, this information helps to support legal action and stronger legislation.
For people in the United States who have questions, concerns, or seek help with domestic abuse issues, contact the National Domestic Violence Hotline 1−800−799−SAFE(7233).
You Should Also Read:
How Animals Help General Mental Health
Health Benefits of Companion Animals
How Animals Help Troubled Children


Related Articles
Editor's Picks Articles
Top Ten Articles
Previous Features
Site Map



Follow @WildlifeWelfare
Tweet





Content copyright © 2022 by Deb Duxbury. All rights reserved.
This content was written by Deb Duxbury. If you wish to use this content in any manner, you need written permission. Contact Deb Duxbury for details.