How Animals Help General Mental Health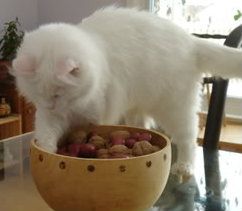 More people are returning to natural methods of healing in an era when pharmaceutical companies try to push pills as the cure-all. One area this is most notable is in maintaining mental health. Companion animals offer countless benefits to a human's physical wellness and the same is true for a person's mental state. Studies show that companion animals consistently aid in reducing anxiety, depression, loneliness, and encourage a state of general well-being in humans.
Traditionally, the positive effects companion animals have on humans has been undervalued and those with strong animal attachments have been mislabeled as antisocial or ineffective at formulating healthy bonds with other humans. However, research shows that the animal-human bond is stronger than most will admit to publicly. It was also discovered that simply because a person formulates a strong bond with an animal it in no way depicts and ineptitude to formulate human bonds; studies show quite the opposite effect occurs. People who experience a healthy and respectful animal-human bond are more inclined to see situations in a positive manner, express love more freely, exhibit greater empathy for others, and are overall more compassionate. People who live with and love animals are prone to experience a sense of openness and are able to see life in a positive manner. This allows them to reduce personal stress and anxiety. They are also prone to problem solve negative issues without feeling drained or hopeless and are able to generate constructive solutions.
The study into the positive effects animals have on humans was stunted because select philosophers and psychologists publicly devalued the role of animals. This mindset was to get people to accept the perspective that animals were inferior to humans. The result was the god-complex frequently seen in modern society. Those who formulated animal bonds were accused of sublimating human expressions and traits onto them. However, the effectiveness of pets in therapy sessions and in hospitals has effectively turned that misconception around. Pet therapy has shown positive results to stabilize people, particularly those vulnerable to mental health issues, be it a child enduring a messy divorce or the loss of a spouse. Further, studies show that adding a family pet reduces tensions amongst family members and increases positive interplay. Homes with adored family pets have also been shown to increase the amount of productive communication. Although, the mentality that "they are just animals" still lingers, both science and society are moving towards a more evolved look at the important role animals play in maintaining human mental health.
For those interested in adding a furry addition to the family visit
Petfinder
or
Humane Society International
for adoption information.
You Should Also Read:
Health Benefits of Companion Animals
How to Avoid Deadly Animal Treats
Pet Food Safety


Related Articles
Editor's Picks Articles
Top Ten Articles
Previous Features
Site Map



Follow @WildlifeWelfare
Tweet





Content copyright © 2023 by Deb Duxbury. All rights reserved.
This content was written by Deb Duxbury. If you wish to use this content in any manner, you need written permission. Contact Deb Duxbury for details.