The Serious Side of Mike Lawrence - Interview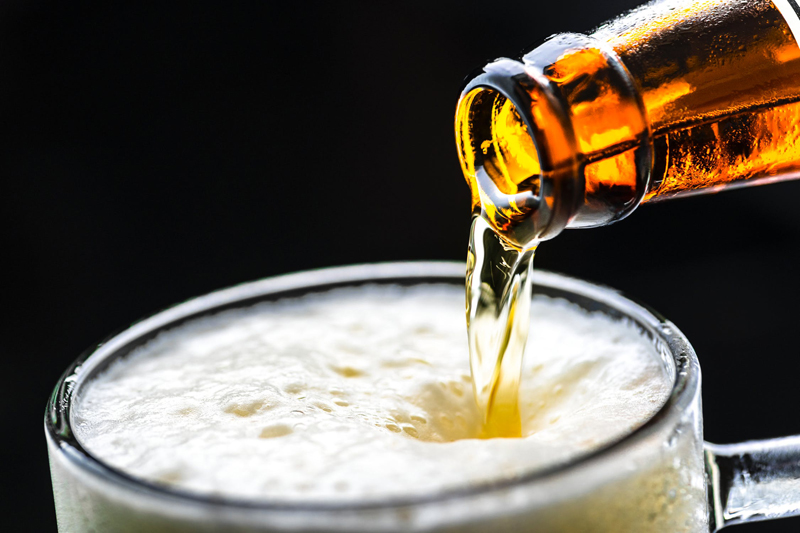 Mike Lawrence, 2013 Philly Beer Geek Champion, appeared to be having fun throughout the 2013 competition on June 6th at the Field House in Philadelphia, PA. Don't be fooled. The Philly Beer Geek does have a serious side. In this interview, he shares his thoughts on a number of beery topics, from his intense geek outlook and favorite beers to ambitions for the future.

When did you become involved with beer? Did you always like beer?

I have been working in bars since I was a kid so I don't really remember a time in my life when beer was not around. I began bartending at 16 and learned to drink between Penn State and The Marine Corps. I can't say I always drank beer, but now that I do … it makes me hoppy.

Did you drink the "childhood flavors" of Bud-Miller-Coors, at first; then, graduate as an upper-craft drinker?

Yes, I drank swill for a long time. I never was a total loyalist though and always seemed to seek out other beers. Sometimes that was Olde English 800 or Mickey's fat mouths but I was never a "bud guy" or a "miller guy". I always had a desire for variety in every area of life and that included beer. But I certainly wasn't a craft only guy. When I went to Penn State, I lived off Natty Light and "The Beast"!

How did you become associated with the "geeky side" of beer?

I guess my geeky side developed was when I first became a home brewer. I always had a taste for good beer, although when I was younger that meant Yuengling Black and Tans, Pete's Wicked Ale or random Imports. When I began brewing beer myself I realized there was much more to beer than what was being offered commercially. That has since changed immensely but I will always be a beer geek.

Do you maintain a beer library? Tell me about some of your beer books.

I love to read and so I have a ton of beer books and magazines. I think the most I read about beer is in Philly Beer Scene Magazine since I never miss an issue and always read from cover to cover. As for books, I have to go with The Complete Joy of Homebrewing as that book essentially changed my life. Joe Sixpack's Guide to Philly Beer and Lew Bryson's Pennsylvania Breweries were great training tools for Philly Beer Geek, as was Dr. Patrick McGovern's Uncorking the Past. I loved The Brewmaster's Table and He Said Beer She Said Wine and have read through Yeast, Hops, and Brewing Classic Styles while homebrewing. The last book I read was Radical Brewing, by Randy Mosher, which was awesome!

Is your approach to beer more scientific or organoleptic – based in the technical or the overall "feel-good" aspects?


As a brewer, I love the science of beer and brewing; however, I side on the organoleptic side of beer without a doubt. Beer is science and beer is art, but most importantly beer is a drink. I think people sometimes forget that. The best part about beer is drinking it and that usually involves sharing it with others. The social aspect of beer is my favorite aspect by far. It brings people together, reduces inhibitions and is just a good time. There is nothing wrong with geeking out about the science of beer. Lord knows I do; but let's not forget why it exists - for our nourishment and enjoyment!

What aspect about the beer world would you change, and how?

I have a huge problem with beer snobs and feel they ruin the hard work Beer Geeks do on a daily basis. I mentioned in the competition that the late Michael Jackson once said "You'll never get a Bud drinker to try something else by calling him a moron" and I believe that whole-heartedly. I know how great the experience of drinking beer can be if you open your mind to it and all that world has to offer. A snobbish attitude only pushes people away and so I focus hard on gently encouraging craft beer to the resistance rather than pouring it down their throats (well except if they're a full-fledged zombie)

You told me earlier that you do homebrew. How much? For how long have you done it?

I do brew and my schedule changes based on my work. I find on average I brew every other month but there are times I get into a rhythm and brew every month. I usually brew enough to not run out of homebrew, which is just the right amount for me. I first started brewing when I hooked up with the Maltose Falcons in Los Angeles and got Charlie Papazian's book. I'd say that was around 2003, so I probably got about 10 years in the game.

Are you certified in beer tasting - have you had any formal education about beer or is your approach purely through self-motivated experience?

I do not hold any certifications or qualifications in beer tasting although I always have had a desire to judge at a significant level. I have a few friends who are BJCP instructors so I'm sure it's only a matter of time.

Do you maintain a beer cellar? If yes, what are you in the process of maturing?

I wouldn't call it a "cellar" but I do age both beer and wine. I hope to build up a dedicated area into a proper cellar someday, but for now it's just cases of bottles in the corner of the basement! When I come across something I love that is unique and age-able I try to grab a few bottles to ensure I can lay one down.

Do you collect beer stuff? Beer coasters, neon lights, glasses, bottles, bottle caps, napkins, et cetera?

The only thing I collect is glassware. If you ask Jenn, I have way too many beer glasses but that is just silly talk. Right?

Okay, I'm pinning you to the wall: What's your favorite beer? And don't give me any hog-wort about it depending on the day. NOW! Right NOW! What's your favorite?

As cliché' as it may sound, I scored a six pack of Heady Topper during Philly Beer Week and it was glorious. So since you're asking RIGHT NOW… it's the Alchemist's Heady Topper.

Favorite brewery?

Russian River! There … I didn't have to offend anyone from Beeradelphia! ;)

Favorite brewmaster?

That's easy. It's Doug Marchakitus from Manayunk Brewing! Haha … By the way I am looking forward to brewing my first beer on a professional system with him for Philly Beer Geek!

Close your eyes, make a wish! What would you like to do as a special part of being proclaimed Philly Beer Geek 2013? Are there any events you wish for?

I'd certainly like to follow in the footsteps of past Beer Geeks and use the Philly Beer Geek party to not only celebrate with those who supported me in my home bar with an excellent tap list, but also raise some money for charity. That will happen this summer at the Grey Lodge and all are welcome!

As far as a special event I'd wish for, I will say that I have attended every single Bonnaroo Music and Arts Festival since its inception and have as much a passion for live music as I do for craft beer. Hosting a Philly Beer, Music and Arts Festival would be a dream-come-true. I'd call it BonnaBrew and it would consist of only Local Beer, Local Bands, Local Art and Local Food. So whoever wants to collaborate on that... let's roll. September comes quick!

Now that you've made a documentary about Philly beer AND won Philly Beer Geek 2013, where do you go from here? Do you have other beer-related goals?

I don't think I will ever stop having beer inspired goals. From becoming a better brewer myself to being certified as a BJCP judge I think I have a ton of room to grow in the beer community. Also since I come from a family who has owned taverns in Philly my entire life, and the fact that I have been a bartender for over 20 years, I think it's in my blood to be the proprietor of a drinking establishment. I'd love to own the first live music brewpub in the city so again, whoever wants to collaborate on that, I'm all ears! (pun intended)

Thirsty for more? Read on:

Philly Beer Geek 2013 Mike Lawrence – Interview
Mike Lawrence Aces the Competition – Interview

Cheers!

Photo Credits Tom Conville - tomconville.com: Hoparazzi Mike Lawrence wins; Judges Bryson, Mashington, Wallace, Reed, Scoats, Certo, Koch, and Old


You Should Also Read:
Hoparazzi Videographer Wins 2013 Philly Beer Geek
Becoming a Beer Judge - A Woman's Personal Journal
Beer Trivia - Old Beer Facts


Related Articles
Editor's Picks Articles
Top Ten Articles
Previous Features
Site Map





Content copyright © 2023 by Carolyn Smagalski. All rights reserved.
This content was written by Carolyn Smagalski. If you wish to use this content in any manner, you need written permission. Contact Carolyn Smagalski for details.