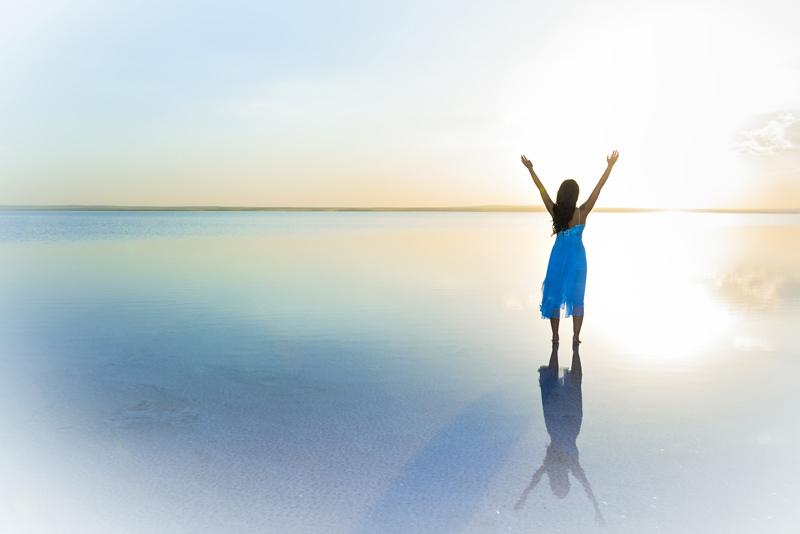 Summer heat waves are dangerous for those who have asthma and other chronic health issues. Learn what causes high pressure "domes" during a heat wave and what you can do to keep your asthma stable during bad air quality days.
What Causes a High Pressure Dome?
High pressure aloft (from 10,000 to 25,000 feet [3,000 to 7,600 meters]) settles over a region for several days or weeks. These high pressure areas are often called "domes" (like a dome or cap is covering the area). The dome of high pressure sinks toward the surface causing a dome to cap the atmosphere in that area.
The dome cap traps air and heat at ground level, rather than allowing it to move up into the atmosphere. The longer the cap lasts, the more heat build-up occurs at the earth's surface. In the air under the dome, particulate matter becomes trapped and unable to disperse into the atmosphere, causing an increase in air pollution/ozone and smog. This phenomenon is also known as a temperature inversion, which can occur in both summer and winter.
New Study: Vegetation Plays a Role in Heat Waves
According to Science Daily, a new study has shown that plants also play a crucial role during heat waves. While plants are able to help clean up air pollution, they are unable to clean the air during a heat wave. According to Dr. Lisa Emberson, plants become stressed during a heat wave and the ground is very dry. As a result, stressed plants react by closing their stomata in order to conserve water. When plants close their stomata, they are unable to take in polluted air and clean it; as a result, the air we breathe becomes more polluted—making it dangerous for anyone who has asthma, COPD, heart trouble and more.
Asthma and Air Pollution
Ozone and air pollution have several effects on your asthma:
• Tissue irritation (nasal passages, throat and lungs) and cell inflammation in the lungs. Chronic inflammation and tissue irritation can cause permanent changes in the lungs, which may lead to asthma and other diseases.
• Changes in lung tissue may cause shortness of breath, chest pain; wheezing and coughing; increase the number of asthma exacerbations and/or asthma attacks; premature death. These changes may cause permanent damage to lung tissue, possibly developing into asthma and other lung diseases.
Who is at Risk?
People at risk for asthma and other health issues related to ozone and air pollution exposure:
• Children
• Those who exercise or work outside
• The elderly
• Those whose immune systems may be suppressed (cancer and AIDs patients, those who are on immune suppressing medications, etc.).
Symptoms After Exposure to Onzone/Airpollution
Asthma symptoms after short-term exposure to ozone and air pollution may include:
• Wheezing and coughing
• Pain when taking a deep breath
• Chest tightness
• Stinging eyes and lungs
• Irritated sinuses
• Rapid heartbeat
• Fatigue
• Cyanosis (skin becomes blue due to lack of oxygen)
Protect Yourself and Your Family
Asthma maintenance is one of the most important ways you can keep your asthma under control—any time. Here are some steps you can take to help keep your family's asthma controlled during a heat wave.
1. Take all of your asthma medications as prescribed. Why is this important? Keeping asthma medications at optimal levels in your body, both night and day, helps to reduce the inflammation under control in your lungs.
2. Monitor air quality index in your area or in an area you plan to visit. The air quality index measures the condition of the air we breathe. "Good air" quality means the air is clean and unpolluted, while "bad air" quality means the air is polluted, possibly so polluted that it becomes a danger to those who have chronic illness, healthy people and the environment. You can check the air quality index by watching the weather forecast on local TV stations, reading your local newspapers, at the websites listed below or with apps (listed below) for both iPhone and Android mobile phones and tablets.
3. Stay indoors to reduce exposure to ozone and smog, or at least limit time spent outdoors. Keep your home and car windows closed. Use your home's air conditioner; use your car's air conditioner and put it on the recycle setting in order to avoid bringing polluted air into your car.
4. Keep rescue medications on hand at all times; this way you'll be ready in case your asthma becomes worse.
5. Stay hydrated by drinking plenty of water on hot days. Dehydration can cause your lungs to feel worse, making you more susceptible to poor air quality days.
6. Consider wearing an allergy face mask when going outdoors.
Taking care of your asthma every day can feel like a chore, but it's worth the effort. Asthma can be dangerous, especially on bad air quality days in the summer. Checking the air quality index for your area, following your asthma maintenance plan and taking the above precautions can help you stay health, even during a heat wave.
Resources for Air Quality Index
https://www.airnow.gov/
https://www.enviroflash.info/
https://www.pollen.com
Reference:
https://www.sciencedaily.com/releases/2013/07/130719083912.htm
Please check out my new book
Asthma's Nothing to Wheeze At!
Now also available on Amazon
Asthma's Nothing to Wheeze At!
You Should Also Read:
Asthma, Smog and High Ozone Levels
Fire Season Dangerous for Asthmatics
Climate Change and Asthma


Related Articles
Editor's Picks Articles
Top Ten Articles
Previous Features
Site Map



Follow @SherryAsthma
Tweet





Content copyright © 2023 by Sherry Vacik. All rights reserved.
This content was written by Sherry Vacik. If you wish to use this content in any manner, you need written permission. Contact Sherry Vacik for details.