Hophound Productions – Experts in Cuisine & Beer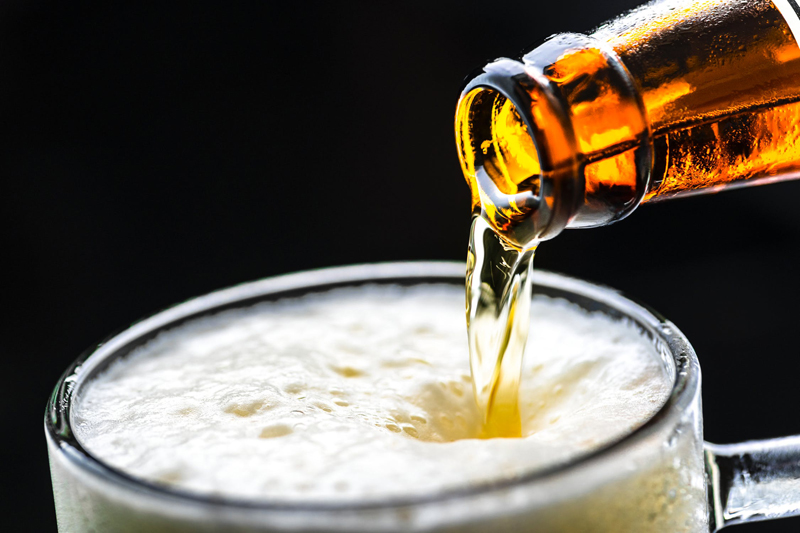 In 1998, Martha Stewart's book Entertaining, hit the bookshelves with fanfare. So successful was this book that it served to catapult her career into a media explosion that touched multiple facets of American life, from cooking and decorating to homemaking and entertaining for a crowd. We were all fascinated with the idea that we, too, could entertain with the same flair that Martha Stewart promoted. And we did.

Along the lines of entertaining, those who liked to add alcoholic beverages to their events wove them into their parties with panache. They presented cocktail parties as a precursor to an evening buffet. They experienced a beer dinner or two at a favorite pub during "Beer Week" in their local city. An afternoon of tasting wines and speaking to local vintners opened up new avenues of exploration and provided an educational edge to entertainment.

But another level of beer entertainment has opened up for those who want the maximum pleasure with the minimum work. Hophound Productions brings the best of the beer dinner onto home turf. Chef Anthony Sortino and Heather Gillespie are at the forefront of this new genre of home entertainment.

If you think you may have heard their names before, you undoubtedly have. Anthony Sortino and Heather Gillespie, in conjunction with Chas Kutchinsky of iBOXfilms, form the production company behind Beer Appetit, a television series hosted by Alan Pratt. The series focuses on the celebration of craft beer throughout the world. The premier of Beer Appetit became popular throughout Philadelphia, featuring the charismatic Tom Peters of Monks Café and visiting Brewmaster Tomme Arthur from the Lost Abbey of California.


Chef Tony and Videographer Heather orchestrate in-home beer dinners with a theme, combining a first-rate gustatory experience with a first-rate educational twist to create a memorable evening of pleasure. They even film the event for the personal archive of the host and hostess. I was fortunate to be invited to one such dinner in the home of Maggie and Willie Thornton.

Chef Sortino was assisted by consultant Alexander Crowe. Alex hand-crafted all the beer presented that evening, designing them to match the flavors, textures, and colors of each course served.

Crowe's background is impressive. Educated at the Siebel Institute of Brewing Technology, he was an international, award-winning Brewmaster for Sackets Harbor Brewing Company in New York. He is a BJCP certified judge, and became the first Certified CiceroneTM in Pennsylvania in 2008. Since then, he has served as an Adjunct Faculty Member in beer styles at The Restaurant School at Walnut Hill College and holds WSET wine certification.

Crowe also conducts Beer versus Wine Dinners at The Restaurant School, challenging the Sommelier to create a better harmonization with wine than he can with beer. Despite the wine-centric audience, he wins his share in the upbeat competitions. Having Crowe in the background creates the crème de la crème that makes these stylish beer dinners top-notch.

Themes for a beer dinner can be the idea of the hosting parties, or one that the Hophound Production team provides. This particular dinner was "A Hop Rebellion," featuring beers that were low in hop bitterness, but full-flavored through the use of herbs and spices. Five beer-and-food pairings wowed our palates, each one flowing as complementary partners from one to the next.


Before each course, Chef Tony emerged from the kitchen to speak of each dish – the textures, contrasting flavors, and the color we could expect, along with a brief background on the origin of any unusual ingredients. Advisor Crowe finished the talk with his explanation of the herbs and spices used. He spoke of the romanticism behind Lotus Nectar, our aperitif - a golden ale spiced with ginger and jasmine flowers. Asian spices connected beer to its roots long before the use of hops became common practice.

We learned that Bergamot peel is the spice in Earl Grey Tea and is the spice used in Crowe's Cure Ale, a Belgian witbier that was not only served for the second course, but also formed the base for the vinaigrette dressing on our watermelon, fennel and blackberry salad. "The beer stands on its own and the food stands on its own," said Crowe. "Together, a third entity arises."

Kummel Braun Ale complemented our main entrée, a robust marinated flank steak served with traditional, hand-shaped pierogies and sautéed dandelion greens. The Kummel Braun, seasoned with caraway seed, was the closest to liquid bread I had ever come. For the vegetarians in our group, Chef Sortino served a dish of seitan, a protein source, made from wheat that closely resembles meat in its appearance and texture.


Our last two courses were served with dark porters – the first, herbed with lavender flowers, and the second with spruce. Cockney Fop English Porter married the lavender floral notes with our three cheeses: Bucheron Affine Suere Belle (soft goat cheese), creamy, mild and citrusy; Colston Bassett Stilton (cow's milk bleu cheese), buttery in texture with a minerally tang; and Scharfe Maxx Double Cream (cow's milk extra sharp, aged in underground caves for 6 weeks), pungent, buttery, sassy and silky. The cheeses were accompanied with a cherry-thai basil compote, adding another culinary surprise to the palate.

Spruce Porter showed its best side as the main component of our Scurvy Brew ice cream soda. Using the softest new tips of the spruce tree, Crowe was able to impart a cola-like flavor to his porter, while Sortino's vanilla ice cream added a creamy component that took us back to our youth. Our hostess, Maggie, couldn't hold back. "This is fun!" she exclaimed in the briefest of words - a short and sweet ending to a fine bit of entertainment.

Hophound Productions has presented beer-and-food pairing events at such venues as Kaya's Fusion Cuisine, For Pete's Sake, and Club 212, but their expansion as personal culinary experts adds another dimension to their versatility at the highest level of entertainment.

Cheers!

Add color to your dinner parties:
Terracotta Glazed Pottery Brown Red Clay Extra Large Bowl 10.5"D 6"H


Something a little different - beautiful glasses for your beer dinners:
La Rochere Mouth Blown Amitie Friendship Water Glass, 9-Ounce, Set of 6
You Should Also Read:
Off Centered Sam Calagione at Monk's Cafe
Gluten Free Framboise Marinated Pot Roast Recipe
How to Judge Mead


Related Articles
Editor's Picks Articles
Top Ten Articles
Previous Features
Site Map





Content copyright © 2023 by Carolyn Smagalski. All rights reserved.
This content was written by Carolyn Smagalski. If you wish to use this content in any manner, you need written permission. Contact Carolyn Smagalski for details.