Off Centered Sam Calagione at Monk's Cafe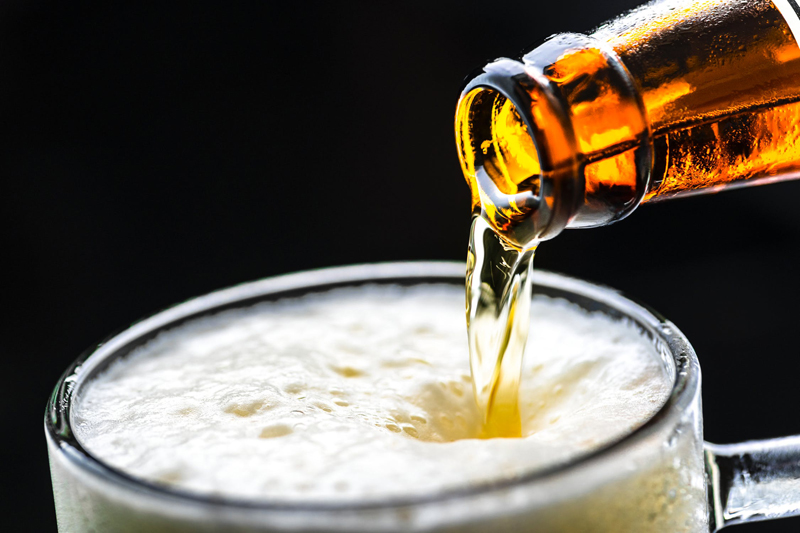 Sitting in one of the most renowned beer bars in the country with off-centered people ranks as one of the great joys in my life. Off-centered people are really among the most creative inspirations in the world. They forge paths through untapped territory, seeing the world from strange angles and finding a new universe under that rock never before overturned. This crowd was no different: Beer historian, Rich Wagner, "Joe Sixpack" Don Russell, Philly Beer Blogger Bryan Kolesar, Nancy Rigberg and George Hummel of Home Sweet Homebrew, and me, Beer Fox of BellaOnline, along with a full house of beer enthusiasts at this sold-out dinner – all of us, appreciators of unusual ingredients and processes used in making beer an eye-opening experience.

Tom Peters and Fergus Carey of Monk's Café in Philadelphia, Pennsylvania, USA are known for beer dinners highlighting the most traditional world-class brewers of the Zenne Valley [Belgium]. They also know excitement can be found in brewers who are a bit off-center – American brewers like Sam Calagione of Dogfish Head Craft Brewery of Milton, Delaware.

On February 2, 2010, Sam Calagione was the focus of Monk's first beer dinner of 2010, presenting his "off-centered ales for off-centered people," paired with cuisine of equal assertiveness. Every one of these beers has a story behind it, with carefully selected elements that make each a legendary, over-the-top masterpiece … but only for those who are comfortable living on the edge.


Sam Calagione has always believed in making beers for that small segment of the population ignored by the big beer companies – those who appreciate flavor, complexity, and diversity. He knew that beer drinkers deserved beer that could be paired with food or aged in a beer cellar, like a fine wine or an expensive scotch whisky. With bull-headed persistence, Calagione created beers that stood apart from the rest, with the risk factor glowering like a hungry gargoyle over the brew kettle. But he was right. His beers attracted those off-centered people, growing Dogfish Head Craft Brewery into the largest craft brewery in the Mid-Atlantic region of the United States.

That evening, we experienced six DFH beers with six dinner courses, whetting the appetite for more of these curious, far-out beers. The most unusual beer served was Black Thai, a beer that crossed the profile of a Baltic Porter with that of a Russian Imperial Stout.

Traditionally, the Baltic porters of Europe were made with peas or beans to add supplemental sugars for fermentation. In line with tradition, DFH enhanced their own terrior by adding edamame grown on the Delmarva peninsula to their Imperial Stout. Thai basil and a hefty puree of Oregon blackberries blended with the complex grain bill and edamame to deliver aromas of chocolate, imported coffee and dark berries with hints of soy sauce. In the dim light of the bar, the unfiltered body glowed burgundy orange, with rose-purple edging that seemed to glimmer by candlelight. The 9% ABV ricocheted, shotgun style, from one flavor to another in our pasta with tomato concasse, dressed with shaved fennel, garlic, chili d'arbol and fresh basil.

Always the showman, Sam Calagione tapped a firkin of 75 Minute IPA, his blend of 60 and 90 Minute IPAs, arriving at a 7.5% ABV that both cut and complemented the flavors of pork belly and UKU, respectively.


Seven continents from around the globe were represented in Pangaea, a Strong Pale Ale, brewed Belgian style. The clear amber body rested beneath a surface veil that left spotty lace on the glass, giving off aromas of fresh challah and summery melons. This beer combined water from Antarctica with three grains: quinoa from South America, maize form North America, and Basmati rice from Asia. Muscavado sugar from Africa was added; then fermented using the finest yeast strains from Europe. In passing, Fergie referred to it as uisce beatha (pronounced ish keh ba ha), a gaelic term for the water of life or aqua vitae, that which opens the throat and flows like a river that brings food to nourish the body.

American oak-aged Red & White on draft merged the delicacy of coriander, orange peel and pinot noir juice with the tongue titillating aggressiveness of filet mignon dressed in pinot noir sauce. The contrast was an exceptional surprise, sweetening the steak with flavors of vanilla, red vinous grape, cherry, candy sugar, and a slight earthiness.

Palo Santo Marron on draft is a monstrous black beer that was born in 10,000 gallon brewing vessels made of rare, dense Paraguayan wood from South America. The fruity flavors of figs and raisins, blended with earth, were an adept partner for the flaky pastry and caramel sweetness of the Tart Tartin dessert. Palo Santo's long bitter finish sang against the sweetness of the baker's hand.

Most rare and appreciated of all those presented was the first pour – the beer that prompts us to "make haste slowly." This was 2004 Festina Lente, a fruit lambic in the shadow of a neo-Berliner Weisse beer – tart, with echoes of peach and lemon, a juicy aperitif that primed the taste buds and set the stage for what was to follow. Tom Peters noted that, when it first entered the market, everyone was sending it back, thinking it had soured, unaware that it was in the tradition of the distinctive lambic beers of Belgium. He was one of the few who loved it, recognizing it as one to be savored. We were fortunate to have this one cross our lips, this special, rare beer. Of this, we had but one glass … but this one remains in my mind and on my tongue.

Cheers!

Thanks to Tom Peters and Fergie Carey for having me as their guest.

Photos are (from top): Sam Calagione and Philly's Don Russell, aka Joe Sixpack; Red & White draft with Filet Mignon with Pinot Noir Sauce, herb roasted red bliss potatoes, and young bulls blood beet tops; Wendy of Dogfish Head Craft Brewery with award-winning author Don Russell

 
You Should Also Read:
Celebration Time with Zwaanend'ale
GABF Photos from the 2009 Beer & Food Pavilion
The Grand Embellishment of Food with Beer


Related Articles
Editor's Picks Articles
Top Ten Articles
Previous Features
Site Map





Content copyright © 2023 by Carolyn Smagalski. All rights reserved.
This content was written by Carolyn Smagalski. If you wish to use this content in any manner, you need written permission. Contact Carolyn Smagalski for details.