Weyerbacher Althea - Pink Beer for October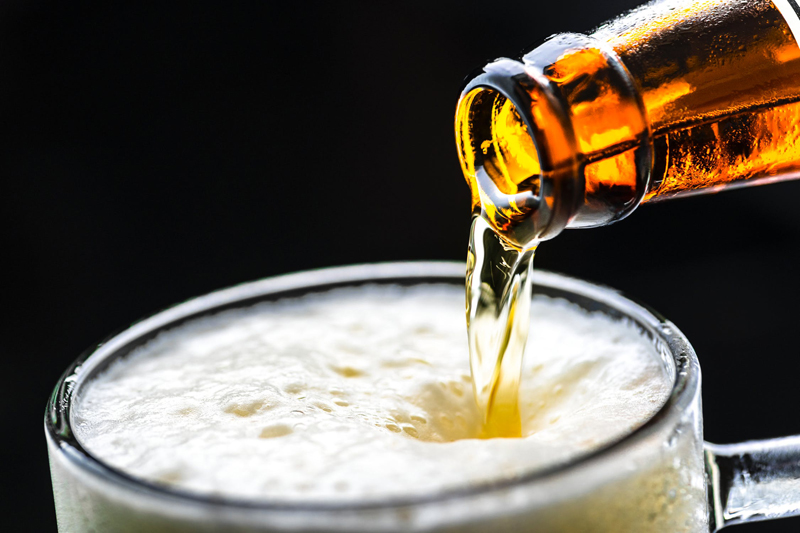 Dan Weirback couldn't believe what he was seeing. Weyerbacher Last Chance IPA, a beer brewed in May 2012 for animal rescue operations, had raised $25,964.50. On behalf of Weyerbacher Brewing Company, Weirback spread these funds throughout the local community to benefit fourteen animal shelters and operations from Easton to Philadelphia, and throughout southern New Jersey.

Last Chance IPA is a West Coast style IPA with a slam of hops, hitting the ballpark at 62 IBUs, and filling the air with the pungent scent of grapefruit, citrus peel, and pine needles. But it was shocking to watch so many people leaping onboard to support the local charity. Weirback thought, "Last Chance made such an impact on the community. What can we do to make this bigger and better?"

Pairing-up with the Lehigh Valley Health Network made sense. Weirback wanted to make a beer for Breast Cancer Awareness, while impacting the local community. The proximity of the LVHN to the brewery made it an easy choice. Natalie DeChico, one of his Sales Representatives, was an award-winning homebrewer, a Philly Beer Geek Champion, and a woman with imagination. She willingly joined with Head Brewer Chris Wilson to design a beer in the name of Weyerbacher's Breast Cancer campaign. They called the new beer Althea.

Natalie DeChico was happy to help us with her insight regarding Althea:

Q. How did you join with Chris Wilson to design this special beer for the benefit of women? Or was it actually a collaboration of ideas?

A. After our yearly company meeting this past February, I was asked if I wanted to be a part of brewing a beer for the Lehigh Valley Health Network Breast Cancer Patient Assistance Fund and to mull over some recipe ideas, along with my thoughts about the idea in general. I didn't even have to think it over, as my answer was, "Yes, I would love to help be a part of anything that could help raise money for a local group."

Q. Why did you choose a Belgian Dubbel and why Italian Plums?

A. The brewery asked if I had any beer recipes in mind that we could use or to come up with one specifically for this project. I knew exactly what homebrew recipe of mine I wanted to brew for Althea.

At that time in the winter, my dad and I were just finishing up drinking our Christmas beer, "My Sugar Plum, Ringo." It was a Belgian Dubbel with Plums that was named after our dog, Ringo, who had passed and this was our first brew without him. For our Christmas beers, we always choose a Belgian base and then add to it, creating a unique holiday ale. When you drink a Quad or a Dubbel, some dark stone fruit flavors come through, so I decided to enhance that flavor by adding black plums.

I thought a Belgian Dubbel with Plums fit perfectly with Weyerbacher's aesthetic and line-up of brews. After pitching the recipe to Chris Wilson and Dan Weirback, they both agreed that this would be a perfect fit. Wilson converted my 5 gallon recipe to an 80 barrel recipe for the brewery. The brewery ordered 1,260 pounds of plums for this brew.

The supplier we use for fruit orders offered Italian Plums, so why not? An Italian (me) brewing with Italian Plums … perfect! The beer held some dark fruit flavors at first. I'm hoping to see more plum shine through in months to come, after it matures a bit.


Q. Describe the flavor in sensory terms.

A. Just look at the beer in the bottle. It gives off the most brilliant ruby red shine, with a tan-colored, thick head. Althea has a mild, fruity ester aroma. Its body is built with sweet, caramelly notes, dark stone fruit flavors, and a medium mouthfeel. Althea is a touch dry and not overly sweet. There is a bit of warmth at the end, which will be welcomed in October when this beer is in its prime. The fruity flavors don't necessary sing plum, but there is a resinous stone fruit flavor throughout the beer. We are quite pleased with this Belgian Dubbel and I look forward to what you all have to say about it.

Q. Where did you get the idea for the beer's name?

A. They were looking for a name that reflected the cause behind the beer, which is to help people surviving breast cancer. The brewery came up with "Althea" which means "healing" in Greek. This is a beer for giving back to the community.

Q. How did you decide to involve the LVHN? Some organizations are less than enthusiastic when they are approached by a beer company who wants to donate to their cause. Were they readily accepting of having "beer" associated with their group?

A. After seeing the successful impact Last Chance donations had on our local community, Weyerbacher wanted to give back even more to a local community support group. The LVHN is the closest place to our brewery's location. They were quite enthusiastic about Weyerbacher's cause and the anticipated donation to their network. One of the Network's members, Keith, is also a homebrewer and enjoyed the opportunity to partner with our brewery for a great cause

Q. I see the beer will be available in 750 ml bottles. Will any be selling on draft?

A. Althea was only bottled in our 750 ml corked and caged bottles, is bottle conditioned, and is slightly unfiltered. No kegs were made, sorry! This beer will age very well and the guys at the brewery think in 6 months it will achieve an even higher level of drinkability; so pick up a few bottles and sit one down until the spring to try again.

Q. How many bottles are being made?

A. There are about 1200 cases made and it will be available in about 10 of our markets. We will definitely see it Pennsylvania, New Jersey, New York, Maryland, Ohio, and Delaware.

Q. Are there any events connected with the release?

A. The Lehigh Valley Health Network will be using it as their main beer during their annual fundraiser during the month of October. Look for other events to be announced closer to the beers release date.


Q. Do you have a release date, or are you just saying October Release?

A. The release date will be the end of September to be seen on shelves for the first week of October to coincide with Breast Cancer Awareness Month.

Q. I've noticed it has a pretty high ABV. Is this meant to be a sipper?

A. 7.75%. It is definitely a sipper, as most of our brews are. Take a bottle and share with your friends and family while you help out Lehigh Valley families in need.

Q. How does your involvement in this beer connect with your role as one of Philly's biggest Beer Geeks? How does it feel to be involved with this project?

A. As the "Vintage 2011" Philly Beer Geek, I try and stay involved in the beer community as much as possible. Usually that means beer fests, dinners, tastings, homebrew meetings, and bartending, but Weyerbacher has given me the chance to brew a beer to raise money for a great cause. I couldn't be more proud to work for a brewery that allows their employees to choose animal shelters to donate to monthly (via our Last Chance IPA donations) but then also decides to help out again with Althea.

Besides the wonderful cause behind Althea, I actually got one of my father's and my homebrew recipes recreated by a regional-sized brewery. Not many homebrewers have the opportunity to see their beer make it to production and into paying hands. There is a lot of heart, hope, and hard work that went into this beer to help out as many women, men, and families affected with breast cancer as possible.

It is great to see our local breweries brewing beer to donate to charities, like Sandy Relief funds, Breast Cancer Awareness, animal shelters, Youth Centers, Cystic Fibrosis, local town fundraisers, museum benefits, Nature Conservancy's, and many other charities. Craft breweries are continually giving back to the communities that support them and I couldn't be more proud to be a part of it.

Q. Do you have a target amount you hope to raise with this beer?

A. We will be donating $1 per bottle to the Lehigh Valley Health Network, so do the math. A dollar per bottle times 1200 cases. That's a significant start.

Cheers!

Additional donations are encouraged through the Rena Rowan Breast Center website. When making donations by check, write "saison de rose" in the memo field on the check; online, type "saison de rose" in the "In Honor of" box.


You Should Also Read:
Saison de Rose Debuts in Philadelphia
Saison de Rose - Erin Wallace on the Personal Side
A PYNK Affair Comes to Yards Brewing Company


Related Articles
Editor's Picks Articles
Top Ten Articles
Previous Features
Site Map





Content copyright © 2022 by Carolyn Smagalski. All rights reserved.
This content was written by Carolyn Smagalski. If you wish to use this content in any manner, you need written permission. Contact Carolyn Smagalski for details.