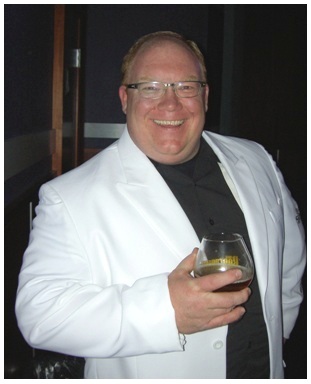 Cotton candy … Bubblegum … Pink Panther – all pink, but none are quite vibrant enough for me. When I think pink, my mind travels to the richer side, into a gem-like garnet with raspberry edges, with a clarity and gloss that invites indulgence. Really PYNK.

Tom Kehoe and Yards Brewing Company got it right when they designed their October seasonal, PYNK: A Tart Berry Ale, released to the market in time for Breast Cancer Awareness Month. "It was an idea that began years ago, 2004 maybe, with the success of Saison in the U.S.," said Tom Kehoe. Since then, it has been an occasional seasonal release – one that has evolved from a limited-edition Raspberry Lambic, fermented with wild Brett, to a fruit-infused, tart ale made with Yard's own English Ale yeast.

PYNK: A Tart Berry Ale invites exploration with its rich fruity nose. The Yards brewers aimed for a recipe with a satisfying pinch of tartness and dry quenchability, at a sessionable 5.5% ABV. Three pilot batches were tested in the original Yards Brewery, resulting in an ale with a gem-like luster in shades that appear intensely purple in a brandy snifter, but lusty pink when served in a Champagne flute. Top it off with a fluffy pink head, and you can't help the urge to dive-in.

Don't be mistaken into thinking this is a framboise, just because it has fruit. According to BJCP guidelines, this berry ale fits into the fruit-and-vegetable category, a luscious ale with aseptic raspberry puree and aseptic cherries added directly into the fermenter to feed the hungry English Ale yeast on natural sugars.

Yards uses pale and acidulated malts, along with torrified wheat, as the foundation for the beer, and hops it up with just a bit of Fuggles in the boil. The acidulated malt serves to bring the pH down and adds a bit of lactic character, allowing the acidity to emerge without the assist of wild yeast.

"The decision to protect the brewery from wild yeast was key to our decision to create a tart beer," said Kehoe, explaining that the design of this beer using acidulated malts and tart fruit was far more complex than taking the easy, but far riskier, route of fermenting with Brett.


PYNK is a departure from the normal brands at Yards. In some respects, it is a cross-over beer; yet still has the ability to satisfy the palates of die-hard beer geeks. Yards made 5,000 cases of their Tart Berry Ale, to be distributed all over the mid-Atlantic region, including Pennsylvania, New Jersey, Maryland, Delaware, and some parts of Virginia.

Although the 2004 launch of PYNK was not originally tied to Breast Cancer Awareness Month, it eventually came into its own in support of the Tyanna Foundation which assists with research, treatment and care for breast cancer patients in southern New Jersey, Baltimore Maryland and Philadelphia Pennsylvania. Yards wanted a local foundation to benefit from the beer, so they are contributing one dollar from every case to the foundation.

Tyanna Foundation was created in honor of the mother of five daughters, Tyanna Barre O'Brien, who lost her battle against breast cancer at the young age of 48. Her daughters founded BreastFest, the most visible event held by Tyanna in the local arena.

The 2013 version of PYNK rolled into the market on September 1st. Yards will sponsor "The PYNK Affair" on October 4th from 7:30-10:30 pm in the tasting room at the Yards brewery at 901 North Delaware Avenue in Philadelphia. All proceeds will go to the Tyanna Foundation. "The party will be rockin' with a Weezer cover band called Freezer," said Tom Kehoe. Little Baby's Ice Cream rolls out a PYNK ice cream made with – you guessed it! – PYNK Tart Berry Ale. You can even chomp on a burger, wrapped in a pink bun.

DJ Pink Elephant and DJ Pink Slip will fill in the edges when Freezer, made up of Little Baby's Ice Cream staff and a few friends, needs a PYNK break. A small contribution of $10 at the door gets you all this, plus a raffle ticket.

PYNK is one of three pink beers being released in the Philadelphia region, specifically for Breast Cancer Awareness Month. Weyerbacher Brewing of Easton, PA released Althea to benefit the Lehigh Valley Health Network, while Free Will Brewing of Perkasie, PA launched Saison de Rose to benefit the Rena Rowan Breast Center at Penn Medicine. Seek out all three and go PYNK.

Cheers!

Additional donations are encouraged through the Rena Rowan Breast Center website. When making donations by check, write "saison de rose" in the memo field on the check; online, type "saison de rose" in the "In Honor of" box.