Saison de Rose - Laura Ferraiolo of Penn Medicine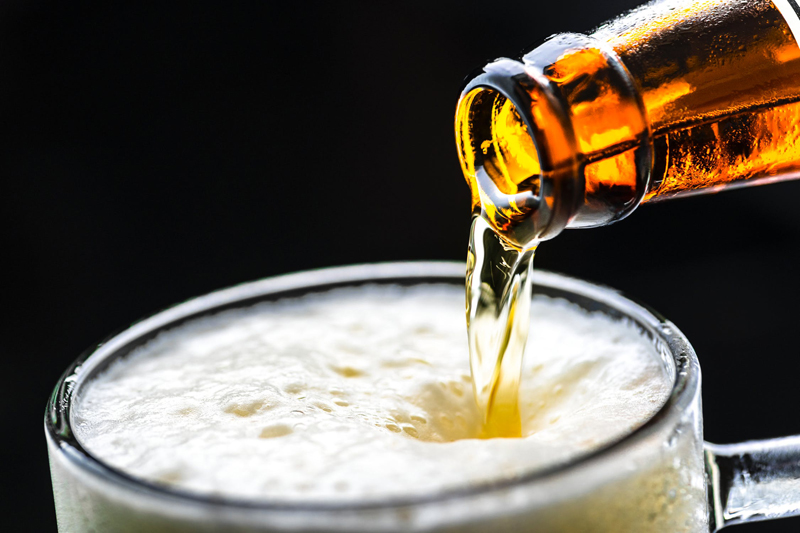 In late July of 2013, a group of Philadelphia "women of beer" launched a collaborative project with the cooperation of Free Will Brewing Company in Bucks County, Pennsylvania to create a beer for Breast Cancer Awareness. They named it Saison de Rose, or "Season of Pink." This moderate, rose-hued beer was introduced to the public on October 4th as a tribute to the women and men challenged by breast cancer.

Erin Wallace, Publican of the Devil's Den, Old Eagle Tavern and Barren Hill Tavern, was joined by Beer Fox Carolyn Smagalski, Sommelier Marnie Old, and Independent Journalist Tara Nurin to create a Belgian-style Farmhouse Ale, infused with grapefruit, ginger, and hibiscus and finished with pink and black peppercorns. "This beer is really delicious," said Scoats of the Grey Lodge Pub in Philadelphia.

Free Will Brewers John Stemler and David Wood, backed by co-founder Dominic Capece, brewed three pilot batches to achieve just the right balance and quenchability to make this 4.5% ABV beer an approachable choice for the "wine-drinking" crowd, while simultaneously satisfying enthusiasts of artisanal craft beer.

Proceeds from the sale of Saison de Rose are being donated to the Rena Rowan Breast Center at Penn Medicine in Philadelphia. A portion of these funds will be allocated to research, with the balance directed to assist local women and men in their challenges to overcome their diagnosis.

I was privileged to interview Laura Ferraiolo, Director of Development at Penn Medicine's Abramson Cancer Center at the inception of the project launch in early October. Ms. Ferraiolo provided valuable insight regarding the objectives of the Rena Rowan Breast Center and the work they are accomplishing in the city of Philadelphia.

Q. Tell us a little about yourself. What do you do, and what is your role, if any, in the world of beer? How did you come to be associated with this project?

Laura: I am the Director of Development for Penn Medicine's Abramson Cancer Center and have a specific role in raising money for breast cancer research and patient care. I have been on the Abramson Cancer Center development team for close to nine years. I don't have a specific role in the world of beer, except for being a consumer. I was contacted by Erin Wallace as she has supported the Rena Rowan Breast Center at Penn's Abramson Cancer Center for a few years.

Q. Tell me about the major thoughts that guided you in this project.

Laura: In my role, I work very closely with Dr. Amy Clark, a breast cancer oncologist at the Rena Rowan Breast Center. While Dr. Clark is a physician first and foremost, she is also a researcher. Funding of research projects of our junior faculty is very challenging, as federal grants are often given to ideas that have already proven they will work. To obtain that type of data, seed funding is needed, which is where philanthropy plays a significant role. It also allows for some flexibility so the risky ideas can be tested, which ultimately are the ones that lead us to a cure and better treatment options for women diagnosed with breast cancer.

Q. How do you fit into the patchwork of this project?

Laura: I work in the middle to connect the brilliant doctors with the generous philanthropists.

Q. Have you ever been affected by Breast Cancer, either personally or peripherally?

Laura: I have not personally been affected by breast cancer, but unfortunately deal with it each and every day professionally and continue to try and make a difference to help push forward life-saving research with raising much needed resources. Unfortunately, I did have a close friend get diagnosed with breast cancer a few weeks before her thirtieth birthday. She underwent a mastectomy, eight weeks of chemotherapy and reconstructive surgery. It was a very challenging year, but she is doing very well and getting her life back on track. She felt blessed to have the Abramson Cancer Center family on her side.

Q. Laura, how did the Rena Rowan Breast Center come into being?


Laura: We are celebrating this year the 40th Anniversary of the Abramson Cancer Center being designated a Comprehensive Cancer Center by the National Cancer Institute. We have always treated breast cancer patients. That being said, the Rena Rowan Breast Center was established fifteen years ago through a generous gift from Rena Rowan Damone. Ms. Damone is an internationally recognized fashion designer and businesswoman, and based with her own experience with breast cancer, guided the development of the Rowan Center to ensure that each patient receives the same outstanding level of care, attention, and treatment. The Rowan Center brings together nationally prominent breast specialists from all key disciplines into a single setting. Working together, they focus on serving patients' unique medical, emotional, and personal needs.

Q. Can you share any personal stories, without violating any information protected by privacy laws? How do women typically come to the Rena Rowan Center for help?

Laura: The Rena Rowan Breast Center at Penn's Abramson Cancer Center has a national reputation in breast cancer excellence. We treat women from our local community and around the world. Many times, women receive their care from their community hospital or breast center and come to Penn to receive expertise in advanced cancer or a cancer hard to treat. We take on the most difficult cases. That being said, through our reputation we are also starting to see women with earlier stage breast cancer as they come to Penn to take advantage of our expertise on all ends of the cancer care spectrum.

Q. Who initially approached you about our project? What was your initial reaction to being selected as the beneficiary of this very special beer to heighten Breast Cancer Awareness?

Laura: I received an email from Erin Wallace – who I have worked with in the past to raise money for breast cancer research. Devil's Den is actually my neighborhood restaurant and bar, so I am familiar with it personally and professionally. This year's approach was different though as it felt like it had much more passion and momentum than previous years. We were thrilled to be the beneficiary of "Saison de Rose" which will now have a fund at Penn to support breast cancer research and patients in financial need. And if I might add my own two cents – the beer is delicious. I needed to test the product.

Q. Have you had any involvement with the documentaries being filmed by Matthew Stumpf of Lionize Productions? How so?

Laura: Unfortunately, I was away on vacation the week of August when Matthew came to film Dr. Amy Clark and the Rena Rowan Breast Center. Fortunately, my colleague Michal Greenberg, Director of Communications and Community Engagement for the Abramson Cancer Center, was present and helped to take Matthew and his film crew around.

Q. How many people are affected by Breast Cancer each year? Do you have any statistics on how many Cancer Survivors are in the U.S.?

Laura: The American Cancer Society's estimates for breast cancer in women in the United States for 2013 are:

About 232,340 new cases of invasive breast cancer
About 64,640 new cases of carcinoma in situ (CIS) of the breast will be found (CIS is non-invasive and is the earliest form of breast cancer).
About 39,620 deaths from breast cancer
Breast cancer is the most common cancer among women in the United States, other than skin cancer. It is the second leading cause of cancer death in women, after lung cancer.
The chance of a woman having invasive breast cancer during her life is about 1 in 8. The chance of dying from breast cancer is about 1 in 36. Breast cancer death rates have been going down. This is probably the result of finding the cancer earlier and better treatment. Right now there are more than 2.8 million breast cancer survivors in the United States.
Q. Is the rate of breast cancer in the U.S. increasing or has it remained steady?

Laura: The survival rate of breast cancer is increasing. I'm not sure about the diagnosis rate.

Q. Does the Rena Rowan Breast Center only treat women? What about men who are diagnosed with the disease?

Laura: Yes - we also treat men who are diagnosed with breast cancer.

Q. Can consumers make donations directly to the Rena Rowan Breast Center in honor of Saison de Rose, even if they don't drink beer? How do they do that?

Laura: Yes! If you'd like to make a gift to support the Saison de Rose Breast Cancer Research and Patient Care Fund please either:

Send a check made out to the Abramson Cancer Center, and include in the memo line "Saison de Rose" fund and mail it to:
Laura Ferraiolo
Penn Medicine Development
3535 Market Street, Suite 750
Philadelphia, PA 19104

To make a credit card gift call me directly at (215) 746-2948 or go to the Penn Medicine website and include "Saison de Rose" in the tribute section.
All of us involved in the Saison de Rose project would like to thank Laura Ferraiolo and Penn Medicine for embracing our project for the benefit of the community it serves.

Cheers!

Photos courtesy of Laura Ferraiolo (from top): Laura Ferraiolo; Laura and husband Danny


You Should Also Read:
Saison de Rose - Marnie Old Speaks Good Beer Sense
Saison de Rose Debuts in Philadelphia
Saison de Rose - Erin Wallace & The Launch


Related Articles
Editor's Picks Articles
Top Ten Articles
Previous Features
Site Map





Content copyright © 2022 by Carolyn Smagalski. All rights reserved.
This content was written by Carolyn Smagalski. If you wish to use this content in any manner, you need written permission. Contact Carolyn Smagalski for details.