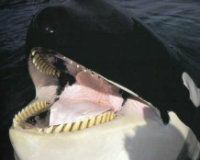 Since "Lupa" the whale, attacked her trainers in 1968 for draining her tank while she was still in it, each subsequent decade has shown an increase in captive whales attacking aquarium employees. The 70's produced 16 attacks, the 80's had 19 attacks, the 90's logged 29 attacks, and at the turn of the 21st century, there were 39 reported attacks.
The global population keeps hearing about advanced techniques in training captive whales for performance enhancement. Clearly, aquariums have missed the memo that their enhanced training techniques are not working. SeaWorld developed a Least Reinforcing Scenario (LRS) training technique. Because the company is not seeing the desired results, they implemented a policy to drill out the teeth of the whales to aid in LRS training. Of course, the fines received from the United States department of Occupational Safety and Health Administration (OSHA) for failure to provide a safe work environment makes it easier to justify permanently damaging these imprisoned, warm-blooded water mammals.
With crushing fines and negative media attention, have aquariums thought about how an exit strategy will affect these animals? What happens to the defaced whales should the performances or facilities shutdown? Would they be released back into the wild? How would they survive without the ability to ward off predators or eat their regular diet? When one contemplates the implications of teeth extractions, it seems the only end game afforded the whales is one of outright slaughter. This cannot be viewed in the light of a humanitarian measure, only one of cruelty. United States taxpayers have spent in excess of $700,000,000 to preserve and protect endangered species, which includes whales living in servitude at many aquariums.
It is not uncommon for whales on the endangered species list to be captured and enslaved by aquariums. One such endangered cetacean is the Southern Resident Killer Whale. Their population numbers are plummeting and have roughly 89 surviving members. Yet, aquariums continue to circumvent the law for the purported benefit of preserving species.
Aquariums use the same guise as zoos and justify their necessity by asserting it assists in the preservation of threatened and endangered animals. Which leads to the most important question, how are capturing, subjugating, harming, and permanently maiming these cetaceans thwarting their extinction? Research indicates that it does not.
Aquariums, like SeaWorld, also rationalize their actions by emphasizing the intrinsic educational value brought forth for future generations. How is seeing a stressed out, abused, and misused cetacean considered constructive education? Here is a thought, what about an actual whale education where children go on a whale watching expedition and see how whales behave in their natural environment. The children receive a beneficial education on whale behaviors, mannerisms, and the importance of preserving habitats. In addition, the whales get to live their lives free from human exploitation.
Aquariums are costing taxpayers money, inflicting deliberate harm, and do not provide accurate, constructive, positive education about wildlife. These facilities are tantamount to water parks with special permits to display angst-ridden animals. The whales are clearly telling humankind to leave them alone through acts of disobedience. It is time to listen.
For those interested, sign the
Stop Harming Whales and Start Listening Initiative.
You Should Also Read:
SeaWorld Orcas Are Not Educational
NRDC Says Stop Breaking the Law!
How to Advocate for Animals


Related Articles
Editor's Picks Articles
Top Ten Articles
Previous Features
Site Map



Follow @WildlifeWelfare
Tweet





Content copyright © 2022 by Deb Duxbury. All rights reserved.
This content was written by Deb Duxbury. If you wish to use this content in any manner, you need written permission. Contact Deb Duxbury for details.