Making Peace With Our Hair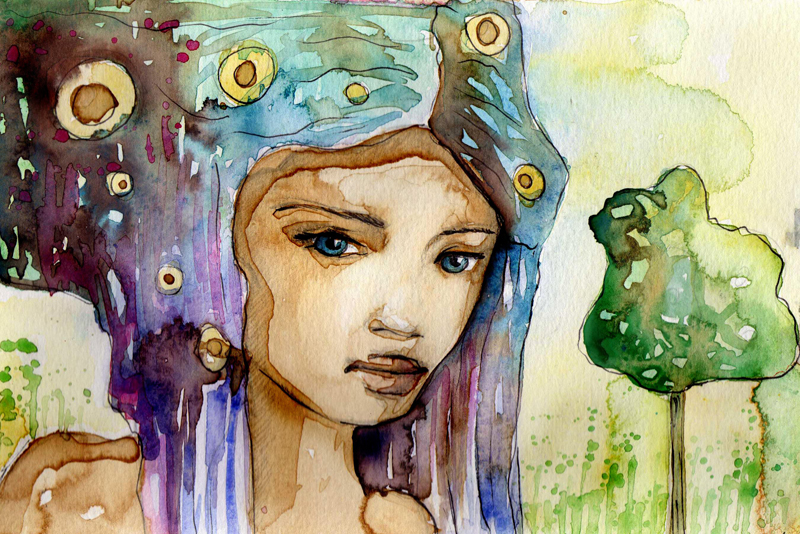 This is a great article that was written by April Alisa Marquette, a former Ethnic Beauty editor for Bella Online. It speaks of the challenges and concerns of women who choose to wear their hair in its natural state.
What a lot of people don't realize nor do a lot of them care, is that when you constantly tell a person they're ugly or not pretty based on the texture of their hair, it's down right cruel. I hope you'll find this article helpful in your hair journey.
In April's words ...
As ethnic women, often we vacillate over whether or not to straighten our hair. We even find ourselves contending with just how to wear our uniquely textured hair. We wonder how doing so will be accepted. We find ourselves with this dilemma, because as many of you know, there are positions/job situations where the natural appearance of ethnic hair may be considered too 'out there,' too bohemian.
This type of limited thinking can shatter the self-esteem of even the strongest ethnic beauty. Sure, it's deplorable, yet, for centuries these kinds of negative attitudes about ethnic hair have caused feelings of dismay or even feelings of inferiority. Well to all of that I say 'enough!' Ethnic beauties, it is time to take our power back. In doing so, I'll tell you what I do. I remind myself that as an African-American, when my ancestors were forcefully taken from their homeland, their culture, and all that symbolized beauty for them was left behind. If your people have a similar history, remind yourself of it. Then do as I do. I go on to remind myself that being torn from all that was familiar, in time, caused some of my people to begin a love-hate relationship with their hair. I remind myself that today, in many ethnic communities this unhealthy relationship yet exists,
but
I remind myself
it does not have to
.
In order to dispel negativity, first, we must pinpoint where these messages are coming from. Then we must systematically reject them. If you notice messages in the media that attempt to reinforce the notion that your hair isn't right unless it looks like someone else's, reject that. If someone has spoken a negative word to or about you, simply say, even if you have to say it to yourself, 'I do not receive that,' because, we don't
have to
embrace other people's mess. Their non-empowering ideas do not have to become our own. We can decide to make peace with our hair. Sure, your hair -- like that of many ethnic people -- might consist of a tight curl pattern. It is beautiful. If your hair is coiled, bushy, knotty, or even if it poufs in humidity, the trick is to learn to peaceably manage it. If you desire to chemically relax it, then by all means do so. If you'd like to wear your ethnic hair locked, braided, or free, the choice is yours. If you have unruly curls or spirals, if your hair is thin or thick, choose to have
good hair days
for the remainder of your days.
Today, I advocate that we choose to free ourselves from negative stereotypes and outmoded methods of thinking. In doing so, we should also instill in our beautiful ethnic
children
, the freedom to choose. Let us instill in them the very thing that we as adults have embraced: the fact that our textured hair is an extension of who we are as ethnic people -- it is as unique and beautiful as we are!
Let us commit to insuring that our hair -- like our body -- remains healthy. Let us forget the notion of good hair vs. bad hair. I believe there is no such thing. Our hair just needs a little TLC, a lil' tender loving care. Let's learn what works for us; then strut our stuff!
No matter what your ethnicity, ladies, let us do what many Africans, African-Americans and Afro-Cubans have long done. Let us see our hair in a spiritual light. Since our creator gave us this hair, and since it's all good, let us embrace it. Free yourself, and your mind, by making peace with your own beautiful hair.
To see a few treatments for ethnic hair; to inform us of others, or simply to comment, please join us in the
Ethnic Beauty Forum
!
Dedicated To Your Beauty
Juliette's Website
https://www.nyrajuskincare.com/hair.html
You Should Also Read:
Natural Curls, Special Needs Hair
Ethnic Hair Help From Miko, Titi, and Grandmother
More Hair/Peace Tidbits


Related Articles
Editor's Picks Articles
Top Ten Articles
Previous Features
Site Map





Content copyright © 2023 by April Alisa Marquette. All rights reserved.
This content was written by April Alisa Marquette. If you wish to use this content in any manner, you need written permission. Contact Juliette Samuel for details.