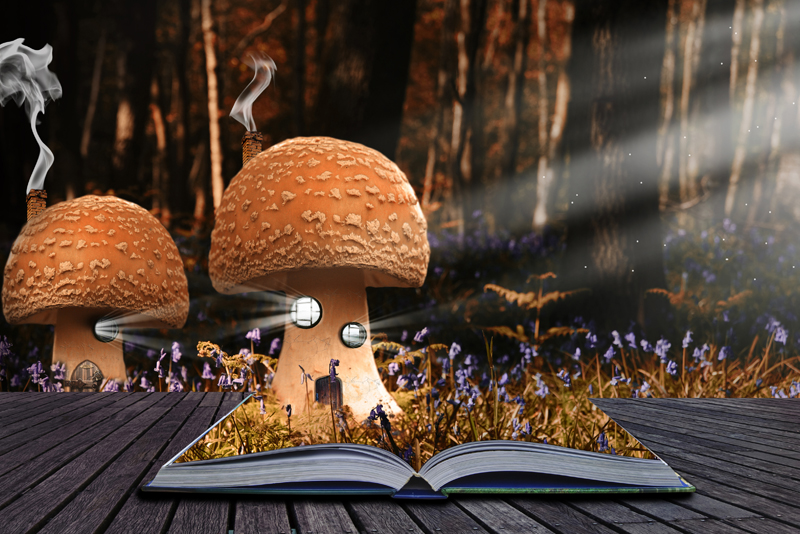 What are tall tales? American tall tales are fictional stories. They are told as entertainment. Long ago, people told the tales around campfires. After the day's work was done, people gathered together and talked.
The American legends began as regular stories. As people repeat the tale about the story's hero, the larger or stronger, the American hero grows. People compete with the previous storyteller by adding a more outrageous detail.
For example, Paul Bunyan starts as an ordinary lumberman. Every time a Paul Bunyan tale is told, he grows larger and larger. Soon Paul towers over the dense forests. Paul grows so large a pine tree becomes his comb. He finds an ox, not a regular ox, but a huge blue one whom he names Babe. The towering Paul Bunyan and Babe dig some little ditches. We call the little ditches the Great Lakes.
Pecos Bill is a Texas cowboy. He settles the American Wild West. His strength and abilities grow until he is quite a remarkable character. Imagine a cowboy riding a twister (tornado)!
John Henry is a large, strong African-American. He works on a railroad crew. John Henry with his mighty hammer carves paths through mountains for the laying of train tracks. Alas, there is the advent of the steam engine. John Henry proclaims he can work faster than the engine. He does, but unfortunately he dies afterwards. A man working faster and harder than a machine! This is another American myth.
Tall tales books for children are quite entertaining explanations of the American past. Paul Bunyan works in the timber industry which provides the needed buildings for the growth of the nation. John Henry's story represents the great railroads which cross the country and the arrival of the industrial age. Pecos Bill settles the Wild West for the advancing settlers. There are so many tall tales to explain different junctures in American history.
Tall tales books for children are fiction, but not all the heroes are fictional. Davy Crockett and Calamity Jane actually lived. Davy Crockett settled the American frontier, was a Congressman and died at the Alamo. Calamity Jane was a frontier woman. Their exploits were exaggerated over time with each retelling.
Tall tales are not unique to America. Many countries have tales or folklore to explain the past or natural developments. Australia and Japan have many folk tales to explain different periods in their history. Africa's Anansi the Spider does some remarkable things.
Tall tales books for children teach them to use their imagination. Read one to a group of children and allow each child to retell the story. Listen as each child tries to out do the previous storyteller. The activity teaches a sense of how it felt sitting around a campfire in the past.
Tall Tales' Heroes
Johnny Appleseed
Calamity Jane
Paul Bunyan
Davy Crockett
Joe Magarac
John Henry
Pecos Bill
Drop in the forum and share what you are reading. What is your favorite
picture book
?
Don't forget the daily multivitamin!
Picture Books for Children
List of Dr Seuss Books
Don Freeman's Books
Berenstain Bears Books
You Should Also Read:
Paul Bunyan
John Henry
Folk and Fairy Tales


Related Articles
Editor's Picks Articles
Top Ten Articles
Previous Features
Site Map





Content copyright © 2022 by Taisha Turner. All rights reserved.
This content was written by Taisha Turner. If you wish to use this content in any manner, you need written permission. Contact Launa Stout for details.