Dark Matter - Poems of Space - book review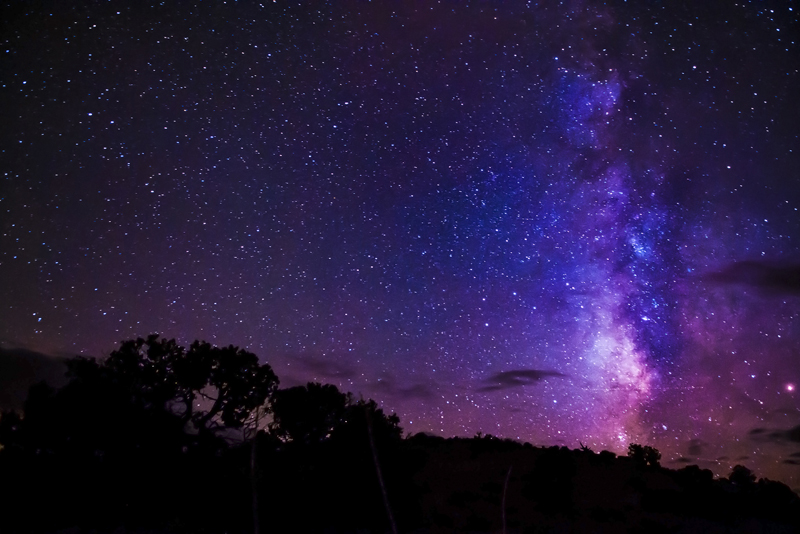 Look at the stars! Look, look up at the skies!
Gerard Manley Hopkins (1844-1889)
from "The Starlight Night"
Poets have long found inspiration in the heavens for meditations on love, beauty, and the meaning of this life and beyond. Some have even incorporated the processes of astronomy and the implications of space travel into these visions.
Dark Matter
is a harvest of such poems. One of the book's editors, Maurice Riordan, is a prize-winning poet and the other is renowned astrophysicist, Jocelyn Bell Burnell.
The publishers, the Calouste Gulbenkian Foundation, also commissioned some poems especially for this volume. Poets were paired with working astronomers who talked about their work. At the end, the poets briefly describe the experience, though I'd have also been interested to know what the astronomers thought of it.
There are over a hundred poets represented and there must be something to please everyone. I'll admit that I rarely choose to read poetry, but I loved some of the poems.
"Stars Moving Westwards in a Winter Garden" is thoughtful and moving. Julia Copus (b.1969) explores the idea that "perhaps the hardest thing about losing a lover is to watch the year repeat its days." As the Earth turns and the seasons change, there is a gradual readjustment of life. And the bereft lover?
...in truth he could stand for any one of us:
earthbound, heart-sore, his boots in the frost-stiffened grass
travelling eastwards, against a background of stars.
There is a lovely, wistful poem about radio telescopes by Diane Ackerman (b.1948), which begins
As our metal eyes wake
to absolute night,
where whispers fly
from the beginning of time,
we cup our ears to the heavens.
We are listening.
It ends, "we are listening, the small bipeds, with the giant dreams."
Despite writing very expressively about Steward Observatory, Alison Hawthorne Deming (b.1946) seems unconvinced about the value of such telescopes. She concludes sadly,
They won't fix history or touch the places
inside we can't get close to.
However Deming isn't as dismissive as Walt Whitman (1819-1892) in his famous "When I Heard the Learn'd Astronomer." The audience greets the astronomer's lecture "with much applause," but the narrator gets fed up and goes outside to look at the sky. The poem has always seemed a bit snarky to me, but then I've never found the glory of contemplating the stars to be diminished by knowledge of them.
I am a great fan of John Herschel (1792-1871). He took his family and his telescopes from England to South Africa for four years to survey the southern skies. His catalog of nebulae was a complement to the northern hemisphere survey done by his father William and aunt Caroline. I didn't think that I would like a poem trying to encapsulate this rich experience. I was wrong. The poem by Bill Manhire (b.1946) is a wonderfully evocative celebration of this brilliant, enthusiastic man.
But what of those who, instead of studying the heavens from the Earth, go forth into space?
Jamie McKendrick (b.1955) was touched by the view the
Apollo
astronauts gave us - not of the Moon, but of the Earth.
What once had been
where heaven was, is barren beyond imagining,
and never so keenly as from out there can
the lost feel earth's the only paradise.
Imagine the thoughts of a future astronaut on the verge of the first manned mission into deep space. In Leo Aylen's "Orbiting Pluto," just before going into frozen sleep, the astronaut is caught up in his fears. Poignantly, his worst fear isn't that he won't return, but that he will . . . two centuries later, and lost in the future
. . . like Drake's
Golden Hind crew dumped on the moon
To meet Neil Armstrong by his crater
Aylen (b.1955) is a fine storyteller, but I do have a niggle. The poem starts by describing Pluto's moon Charon as "A moon. But sixty times the size/Of ours." No, both Pluto and Charon are smaller than our Moon. I was told that I lacked poetry in my soul for even noticing this. But what if Wordsworth had described the daffodils not as "golden daffodils" but "blood-red daffodils"? It would still be poetic, but daffodils aren't red, right? (End of niggle.)
The delightful "A Martian Sends a Postcard Home," by Craig Raine (b.1944) is a quirky view of Earth which reads like a series of riddles.
I'll end with the very appealing "The First Men on Mercury" by Scottish poet Edwin Morgan (1920-2010). It made me laugh on the first reading. It made me laugh even harder on subsequent readings.
The Earthlings are rather patronizing to the Mercurians. They explain
This is a little plastic model
of the solar system, with working parts.
You are here and we are there and we
are now here with you, is this clear?
The answer is "Gawl horrop. Bawr Abawrhannahanna!" (This sounds like laughter to me.)
As the poem goes on, the Earthlings' language deteriorates into pidgin and the Mercurians start including English in their speech. By the end the Mercurians insist, "You must go back to your planet" and the Earthlings protest "Stretterworra gawl, gawl..."
Dark Matter: Poems of Space,
editors: Maurice Riordan and Jocelyn Bell Burnell, published by Calouste Gulbenkian Foundation, United Kingdom: 2008. ISBN: 978-1-903080-10-8
NOTE: The copy of
Dark Matter: Poems of Space
which I read was bought for me as a present by a family member.
You Should Also Read:
Seeing in the Dark - book review
Herschel Museum of Astronomy
It's Alive! - book review


Related Articles
Editor's Picks Articles
Top Ten Articles
Previous Features
Site Map





Content copyright © 2022 by Mona Evans. All rights reserved.
This content was written by Mona Evans. If you wish to use this content in any manner, you need written permission. Contact Mona Evans for details.