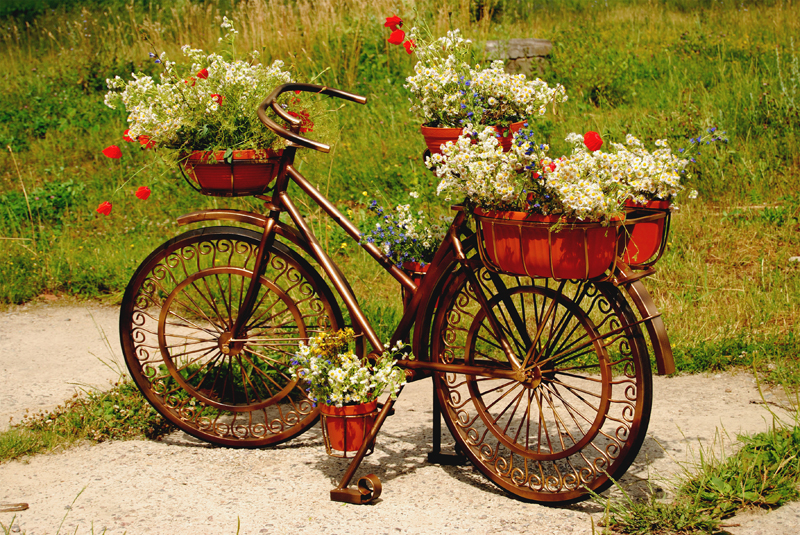 The versatility of a tomato in the kitchen seems never-ending so whatever you do with your homegrown or organic tomato crop, enjoy the results!

There are hundreds of recipes using tomatoes - and of course, everyone who loves cooking will have their own. Below are four recipes that you can try which may be different.

GREEN TOMATO AND FIG CUPCAKES (makes 18)
This is surely a cupcake recipe to write home about! They are moist, flavourful and very moreish!

Pre heat your oven to 350F and prepare muffin pans by using cooking spray and lining them with paper cupcake covers.

Take 8 oz. cored and quartered green tangy tomatoes (Aunt Ruby's German Greens or Lime Green Salad tomatoes are good varieties) and blend until smooth. Place one cup sugar, ½ cup vegetable oil, and 2 large eggs in a large bowl. Use a hand beater to beat on high until well blended.

To this mix stir in the tomato puree and 2 TSP orange rind. Mix together 2 cups sifted baking flour with one Tsp baking powder, ½ Tsp baking soda, ½ Tsp ground cinnamon, a scant Tsp salt and add these dry ingredients to the tomato mixture and beat on a low speed until just combined (do not over beat). To this add a ¾ cup fresh chopped figs and about 2/3 cup chopped pecan nuts.

Spoon the batter into the prepared muffin pans and bake for just under 20 minutes or until a wooden skewer comes out with moist crumbs sticking to it (not raw batter). Remove from the oven and let rest in the pans for 5 minutes then take them out and allow them to cool completely on wire cake racks.

Make a frosting by combining 4 oz. cream cheese with ½ Tsp vanilla extract, 1 ¼ cups of icing sugar and a dash of salt. Beat this well until smooth then spread the cupcakes with frosting and use fresh slices of fig or finely chopped nuts to decorate them. I am sorry to tell you that it will be back to the kitchen for you when your guests taste these!

HOT PASTA TWIRLS WITH CHERRY TOMATOES EN SALADE (serves 4)

Serve this fresh salade with cooked 'til al dente pasta (tri-colour pasta looks pretty). For the salade, take 3 cups of halved cherry tomatoes (quarter them if you will) and add the following.
One finely diced spring onion (shallot), 2 TBS capers (have you made your own yet?); 10 or so pitted black Kalamata olives; One crushed garlic clove; 6 or so torn basil leaves; freshly ground salt and pepper to taste and 3 TBS best olive oil with a dash of balsamic vinegar. Mix this up (clean fingers are good) and pour over the hot pasta. Add some good red wine and some crusty bread – oh my! Adapt the recipe by leaving out the olives, vinegar and capers, and adding shredded fresh mint to use it as a sambal for curry.

ROASTED TOMATO SOUP (serves 4)

When you roast tomatoes for this recipe, it extra natural sweetness and flavour is enhanced. The results from the little effort needed here to make this soup is a far cry from opening a can of gooey processed industrial soup (sorry Campbells!)

Take a kilo of halved ripe roma or plum tomatoes, drizzle over one TBS olive oil and cover with fresh thyme, season with salt and pepper and roast them for about 20 minutes (or until tender) in the oven preheated to 220C.

Heat a small glug of olive oil and stir fry together for 5 minutes or so 200g peeled and roughly chopped potatoes, 2 crushed cloves of garlic (optional) and one medium size chopped onion. Then add 2 TBS demerara (brown) sugar and 2 TBS tomato paste.

Stir in 2 cups vegetable stock (homemade if you have any) add one cup cold water. Cover the pot, bring to the boil and allow to simmer for about 15 minutes or until the potatoes are tender. Add the roasted tomatoes (I remove the skins) and blend (be careful, it's hot). Serve with a strip or squiggle of whipping cream and a sprinkle of fresh thyme and crusty rolls. Delish and pretty!

BAKED COUSCOUS BEEF TOMATOES WITH CORN AND GREEN CHILLIES
Most families have their own version of this simple warming dish but this is nice enough to try.

Prepare 6 firm ripe beef tomatoes by cutting off the tops which you set aside for use later. Be careful not to break the skins as you scoop out the flesh and seeds ten sprinkle the insides of the tomatoes with salt, invert them on a wire cake rack and leave them to drain for some 30 minutes. Reserve one plus cups of tomato liquid for use later. Make the chillie mix by blistering two mild green chillies (like poblano), remove the charred skins, membranes and seeds and chop the flesh.

Heat some olive oil in a pan and fry a cup of chopped onion and 2 cups of corn kernels (not creamed) for 10 minutes or so then add to the chillie flesh in a glass bowl. To this, add one TBS fresh oregano, a phat splash of olive oil, one TBS fresh lime juice (lemon doesn't work as well), a half Tsp ground cumin and salt and pepper to taste. Mix it about.

Make the couscous by bringing the reserved tomato juice and a quarter cup of water to the boil and adding 250g couscous with seasoning to taste. Stir this well, cover and steam for two minutes, then stir in 3 TSP butter and warm over low heat while stirring to separate the grains. Add this to the corn mixture and toss well.

To prepare the tomatoes, dry the insides well with a paper towel then spoon in and three quarter fill each shell with your chillie corn mixture. Place the tomatoes on a baking tray lined with foil and cover each with a sprinkling of grated melting cheese. Bake these in the oven at 350F for about 15 minutes, then turn on the grill and grill them until the cheese is bubbling and beginning to colour. Serve individually sprinkled with chopped parsley – a filling and very tasty meal awaits!

What's cooking good looking?

................................................................................

CASUAL VISITOR … and just browsing? Why not sign up to the Container Garden newsletter? It won't matter what space or how many pots you have or even how much time you have to spend in your container garden; what will matter is that you get our reminders and good advice and ideas all in one interesting article.

You Should Also Read:
Tomatoes Today!
Seedlig Tomatoes in Containers
Vegetable Container Tips


Related Articles
Editor's Picks Articles
Top Ten Articles
Previous Features
Site Map





Content copyright © 2023 by Lestie Mulholland. All rights reserved.
This content was written by Lestie Mulholland. If you wish to use this content in any manner, you need written permission. Contact Lestie Mulholland for details.