Herbs in Action - TARRAGON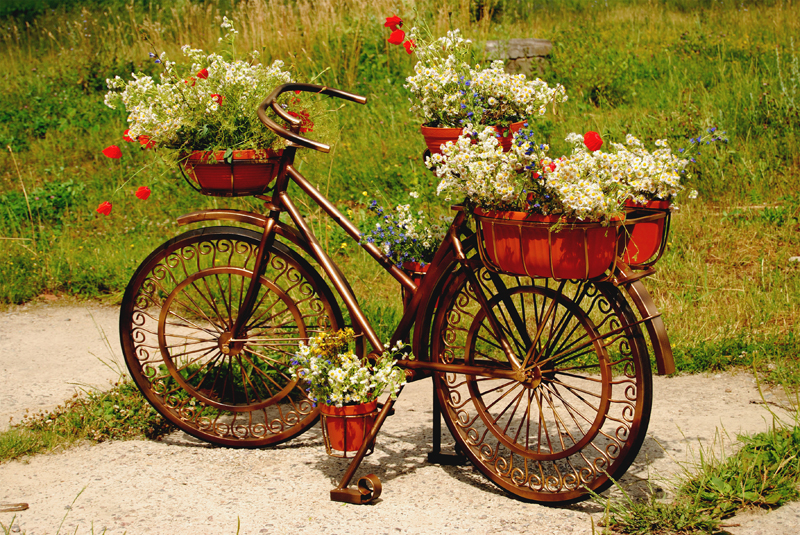 Tarragon is a classic herb that offers up a delicate and sweet aniseed flavour and can be grown with minimal effort but caring attention. There is French tarragon, Russian tarragon and Mexican tarragon – and while similar, it's the French (Artemesia dracunculus var sativa) that you will want to grow – and in pots it will be only for one season as the roots will start to take over and it loses flavour. I like this because then I get to renew the plant or I can grow something else if I need the pot.

The name tarragon comes from the French word estragon, meaning 'little dragon'. The plant is straggly with grass-like leaves on long stems and are shaped like dragon's tongues ... and if you have never seen a dragon's tongue then just look out for some fresh tarragon!

It is a purely culinary herb which usually needs to be cooked or tasted to enjoy its fragrance - it is more delicate than say rosemary or thyme or marjoram which give stronger flavours and aromas. Mind you, I have finely cut up four or so tiny leaves or so to add to a mixed green salad to serve two, and I do enjoy the bite that this fresh herb offers. It is important to have a source of fresh tarragon for your kitchen, I don't think I have seen dried tarragon in the shops, never looked for it, but even if there were, I would not buy it – it is likely to be flavourless and a waste of cooking space.

Keep harvesting from the top of the leaves, the more you cut the more it grows and you will encourage a full and robust plant by doing this.

French tarragon demands little from the gardener but a watchful eye. Keep it lush and productive by planting it under the right conditions from the start, and then watering properly through any dry spells. Generally it like cool and warm conditions and if you are growing in hotter climates then water well. It will grow to about 2 feet high and likes its own pot. Prune it back in mid-summer by half and you will have a continuous harvest until the end of its season.

It's better planted in full sun, at least 6 hours daily, and good-draining humus-rich loose soil, (neutral PH). It is important that the roots do not become water-logged – watch your watering, check the pots are draining and do not be tempted to water more just because the plant looks dry. This herb has a fleshy root system and is frost tender and needs to be sheltered from the wind. It is hardy and drought resistant but does not like the heat – sunshine yes, but desert heat no. It will also grow well in partial shade but with light – no dark corners.

Actually, growing tarragon in a container is easier than it is in the garden. It can die off suddenly, so it does need your attention and growing it in pots means that it will get that.

The only way to propagate French tarragon is by roots or stem cuttings as it does not set seed. So, if your potted tarragon starts to set seed or if you are offered seed, then know you are dealing with Russian tarragon and not French. It produces small pale green flowers that are sterile and do not open. To propagate, best in spring, lift the plant and cut it in half with a sharp knife – then repot in new soil, and by the way, stem cuttings root very easily too.

So what about the other tarragons?

Russian tarragon, (Artemisia dracunculoides) originated in Siberia, and it is larger and coarser than the French tarragon with a bitter dull and more pungent flavour. If perchance you are growing Russian tarragon then this more definite and stronger flavour can be softened and improved by not feeding the plant as often as usual. It is more robust than French tarragon and will grow to 5 plus feet if fed and watered regularly. The leaves look similar to French tarragon but are paler in colour than the French leaf which is more bluish. Still, telling the difference when buying seedlings can be difficult and very often they are mislabeled. French tarragon is the one you want to grow – so do a taste test. If the leaf has a liquorice and tingly flavour go for it. If it seems tasteless, leave that plant to grow elsewhere or consider it an ornamental if you have the pot space.

And what about Mexican tarragon? Why call it tarragon when it isn't tarragon? Maybe because the taste is so similar. Tagetes lucida is actually a member of the marigold family and is not in the same family as the French and Russian tarragons. It is a native of Mexico where it grows like crazy and it is used actively in cooking. Mexican tarragon is grown as an annual in cooler climates and as a perennial in hotter climes.

What's in a name? Mexican tarragon is also known as Texas tarragon or False tarragon, Mexican mint marigold, Winter tarragon and/or Yerba anise. It's the leaves that Mexican tarragon is grown for though the lovely marigold like edible yellow flowers are a bonus in any herb garden for good looks and fragrance.

The leaves of the Mexican tarragon have a similar flavour to French tarragon so at an easy push, these can be used as a fine substitute in your cooking. In fact, Mexican tarragon is being used more and more by chefs when French tarragon is difficult to find.

There is a lot you can do in the kitchen with French tarragon, so determine to add this fine plant to your herb collection if you haven't already done so. A few leaves will flavour chicken broth; egg and fish dishes will benefit from its touch; mixing it with other fresh herbs such as parsley, chives and chervil will give you 'fines herbes' for your French omelettes; using the stems only will flavour vinegar and a tartar sauce is just the best with its tingly anise taste – less is usually more, don't overdo it – tarragon holds its own.

What do you want your container garden to do?

................................................................................

CASUAL VISITOR … and just browsing? Why not sign up to the Container Garden newsletter? It won't matter what space or how many pots you have or even how much time you have to spend in your container garden; what will matter is that you get our reminders and good advice and ideas all in one interesting article.


You Should Also Read:
Herbs in Action - NASTURTIUM
Herbs in Action - MINT
Recipes with TARRAGON


Related Articles
Editor's Picks Articles
Top Ten Articles
Previous Features
Site Map





Content copyright © 2023 by Lestie Mulholland. All rights reserved.
This content was written by Lestie Mulholland. If you wish to use this content in any manner, you need written permission. Contact Lestie Mulholland for details.