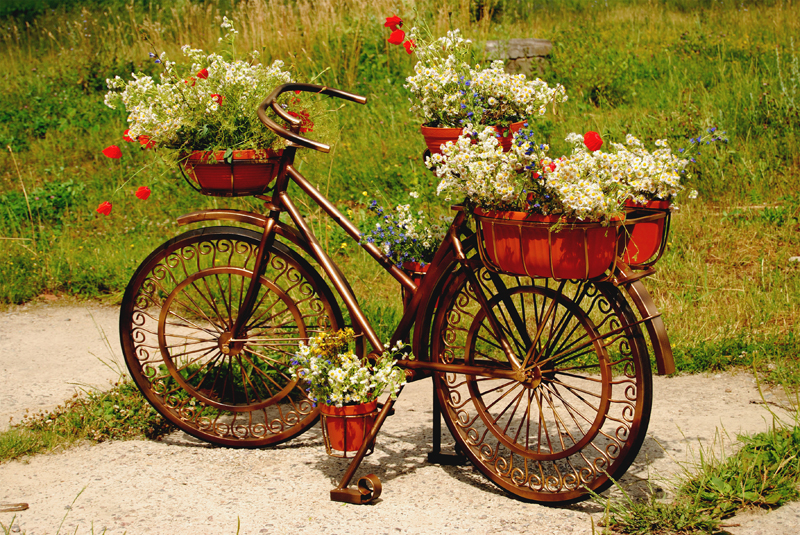 Cooking with herbs – especially your own or homegrown ones – just has to be a pleasure the poets are still writing about. Growing a Herb Container Garden is actually very easy when you get down to it – all they need is what we all need … sunshine, water, food and care! These recipes are so good that you must buy the ingredients if you haven't grown any yet – you may get inspired to grow some … who knows?

The thing about French tarragon is that it is a culinary herb, some say it has to be cooked before its subtle flavour, delicate taste and aroma can be appreciated, but I am not so sure - fresh is great too even it's not like the other stronger herbs that can make their presence felt in other ways.

TARRAGON DIP

Subtle creamy taste for vegetable crudité or even use as a sauce over lightly steamed cauliflower.

300ml full fat cream cheese (or ricotta)
15ml olive oil
15ml freshly squeezed lemon juice.
1 small crushed garlic clove (optional)
A handful of fresh French tarragon
Salt and white pepper to taste

Blend all ingredients in a blender or liquidizer until smooth and serve.

TARRAGON BUTTER

125g unsalted butter (margarine or butter spreads will not work)
A handful of fresh French tarragon finely chopped
Lemon juice to taste, try 1 tsp to start
Salt and freshly ground black pepper

Soften the butter, beat in all the ingredients, place on some greaseproof paper and shape into a very fat cigar. Freeze until you need it then slice it up salami-style and serve with steamed vegetables, baby potatoes or over grilled fish.

TARRAGON VINEGAR

Tarragon vinegar is very useful in the kitchen and is easily made by soaking fresh French tarragon in red or white wine vinegar. The proportions used are one third tarragon to two thirds vinegar. You can make several bottles at once, it is time consuming for the tarragon vinegar to mature – so friends may be pleased to receive a gift. Great for fetes and bake sales too.

Bottle it up then leave it in the dappled sun (or another warm place, not an oven) for 6 weeks to three months or so – the longer the better as far as I think, because the flavour and taste develops more depth. Give it a gentle turn now and then.

Delicious with salads, as part of a salad dressing or as a soaker for sliced cucumber. Lightly sprinkle it over plain cheese or old beef sandwiches and see what you think.

BEARNAISE SAUCE
This is a delicious mayonnaise that is well served with beef, lamb or chicken – so it's a versatile and class act. For this recipe only, you can use Russian tarragon if you don't have any French left. First make reduction then you can make your sauce.

Take:
I cupful of chopped fresh tarragon.
I large chopped white onion
1TBS coarse black ground pepper
2 cups white wine vinegar

Bring ingredients to the boil then simmer for 30 minutes, allow to cool somewhat and process all in a blender. Let it all then come to room temperature, store what you don't use in the 'fridge.

To make the sauce take
3 egg yolks
250g melted butter,
2 crushed garlic cloves,
25ml tarragon reduction.

Process the eggs in the blender, drizzle in the melted butter slowly with the blender on slow, and then add the tarragon reduction and finally the garlic.

You should land up with a light Béarnaise sauce and I will tell my Granny in heaven if you don't!

TARRAGON AND TOMATO SOUP

700g ripe roughly chopped skinned tomatoes (use boiling water to remove the skins.)
30ml olive oil
5 spring onions (shallots) also roughly chopped.
600ml cold/room temperature chicken or vegetable stock (make your own if you can.)
A handful of fresh chopped French tarragon
Salt and black pepper to taste.

Sauté the onions in the oil over a medium heat but do not allow them to brown.
Add the tomatoes cooking them for 5 minutes or so, add the warm stock and half the tarragon, bring to the boil and simmer for 15 minutes.
Puree the soup a blender or pass it through a sieve, season to taste and add the rest of the tarragon.
Serve with croutons or bruschetta using some tarragon butter.

TARRAGON STUFFED ROAST CHICKEN

Ho! You have to roast your chicken as you do but this time stuff the cavity with loads of fresh French tarragon and half a lemon. The flavour of the herb permeates the flesh with uber yum results. Remove the tarragon before serving.

What's cooking right now?

................................................................................
CASUAL VISITOR … and just browsing? Why not sign up to the Container Garden newsletter? It won't matter what space or how many pots you have or even how much time you have to spend in your container garden; what will matter is that you get our reminders and good advice and ideas all in one interesting article.


You Should Also Read:
Herbs in Action TARRAGON
Herbs in Action BASIL
Edible Flowers for Containers


Related Articles
Editor's Picks Articles
Top Ten Articles
Previous Features
Site Map





Content copyright © 2023 by Lestie Mulholland. All rights reserved.
This content was written by Lestie Mulholland. If you wish to use this content in any manner, you need written permission. Contact Lestie Mulholland for details.