Cheesy Broccoli Quiche Pie Recipe
Although the word "Quiche" is French, did you know that the "Quiche" was originally of German origin? The German word "Küeche" (meaning "cake") was changed by the French by shifting letters around in the spelling. Interesting I thought.
To me, this open-faced savory pie or tart can be manipulated with so many variations by the home cook. It's fabulous warm, cold for a lunch, brunch or dinner with a veggie and a simple crisp garden salad.
My Cheesy Broccoli Quiche Recipe uses fresh ingredients. You can vary the cheeses as you wish, just follow the same quantities and if you are a bacon lover you can add cooked crumbled bacon into the mix, making this tart even more delicious. Enjoy!
Check out my Chef's Notes at the end of the recipe for helpful tips.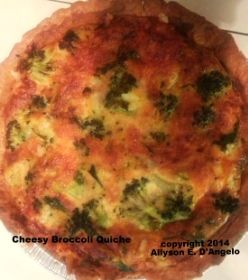 Ingredients
1 Marie Callender's 9" deep dish pie crust, defrosted
2 tbsp. olive oil
1 medium yellow onion, diced
2 fresh garlic cloves, chopped fine
A pinch of red pepper flakes
2 cups broccoli florets, cut small
3 large eggs, beaten
2 cups heavy or light cream
1/4 tsp. ground nutmeg
1 tsp. kosher salt
1/4 tsp. white pepper
1/2 cup domestic Swiss cheese, shredded
1/2 cup sharp cheddar cheese, grated
Method
Preheat oven to degrees 425 F.
1. Cook the onions, garlic and red pepper in the olive oil over a medium heat in a skillet, stirring often until the onions are starting to look opaque. Add the broccoli and cook for 5 minutes, covered. The broccoli should have turned bright green but still be quite firm when pierced with a fork. Set aside to cool.
2. In a bowl combine the eggs, cream, nutmeg, salt and pepper. Then, stir in both of the cheeses. Place the broccoli and onion mixture in the bottom of the pie shell, followed by the bacon. Pour the egg mixture on top and swirl gently with a fork to distribute all of the ingredients evenly. Bake in the center of the oven (middle rack) for 20 minutes and then
reduce the oven heat to 325 degrees F.
and cook for a further 30 minutes. The pie is ready when golden and when a butter knife inserted into the middle comes out clean.
COOK'S NOTES and TIPS:
First a note on the pie crusts - You can use a 9 inch crust for this recipe or to 9 inch shallow crusts of any brand. I used Marie's because they held up better without breaking around the edges. The generic ones in the supermarkets seemed to be too flimsy and the end eye-appeal didn't delight me.
If the edges of the quiche start becoming too brown, have a little strip of foil ready to put around the edges of the pie crust to stop it from becoming too brown or burning. I use a pie saver, which is a metal ring that you place over your pie crust when you are baking. All ovens are different, so this is just a precautionary tip.
Please make sure you let the quiche rest for at least 15 to 20 minutes so that the egg mixture can set or it will fall apart when you slice it. The eggs need time to regroup and set. Chilling for a little while is a big help.
Variations: - To substitute any or all of the veggies and meat in this recipe all you have to do is look in your refrigerator or your grocery store for your favorite ingredients. Pre-cook them as we did here and just add them to the pie. Be creative, you may come up with a winner!
You Should Also Read:
Visit my Home Cooking Site for more delicious recipes!


Related Articles
Editor's Picks Articles
Top Ten Articles
Previous Features
Site Map



Follow @CateringMom
Tweet



Content copyright © 2022 by Allyson Elizabeth D´Angelo. All rights reserved.
This content was written by Allyson Elizabeth D´Angelo. If you wish to use this content in any manner, you need written permission. Contact Allyson Elizabeth D´Angelo for details.