Help - I think my dogs have accidentally mated!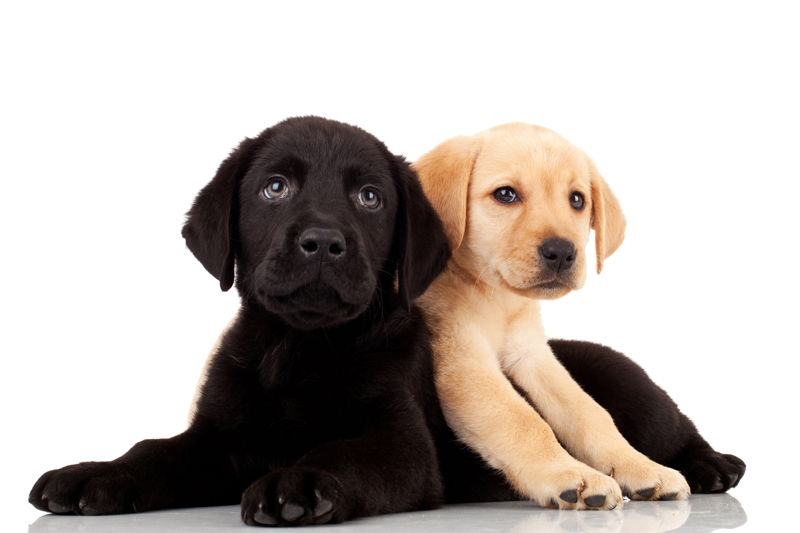 Question from a reader -
"I have a pure bred Great Pyrenees and a pure bred Labrador Retriever who accidentally mated. Now I think she (the Lab) might be pregnant. I have never dealt with this situation. Can you give me some advice about whelping?
My Reply -
When did the accidental mating happen? How long ago? Some Veterinarians will spay a pregnant dog, up to a certain point... usually until about the third or fourth week. (A full term pregnancy is 9 weeks for dogs.) The best advice I can give you is to find a Vet who will do the surgery, if it's not already too late.
If you don't have her spayed, do you have any idea what you'll soon have to deal with? Raising a litter of healthy puppies takes a great amount of time and money. You really need to take your dog to a Vet and have her examined, now.
If your dog is going to have puppies, make sure she is up to date with all her vaccines. Puppies need the protection from infectious diseases they get from their mother's milk until they're old enough to be immunized. Parvo, for example, is widespread, and it can quickly kill a litter of unprotected puppies.
Your Vet might order x-rays closer to the delivery date, so you know how many puppies to expect. Find out if your Vet is available round the clock, 24/7, for emergencies. If not, is there an emergency vet in your area? Read the information in the links below to know what is normal during pregnancy and delivery. If there are complications you could loose, not only the puppies, but your girl too.
She'll need a special diet during the pregnancy and while she's nursing. She'll need larger amounts of food, and she'll need to be fed several times a day. Hopefully she'll be able nurse all the puppies on her own. Large litters, with 8 to 10 puppies or more, are quite common for large breeds. If there are too many pups, if she gets mastitis, if some or all of the pups need extra nourishment, you'll need to buy a special puppy milk replacer and puppy nursers. Will you be able to help feed them every few hours, 24/7?
Do you have the financial resources, time, and energy to care for a litter of large breed pups? Sure the mother does most of the "work"... at first. She'll need a whelping box in a quiet, warm location. After the puppies are born she'll need soft, dry bedding... either washable or disposable, that will have to be changed several times a day.
They'll soon need a larger enclosure... a small room or some kind of puppy-safe barrier or partitioned area. A litter of large breed puppies will quickly outgrow the biggest crate available. You'll need to keep several layers of absorbent material on the floor of their living space. (Tell everyone you know to start saving all their newspapers now.)
At about four weeks they'll be ready to start eating puppy food... lots of puppy food. From that point on, keeping them properly fed and keeping their living space clean can be a full time job. They'll spill their food, walk through their food, poop constantly and walk through that too. By the time you replace all the soiled newspaper, get ready to start all over again.
You'll also need to spend time every day cuddling and playing with each one if you want socialized, friendly, adoptable puppies. You'll have Vet expenses for all the puppies, shots at 6 weeks and wormings as recommended by your Vet.
If all goes well, and you are lucky enough to find GOOD homes for some of the puppies by the time they're 8 weeks old, are you willing and able to keep the others until you find GOOD homes for all of them? People will not be beating your door down to adopt a puppy. You may have substantial advertising costs. Puppies that you have found homes for can leave at 8 weeks. Those who don't have new homes will be your dogs for a few more weeks, or possibly for months. They'll need several more shots before they're 6 months old. Then they'll have to be spayed or neutered to prevent more accidental matings.
If you can't find anyone who wants them and you can't keep any of the puppies permanently, because you simply can't afford to, because you don't have room for them, because you don't have time to train them, because the community where you live has a 2 dog per home limit, or for whatever reason... what will you do with them? Your local animal shelter will take them (they'll be a charge for that.) Would you be able to take the puppies that you've raised and cared for to an animal shelter? After all the TLC you've put into getting them that far, could you do that, knowing that the chances of them being adopted are slim and they will probably be euthanized? There are literally millions of unadoptable dogs euthanized in this country every year.
Please, consider having your dog spayed if it's not too late. If she can't be spayed now, have her spayed as soon as possible afterwards. If your suspicions are wrong and there are no puppies on the way, have her spayed now, so there are no future accidents. Please have your male dog neutered too. It will make him a much better pet!
The cost of spay and neuter surgery is far less than the cost of raising even one small litter of puppies. If you need help finding affordable spay/neuter surgery, see SPAY/USA, a nationwide network and referral for affordable spay/neuter services. Certificates for low cost spay or neuter surgery at participating veterinary hospitals may also be purchased, online, from Friends of Animals.org
Here's links to information about whelping + facts about spaying and neutering.


Please do not advertise your puppies - "Free to a Good Home". Charging a reasonable amount can discourage unethical people from answering an ad. Willingness to pay a fair price for a healthy dog says something about how much someone really wants the dog. Read more about that here - Free to a Good Home
You Should Also Read:
A Dog Lover's Guide to the Internet
Bella Dogs Shop
Gifts, Apparel and Accessories for Dog Lovers


Related Articles
Editor's Picks Articles
Top Ten Articles
Previous Features
Site Map





Content copyright © 2021 by Sandy Moyer. All rights reserved.
This content was written by Sandy Moyer. If you wish to use this content in any manner, you need written permission. Contact Bettina Thomas-Smith for details.