The Flamboyant Courtship of the Peacock Spider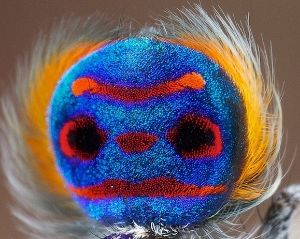 Most hear the word spider and run for a newspaper to reclaim their space from the invader and restore inner harmony. However, for those who live Down Under that is not the case. Southeastern Australia is home to some truly amazing animals, and the Peacock Spider is no exception. At 4mm, this spider is so tiny that it is barely bigger than a dot when resting on a human fingernail. While the female of the species keeps to earth tone colors as a natural means of protection, the males sport patterned furry flaps that are raised and vibrated like peacock plumage to attract a female during the mating season, from September to November. One might even say that the colors on these flaps rival the vibrancy of any peacock plumage.
While color is great, and might offer a stay of execution by newspaper, many might assume this is the end of anything remotely interesting about a bug. After all, it is a spider. But, wait! There is more! The Peacock Spider is a member of the
Maratus
genus, which means it is a jumping spider. However, before retrieving the newspaper and assuming the swatting position, wait to hear what they do with this skill. It is used as part of an elaborate Rainbow Dance, which is performed to make the ladies swoon.
The Peacock spider has big, penetrating, doe-eyes, and it bounces around with legs displaying acrobatic prowess, while sporting a fanciful plumage displayed like an elaborate headdress. What woman could turn away from such an outlandish show? The amount of effort put forth shows that size is relative, as there is nothing small about the confidence, effort, or sportsmanship of this dance. Of course, nature has given the male an incentive. Should the male not project adequate enthusiasm, the female might strike out and kill him. While this insect might appear superficially as just a spider, it is another display of nature in all of her glory.
Animals do not have to be endangered to learn how to appreciate their contributions to the world, or to understand the importance of preserving exotic indigenous species. They can awe, inspire, astound, and create a moment that turns into a memory, thereby enhancing the journey of life. Embrace the beauty, and thank the little spider for providing a moment of wonder.
This is Deb Duxbury, for Animal Life, reminding you to please spay or neuter your pet.
You Should Also Read:
Meet the Furry Caterpillar
Are You Scared of Arachnids? Meet the Lifesaver!
Helping Honeybees Benefits Your Garden


Related Articles
Editor's Picks Articles
Top Ten Articles
Previous Features
Site Map



Follow @WildlifeWelfare
Tweet





Content copyright © 2023 by Deb Duxbury. All rights reserved.
This content was written by Deb Duxbury. If you wish to use this content in any manner, you need written permission. Contact Deb Duxbury for details.