Star, Stars, Stars in Dreams - Dream Symbols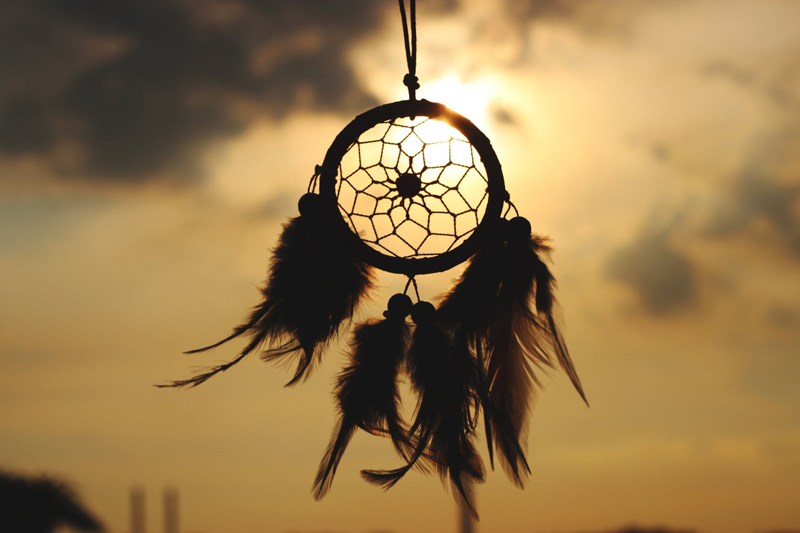 "It's no secret that the stars are falling from the sky..." ~ U2, "The Fly," Achtung Baby.
Star-crossed. Starry-eyed. Starring role.
We have many ways of incorporating stars in our waking life language. We ask if something is "in the stars," we give celebrities the title of "star," we wish on stars, particularly falling ones. But waking life is not the only place for stars; they may fall into dreams from time to time and here are some ideas about what they might symbolize.
Star Guide
Stars are often connected with guidance. For example, sailors can use stars as celestial maps--guiding lights aiding them in successfully navigating the seas. Similarly, stars in dreams may be acting as guiding lights. They may signal a course of action, may appear as confirmation that one's hopes are being realized, or they may point the direction one should follow in order to manifest one's dreams in waking life.
Divine Light
Stars are often associated with the Divine. They may thus symbolize Divine intervention, communication with the Divine, or Divine consciousness. Dreams of flying to the stars may symbolize reaching for or the attainment of a higher level of consciousness. These dreams may also symbolize a desire for Divine communication or assistance. Never forget to ask God/dess for help--that's one way to keep the lines of communication open!
Hopes and Dreams
That we "wish upon a star" hoping to make our "dreams come true" is an indication of just how much we connect stars with dreams and hope. There is something magical about starlight and our wishes reflect how we hope that the stars will lend some of their magic to our waking lives.
Alchemy, Tarot, and Astrology
Sometimes stars are drawn with five points. For the alchemist, these five points symbolized a unity of fire, air, water, and earth in combination with the mysterious fifth element known as the Quintessence. This five-pointed star symbolized harmony and balance, not just with earthly elements, but with the Divine nature as well. Dreaming of stars then may have some alchemical associations, and may symbolize success on the path to Self integration. For more information on alchemy and alchemical symbols and terms I suggest this site:
alchemylab.com
In the Tarot, The Star, Arcana 17, is an overwhelming symbol of hope. In a spread, The Star is so powerful it can even mitigate the symbolism of some other cards that may have less that hopeful meaning. Associated with the astrological sign Aquarius, The Star can indicate a visionary or a visionary experience.
In the Bible, a star led the Magi to the Christ child. The Magi were astrologers seeking to find meaning in the stars that would presage a dramatic change on earth and they found that change in Bethlehem as the Biblical story goes. Today, astrologers continue study the starts hoping to learn more about the inner Self by studying the outer placement of "stars" in a person's astrological chart. Astrologers see stars as aids to self-discovery and as catalysts for personal development. Stars in charts are influences, not prognosticators for unavoidable fated life events. Similarly, if stars show up in your dreams, try looking at them as symbolic influences, usually positive, but never forget that you are in charge of your destiny.
Stars and Numbers
Are there a certain number of stars in your dream? Is there a single shining light or a grouping of stars forming a geometric pattern of some sort? If you notice groupings or patterns, you might want to look further into the symbolism of the those numbers or groupings. Even a single star may by pointing to a numerological interpretation as we saw in the alchemy portion of this article. Successfully interpreting a dream often hinges on the details, so try to pay attention to your dreams' subtler forms of communication.
Shooting Stars
Shooting stars may symbolize wishes and success. They may symbolize a time when life burns brightly and success takes you by surprise. But remember that shooting stars are fleeting--take advantage of this prosperous and happy time and enjoy it to the fullest!
Until next time, sleep well and dream out loud!
*~Aisling Ireland~* is an ordained Interfaith Minister, available for weddings and commitment ceremonies and a Spiritual Counselor providing dream interpretation and Tarot readings. To make an appointment check out her website at:
Sang-Realta Spiritual Counseling
Achtung Baby is available to download from Amazon:
You Should Also Read:
Moon, Moon Dreams - Dream Symbols
Dream Symbols - Elevator
Dream Symbols - Famous People/Celebrities


Related Articles
Editor's Picks Articles
Top Ten Articles
Previous Features
Site Map





Content copyright © 2023 by Aisling Ireland. All rights reserved.
This content was written by Aisling Ireland. If you wish to use this content in any manner, you need written permission. Contact Lori Chidori Phillips for details.