Deep black, glowing with ruby highlights, and topped with a thick, creamy burnt sienna head! Such is the sight of Guinness Stout, a view that stimulates instant salivation among beer lovers worldwide. Aromas are sharp and toasty, with sweet malts and hints of coffee and spice. On the palate, dark fruits and bittersweet chocolate merge with clean, sweet malts. Mouthfeel is smooth, while finish is enduring.

This medium-bodied gem had its birth in 1759, when Arthur Guinness signed the lease for a rudimentary brewery at St. James's Gate in Dublin, Ireland. Through his stubborn and persistent nature, Arthur Guinness developed the business by a dedication to crafting a beer that was the envy of Dublin. As the demand for Guinness grew across international boundaries, the brewery became a part of the Guinness family heritage. By 1855, Benjamin Guinness, grandson of Arthur, was the richest man in Ireland.

Today, Guinness Storehouse stands at the spot where Arthur Guinness signed that first lease, fusing the past with the present in an archival history that extends throughout the world.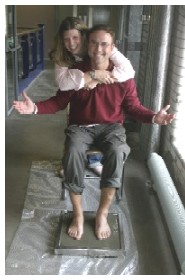 On September 29, 2005, an American's footprints were set in stone as a part of the Guinness chronicles. Sean McCreary of Baltimore, Maryland in the USA sauntered into Guinness Storehouse for a world-class tour of Irish brewing history. Completely oblivious to the historical event in which he was immersed, McCreary and his wife Colleen were swept off their feet with the announcement that Sean had just become the three millionth visitor to Ireland's most coveted tourist attraction.

As an inductee into the Guinness Archive - the meticulous recording of Irish ancestry kept since 1759 - McCreary is now enrolled in the register as an honorary employee, with lifetime membership to Guinness Storehouse.


Stone castings of Arthur McCreary's feet have become a permanent component of the Guinness artifacts. These join the rich narrative that extends through the seven-story building, a narrative that tell of the spirit of Arthur Guinness and his descendents. The museum flows through the development of Guinness and its brewing process. It explores the cooperage where casks were hand-crafted, tells tales of Guinness' export into foreign lands, and introduces you to the Master Brewers who hold the secrets to the world-renowned recipe. Sealed with a kiss is the unforgettable pint sampler of Guinness that visitors are gifted upon entry into the Gravity Bar, complete with a 360 degree breathtaking view of Dublin from the highest point in the city.

Guinness Storehouse has charmed such celebrity entertainers as Leann Rimes, Shaggy (the indomitable Mr. Bombastic), and Britney Spears.

And the famous Sean McCreary!

Cheers!