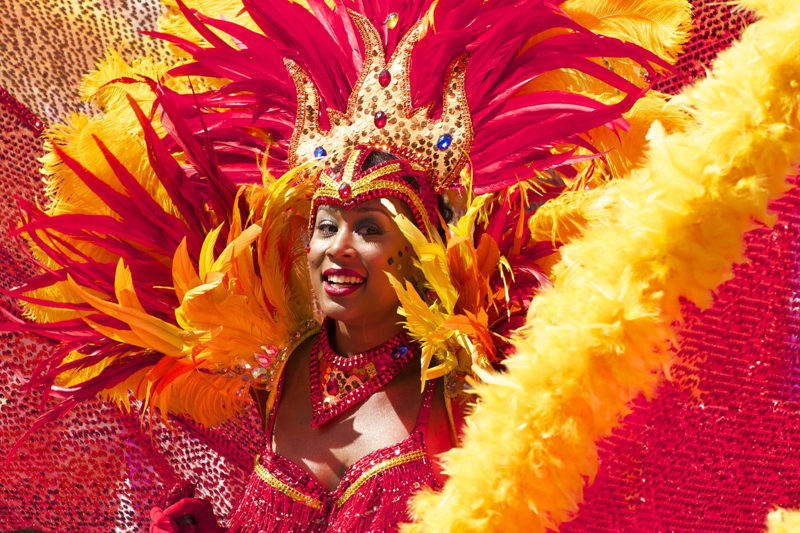 Once a colony of Portugal, Brazil has preserved much of its rich Portuguese traditions. Brazil is a cultural melting pot with its European, Native American, and African populations. The majority of the population are Roman Catholic so Christmas is their most important holiday. Christmas is celebrated enthusiastically with a focus on family, religious services, vibrant decorations, fabulous food and colorful customs derived from its blend of diverse ethnic cultures.

At midnight bells toll all over the world calling the faithful to midnight mass known in Brazil as Misa do Galo or Rooster's mass. It is believed that the only time a rooster crowed at midnight was on the night Jesus was born. The vast majority wait to attend mass on the afternoon of Christmas day. This practice has developed because people celebrate on Christmas Eve with their families late into the night and early morning.

Decorating for Christmas begins early in December with the display of presepios which are the nativity scenes set up in homes, churches and even in stores and marketplaces, a custom that originated in Portugal. Families decorate their homes with fresh flowers from their lush gardens and beautifully adorned Christmas trees very much like those in the United States and Europe.

The pine trees seen in much of the world are harder to come by in Brazil, so cities create trees of lights, one of the best parts of Christmas in Brazil. These magnificent trees can be seen lighting the night skies in all the major cities. In 2012 the Guinness Book of Records declared the Christmas tree in Rio de Janeiro to be the world's largest. The tree is 280 feet tall, weighs 542 tons, and has 3.1 million bulbs. Standing on eleven platforms it floats on the Rodrigo de Freitas lagoon. It is truly a notable sight to behold.

Brazilians enjoy folk dances, songs, and plays. Similar to Mexican pastorelas, Brazilians have Christmas plays called Las Pastores or The Shepherdesses. In the Brazilian version of the folk play there are shepherdesses and a gypsy who contrive to kidnap the baby Jesus.

An old Brazilian legend is based on the conviction that the animals discuss the coming of Jesus among themselves. The rooster says, "Christ is born!" The bull asks "Where?" All of the sheep answer, "In Bethlehem of Judea!"

Papai Noel is the one who brings Christmas gifts for the children in Brazil. Since Christmas is in the summer in Brazil and it is quite hot, Papai Noel wears a silk suit that looks similar to the heavier ones of Europe and North America. Papai Noel may appear with gifts for the children on Christmas Eve at midnight or they are sent to bed and Papai Noel comes while they are sleeping. Children set out a shoe, sock or stocking and Papai Noel exchanges it for a present.

One of the happy traditions in Brazil is the practice of Amigo Secreto or secret friend. At the beginning of December, families and friends draw names, keeping the names secret. Throughout the month they write letters and cards to their amigo secreto signed with apelidos or false names. On Christmas they gather to reveal the identities of their amigo secreto and give a special present.

Christmas is a time to focus on family. On Christmas Eve all members of the family enjoy sitting around the Christmas tree reminiscing, singing songs, and playing games. The highlight is Ceia de Natal or Christmas dinner. The Christmas tables are typically decorated with beautiful arrangements of fresh fruit for color.

Some families have a big churrasco or barbecue since the weather is hot. A traditional Ceia de Natal will include lombo a California or pork loins, pernil or roast pork (ham), turkey, a typical Brazilian side dish of farofa which is made of raw manioc flour roasted with butter, bacon, and spices; it has a crispy, nutty flavor. Desserts include fruit salads, chocolate cake, panettone, and rabanadas. Rabanadas are also a traditional Christmas brunch course. Rabanadas are made from day old French bread sliced one inch thick, dipped in beaten eggs with a splash of red wine mixed in, fried to golden in butter, then sprinkled with cinnamon and sugar.

A heavy dinner is not the norm but in southern Brazil the influence of Germany, Italy, Portugal, Spain can be seen in the foods served. A Ceia de Natal will include roasted turkey, colored rice, fresh vegetables, German stollen and Italian panettone. Beer, wine, and fresh fruit juices are the preferred beverages.

Usually Ceia de Natal is served around nine at night on Christmas Eve. Typically at midnight all the lights are extinguished except for the ones on the Christmas tree and the fireworks begin. Enthusiasm for Christmas abounds with appreciation for family, devotion, dazzling decorations, fantastic food and diverse colorful customs.


You Should Also Read:
Christmas in Cuba
Christma in Peru
Christmas in Costa Rica


Related Articles
Editor's Picks Articles
Top Ten Articles
Previous Features
Site Map





Content copyright © 2021 by Valerie Aguilar. All rights reserved.
This content was written by Valerie Aguilar. If you wish to use this content in any manner, you need written permission. Contact Valerie D. Aguilar for details.