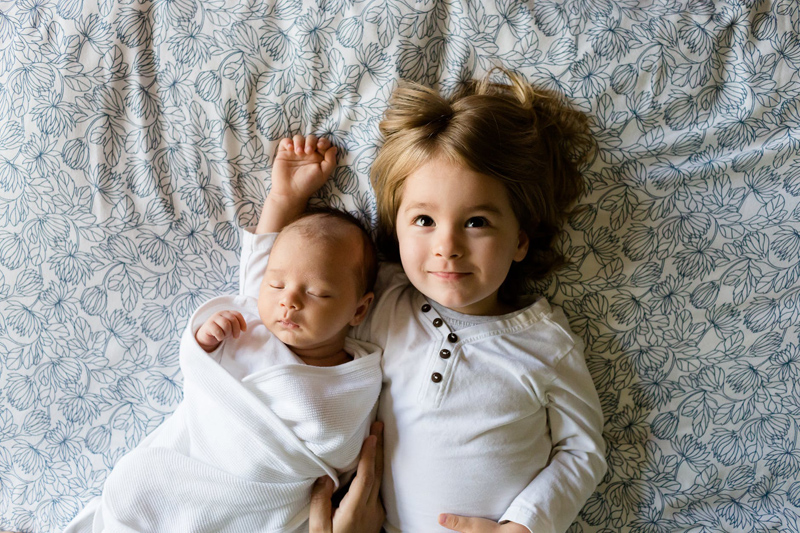 I have found swaddling to be an essential skill for surviving the early months of caring for my daughters. Like many mothers, I tried it out, but found the swaddle didn't hold or the baby squirmed out of it. Like many, I assumed that meant that the baby didn't like it, or it didn't work.
Wrong.
A lactation consultant once told me that if swaddling didn't "work," it was because I wasn't doing it right. She could not have been more right. I've shared that gem with many over the years, and get a lot of resistance. But I can tell you that every single mother I know who has committed to learning to swaddle correctly and using it consistently has been rewarded with a happier baby and often more sleep for the whole family. Swaddling also have additional specific
benefits for breastfeeding
.
•
Swaddling may reduce colic and crying.
Pediatrician and author Harvey Karp believes that colic is not a medical condition, but is actually a result of a newborn's developing and fragile system in the hands of parents who don't know a critical set of soothing mechanisms which begin with swaddling (and also include sucking/nursing, swaying, shushing and others) His book and DVD,
The Happiest Baby on the Block
, teach what I have found to be the best and most reliable method of effectively swaddling with a traditional blanket.
•
Swaddling may increase sleep duration.
When breastfeeding on-cue, after milk supply is established and starts to respond more naturally to the baby's needs, it's generally ok to let the baby start to sleep longer stretches at night and nurse more frequently during the day. Swaddling can have a huge effect on a baby's ability to overcome their own twitchy nervous system and settle in order to be able to do this.
I can tell you from personal experience that from the moment I was taught to properly swaddle my first daughter, she nursed better and slept dramatically longer and more restful stretches. My second daughter began sleeping 6-8 hour stretches at night within weeks of birth. It was truly incredible. Sadly, after we stopped swaddling around 7 months, those stretches reduced dramatically, leaving me wishing we had never stopped! I could not be a bigger believer in the power of a good swaddle to bring sleep to all.
•
Swaddling is a great job for Dads.
Once they learn
how to swaddle
properly, Dads are champion swaddlers. While I generally relied on a Miracle Blanket to swaddle my daughter, my husband could take a traditional waffle weave baby blanket and wrap her up like a little peanut. Because I was breastfeeding, this was a great way for him to have a regular and invaluable role in her routine.
Learning how to swaddle is one of those tasks that is completely worth the time and effort. Remember that it may take several tries to get it right, and that aids like the Harvey Karp video or a swaddling blanket can be invaluable. Good luck!
You Should Also Read:
How to Swaddle
Swaddling and Breastfeeding


Related Articles
Editor's Picks Articles
Top Ten Articles
Previous Features
Site Map



Follow @bellanicki
Tweet





Content copyright © 2022 by Nicki Heskin. All rights reserved.
This content was written by Nicki Heskin. If you wish to use this content in any manner, you need written permission. Contact Nicki Heskin for details.