Craft Beer and AirVenture Museum Merge at Hops & Props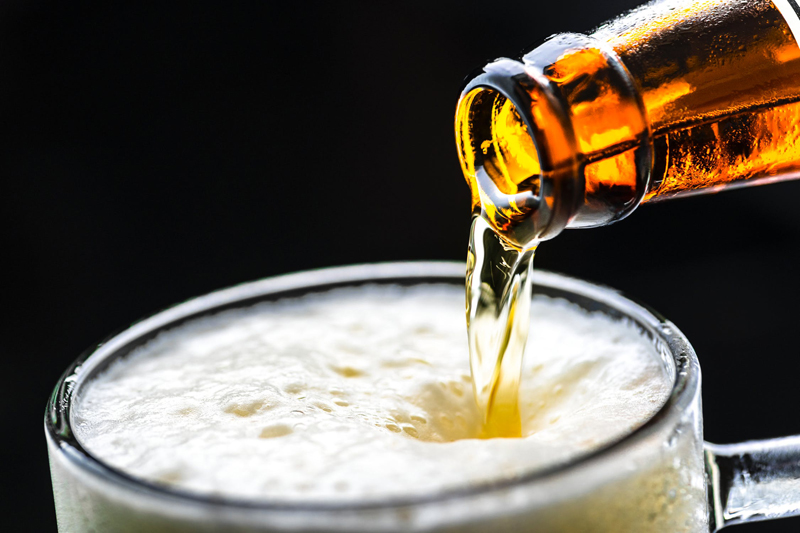 The Experimental Aircraft Association, known as the EAA among aviation enthusiasts, and the American craft brewer make marvelous dancing partners. Both are growing, diverse groups with a wide range of experience, interests and backgrounds. They may be focused on upholding traditions of the past or developing new technology. Some are totally committed to the extreme. Creativity runs like a lamé thread within their spirit. A foundation built on camaraderie and respect ensures that information and enthusiasm is disseminated to others within the group and throughout the world. Both groups are committed to growing their numbers through the magnetism that is generated by excellence. Good stuff!

The EAA AirVenture Museum in Oshkosh, Wisconsin, USA seems the perfect touchdown point for the Second Annual Hops & Props Fine Food and Beverage Tasting Event on Saturday, March 4th, 2006 at 7:00 p.m. Over one hundred craft beers from across the United States will be awaiting your taste buds throughout the museum.

Dick Leinenkugel, fifth generation son of the Jacob Leinenkugel Brewing Company, and Brewmaster Doug Jones are conductors of a premier, pre-event VIP Beer School at 6:00 Saturday evening. In this one-hour beer tasting and dining event, you will transform into a discerning beverage taster as these two Masters educate you on the pairing of beer with food - defining aromas, differentiating between unique palate sensations, and recounting traditions in brewing history. Souvenirs of this elite venue will include select glassware and VIP Beer School Certificate. Reserved parking is included in this preferential VIP selection.

As a second bonus to early arrivals, a Private Import Room of more than fifty World-Class signatures, including Belgian, German, French and Czech selections, will be conducted in the Art Gallery, with limited access to the first 200 early-bird patrons.

Museum displays ranging from Antique and Classic to Pioneers of Flight and Innovation will keep the adrenaline pumping with the music of four live bands – Steel Drums, Irish Rock, Top 40's and Jazz. In this lively atmosphere, you will be immersed in the brewing process and the historical events that shaped the beer landscape, meet master brewers from across the region, and learn the distinguishing characteristics of ales, lagers, hybrids and multi-dimensional styles.

Supple Restaurant Group will cater the main event, while Starbucks and Festival Foods wrap up the evening with coffee and sweet treats.

Featured breweries include Abita Beer from Abita Springs, Louisiana, whose Fleur-de-Lis Restoration Ale is a symbol of light and life to Louisiana disaster victims. The legend of the fleur-de-lis commemorates the challenges conquered when "lady luck" was seized by "the dragon." By following a path of water lilies, ancient warriors reached safe passage through treacherous waters and thus chose the fleur-de-lis as a symbol of hope in times of calamity. For every six-pack of Restoration Ale purchased, one dollar goes to the benefit of the Louisiana Disaster Recovery Foundation.

Several attending U.S. breweries sport names that reflect their own love of aviation, breweries such as: Warbird Brewing Company, Fort Wayne, Indiana; Big Sky Brewing Company, Missoula, Montana; Flying Dog Brewery, Denver, Colorado; and Redhook Brewery, Woodinville, Washington.

Local homebrew clubs are leaping onto the stage: Appleton Libation Enthusiasts Homebrew Club, Appleton, Wisconsin and the Green Bay Rackers Homebrew Club, Green Bay, Wisconsin will be on the brewers list. The Society of Oshkosh Brewers - SOB's - is crafting a special lager for this year's event.

Others on the marquee include Fox River Brewing Company, Appleton, Wisconsin; Sprecher Brewing, Glendale, Wisconsin; Founders Brewery, Grand Rapids, Michigan; Tyranena Brewing, Lake Mills, Wisconsin; and a vat of others. For information, tickets and a complete list of breweries:
https://www.eaa.org/hops&props/

Hops & Props benefits EAA local community activities including Wings on Strings, and the annual Winter Holiday Community Event.

Cheers!
 
You Should Also Read:
Cigars and Beer - Beer Fox Pairings
The Grand Embellishment of Food with Beer
Garrett Oliver - Brooklyn Brewmaster of Beer and Food


Editor's Picks Articles
Top Ten Articles
Previous Features
Site Map





Content copyright © 2023 by Carolyn Smagalski. All rights reserved.
This content was written by Carolyn Smagalski. If you wish to use this content in any manner, you need written permission. Contact Carolyn Smagalski for details.