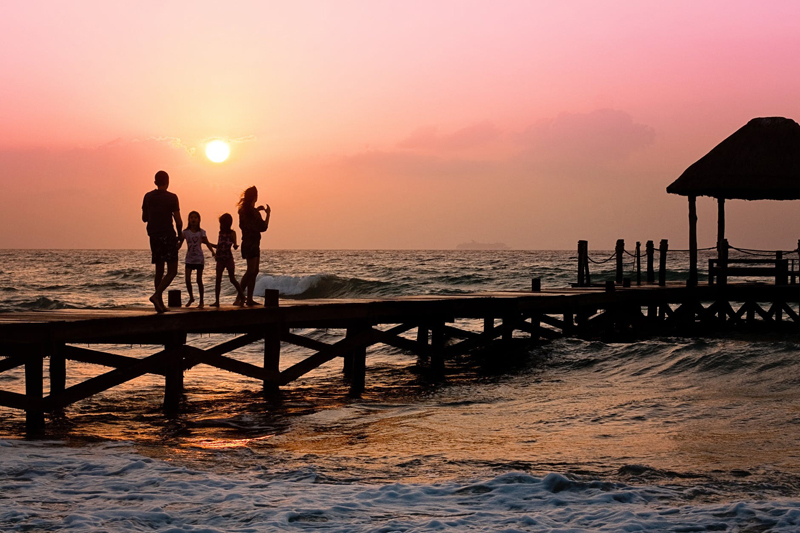 Here's to the Daddies! The ones who work out in the cruel (or inane) world for eight hours, then come home to read bedtime stories and tuck their munchkins in, banishing the monsters under the bed. The ones who teach little girls how a man should treat them, and little boys how to be men. The ones unafraid of poop—earnestly wiping it off of tiny bums as they replace dirtied diapers with clean, and unabashedly dance in celebration when a bit materializes in a tiny, plastic, throne-shaped potty. The ones who comb silky doll-hair for a four-year-old, while sitting perfectly still so that same four-year-old can put barrettes in his hair. The ones who turn off the game (even if they hit record on their DVR's) to listen to talk about worms and rocket ships and ponies.

Here's to the daddies who do not refer to caring for their own children as "babysitting my kids," and do not wait for their wives to notice the runny nose, smelly pants, tear-streaked face, or screams from a couple of toddlers walloping each other, but step up and step in. (At least most of the time, but in all fairness, Mommy, too, sometimes pretends not to notice for a second in hopes of a reprieve.) And when the kids are older, when Tommy turns in to Tom and stands taller than him, when Lisa turns her adoring gazes away from him and toward the hormone-crazed boys standing taller than their own fathers, when game-time spaceship discussions and impromptu hairdressing sessions cease, to be replaced by monosyllabic, non-responsive grunts and shrugs, here's to the daddies who go out of their way, stepping up, stepping in, to stay in their children's worlds. Who learn to listen, as Heavenly Father does, instead of lecture, and to be there often enough that when Jr. is ready to confide he knows it's safe to do so.

And here's to those who understand that while their fathers worked 9 to 5, then kicked back to unwind, watching while their mothers continued their work around the clock, this arrangement isn't really what God had in mind when he gave men and women different gifts and roles. Ya gotta love the ones who understand that Daddy can't ever be "off duty, " just as Mommy can't, if they want their family to succeed. The ones who understand there's really no such thing as "woman's work" or "men's work," and realize fully Mommy's contribution, because they share her burden equally evenings, weekends, and holidays. These Daddies are truly princes, men among boys.

They maintain the vigilance of their fathers and grandfathers, knowing, in spite of societal changes that have moved them from farm and train yard to office, and moved Mommy into the office too, that they alone carry the burden of the physical safety and welfare of their wives and children. They know this, even though Mommy doesn't. Mommy believes that they share this responsibility equally, as they share all others. Mommy is just as willing as Daddy to sacrifice herself, work her body into the ground, fight bad guys hand to hand if necessary, but, while mommy would do this, Daddy knows in his soul that it is for him to protect her even from this. Caring for his family is his God-given duty. If they are hungry or hurt or unhappy, he bears the blame, and the shame of it. He knows that no matter what changes in the way men and women dress, speak, drive, or do, a Man is a Man. Nobody is harder on him than he.

He painstakingly participates in what often seems like a "Mommydom." Sometimes awkward, uncertain of where he fits in the rhythm mother and children flow through day to day. He supports and lifts his wife in following her dreams, and prowls the home at night, double and triple checking the locks, to lay awake and worry about what dangers might be slipping past him. What is his dream? To see his wife smile, to hear his kids call out joyfully, "Daddy's home!" All he does, he does for her, for them. If he doesn't express his feelings or discuss his feelings or understand his feelings the way she would like, it is because they are too strong. An invisible thing that might crush him if released.

Here's to him. He is too rare. Our world is weeping for the loss and the lack of real daddies. Without them, girls don't learn to value themselves or trust a partner; boys don't learn to step up, step in. Too much threatens Daddy's place and position. Please, if you know one, or you have one, or you see one, hug him close, squeeze him tight. Tell him he's doing great, and you'd not trade him for a thousand anythings. And if you are lucky enough to share your home, life, and bed with one—show him the tenderness he fears, cry the tears he can't, and give him freely what he lives for—your arms around him, your voice and eyes assuring that you are so very, very proud of him. This is Daddy's only absolution, though he needs none, and only grace, because he cannot hear heaven's whisperings if he doesn't feel right in your eyes. He would throw himself in front of a train for you. Show him there's another way. Protect his soul as he does yours.

You are more than enough; had I every man to choose from, any life to live, I would not want another. You are my choice, my hero, my eternity's only love. ..and you will never be alone.

Go ahead, this Father's Day give him a card, a tie, a break. Hug your local daddy, and thank the Father above for sending you another.

You Should Also Read:
A Tribute to Eve (And my Own Mother Too!)
Eve And The Choice Made in Eden - Book Review
Parenting : Consequences v Punishment


Related Articles
Editor's Picks Articles
Top Ten Articles
Previous Features
Site Map





Content copyright © 2022 by Jamie Rose. All rights reserved.
This content was written by Jamie Rose. If you wish to use this content in any manner, you need written permission. Contact Jamie Rose for details.