Father's Day and the Little Things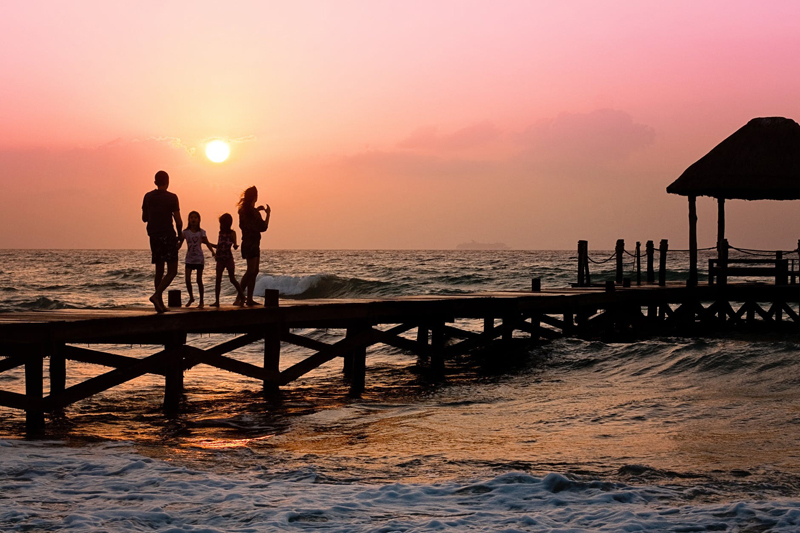 So often, when we're trying to create memories for our children, we focus on big things that take hours of planning and, too often, lots of money. As Father's Day approaches, and I'm remembering my own father, who died in 2001, it's not the fancy moments that bring on the tears or the smiles. It's the little moments he might not even have remembered.

I remember being on vacation as a young girl who loved poetry, and most especially, that year, Carl Sandburg. Now, I don't remember where we were headed that year or what else happened. What I remember is a little moment: seeing a sign that said Carl Sandburg's home could be reached by taking an upcoming exit. Those of you who have tracked down odd little tourist attractions know those homes are often far off the beaten track, but my father didn't hesitate. He took the exit so I could visit the home. He had no way of knowing a miracle—in my eyes—would happen on that visit. The tour guide offered to let anyone who could recite a Sandburg poem sit on a bench once owned first by Abraham Lincoln and then Sandburg. I could, and did, and that moment of sitting on a bench once sat on by two of my heroes changed forever how I viewed history and poetry. It also changed how I viewed home education, since it was my parents who taught me to memorize poetry.

I remember an election that took place when I was a teenager without a vote. I felt very strongly about some particular issue, but was powerless as far as the polls were concerned. My father had equally strong opinions about the issue, but on the other side. Over the coming months, he listened to me argue my side. The day of the election, he went to the polls. When he returned, he said, "I decided to give you my vote this year, since the issue was so important to you. I haven't changed my mind about it, but I voted your way so you'd have a voice in this issue." His side won, but I've always remembered how important it is to let your voice be heard, and I always remembered that he gave up his vote for me.

Sometimes it's the moments you weren't meant to know about that stand out in your mind. I grew up in a rather racist town, and most of the minorities in our area were poor and uneducated. My father didn't want me to believe that's how it always was, and since this was the 1960s, and integration was beginning to be mandated, he suspected I would grow up in an integrated world and should be comfortable in it. I overheard him explaining to someone who was puzzled that we drove so far to a doctor why he did so, "I want her to meet educated, professional black people. I went out to find a doctor and any other professionals I could and I take her there so she will be comfortable." He also went intentionally in search of wonderful people of all races and nationalities to be his friends, so they would be part of my social world. Where we lived, this couldn't have been an easy process, especially for someone so shy and who preferred the company of his family.

Soon after I joined the church, I found a Book of Mormon under the driver's seat of my father's car, with a bookmark in it. I asked him about it, and he said he was reading it because it was a book that mattered to me. He continued to read it because he loved it, even though he never joined the church in this life, but he read it first because it was a book I loved. He didn't tell me he was doing it, because he didn't do it to make a point. He did it because of me.

And other times, it's the traditions that stay in our hearts. Before visiting my grandmother's apartment, we were required to perform a service for each elderly woman in the complex. Before leaving a beach or a park, we cleaned up a wide area of it, including the trash of others. When a disabled neighbor's lawn got long, my father would casually say that it would be an awfully nice thing if someone were to slip over and mow it secretly. We knew who he had in mind.

When planning memories, don't bother with expensive trips and elaborate plans. Make your small daily events ones that matter. You never know who is storing away the memory.

Happy Father's Day.

You Should Also Read:
The Little Things


Related Articles
Editor's Picks Articles
Top Ten Articles
Previous Features
Site Map





Content copyright © 2022 by Terrie Lynn Bittner. All rights reserved.
This content was written by Terrie Lynn Bittner. If you wish to use this content in any manner, you need written permission. Contact Jamie Rose for details.