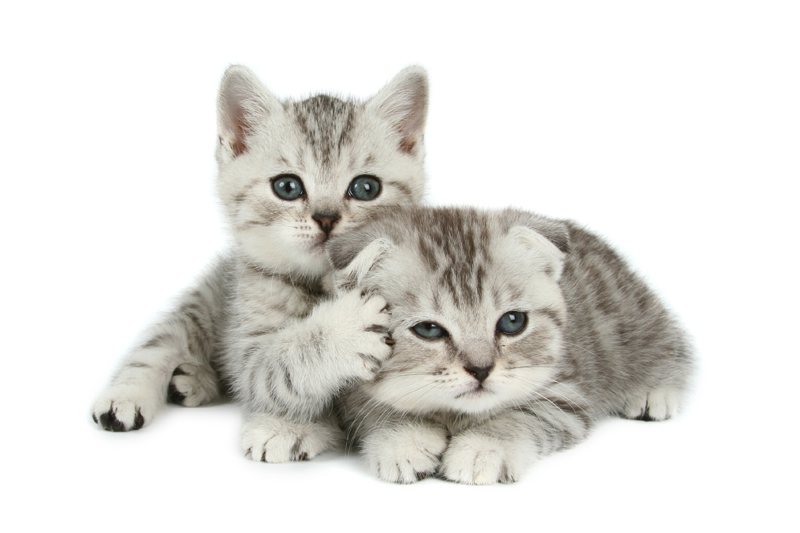 Are cats social? Oftentimes I hear people describe cats as being cool and aloof. Some say cats are not as social and friendly as other pets, like dogs. Is this really true or are cats social?
The short answer is yes, cats are social creatures.
It is a fact, however, that cats are more independent than some other animals. Sometimes calling, "Here kitty, kitty, kitty," doesn't bring your precious cat running to you; tail wagging. Sometimes the saying, "You're nobody until you've been ignored by a cat," rings true. And yes, sometimes cats prefer to be off by themselves - curled up in a corner to sleep or hanging out upstairs while everyone else is downstairs. But does that really make them unsocial? Of course not! There are times I like to be off by myself, too, but I consider myself to be a social person.
Our cats are very social and friendly. Most of the time they are where we are – if we're downstairs, so are they. If we're upstairs, they are as well. This is especially true when we get home from wherever we might have been - work, running errands, going out for the day or the evening. Many times we are met at the door by all four cats! When we return home from vacation our cats are especially social and loving toward us. We know they miss us when we're gone. As we miss them.
Are Cats Social Among Each Other?
Again, the answer is yes. While we've had our share of minor cat spats, we've never really had a problem with our cats not getting along with each other. To explain further about cat interaction, let me share with you our experiences with our current kitty crew.
Handsome Cory and Higgins are the best of buddies. One would think they must be brothers, and they are but only through adoption. We adopted them both as adults, and I was so afraid they wouldn't get along. Two adult male cats. I would have been happy if they simply accepted and tolerated each other. To say they pleasantly surprised me would be an understatement. The first thing Cory did when we brought Higgins home was walk over to him and wrap his paw around him! It was like Cory was saying, "This is my buddy! And I'm gonna take care of him." The rest truly is history. Cory and Higgins play together, bathe each other, curl up and sleep together.
Our youngest, Jaidyn Gingerbread, has to either be where we are or where the other cats are. She's rarely off by herself. She has always been quite the social diva! The second day we had her she was boldly going up to Cory for nose kisses. She also chased Cory around that day. A kitten of less than 5 pounds, chasing a nearly 18 pound cat! Jaidyn is not only social, she doesn't seem to have any fears.
Sophie Creamsicle is our loner, to some extent. She likes to be off by herself a bit more than our other cats, but she's still quite social. She does play with the other cats (and us) and there are times when she follows us around. Many times when we pet her, or talk to her, she wags her tail. She is very expressive with that tail of hers, more so than any other cat we've had.
We've been owned by many cats and they have all been very social and loving toward us. Some of our cats have been, and are, rather timid when strangers come over so they hide. But that doesn't make them anti-social. It simply means they have fears just like we do.
©
Melissa Knoblett-Aman
You Should Also Read:
Introducing a New Kitten into a Multi-Cat Household
Tips When Adopting an Adult Cat
Advantages of Adopting an Adult Cat


Related Articles
Editor's Picks Articles
Top Ten Articles
Previous Features
Site Map





Content copyright © 2022 by Melissa Knoblett-Aman. All rights reserved.
This content was written by Melissa Knoblett-Aman. If you wish to use this content in any manner, you need written permission. Contact Melissa Knoblett-Aman for details.