Breaded Eggplant Parmesan Casserole Recipe
So many fabulous recipes come from great Italian cooks and this is one of them! Eggplant Parmesan is a great way to make a delicious meatless, vegetarian option for the dinner table tonight.
The only downfall regarding eggplant is that it's high in natural sugar content. That doesn't mean you can't deliver this wonderful Eggplant Parmesan Casserole Recipe to your family table.
The nutritional benefits outweigh the sugar content, even though it's breaded. And, along with the delicious marinara sauce (which can be made 3 days ahead,) it's a keeper for your recipe box.
I hope you try this, even though you may have to do a teeny bit of work by frying the eggplant...that's it! Then we just put it all together and you'll be the star of your kitchen! You can purchase a store bought marinara sauce if you want to skip the following step.
Marinara Sauce Ingredients
3 tbsp. olive oil
5 cloves fresh garlic, roughly chopped
2 cups yellow onions, diced
1 tbsp. crushed red chili pepper
3 tbsp. dried Italian seasoning
1 tbsp. crushed red chili pepper
1 cup red wine (I used Burgundy)
1 28 oz. can tomato sauce
1 28 oz. can crushed tomatoes with sauce
+ 1 half can or more of water from 28 oz. can
Method
1. Heat the olive oil over a medium flame on the stove top. Next, add the garlic, onions chili pepper and Italian seasoning. Mix together well and cook until the onions are opaque (clear looking.)
2. Turn the heat up to medium-high for 2 minutes and then add the wine, stirring for 1 minute and then reduce the heat medium again. Stir often until the mixture absorbs the wine and then add the tomato sauce, crushed tomatoes and 1 half can of water. Bring to a boil and simmer for 1 hour, stirring occasionally. Set aside.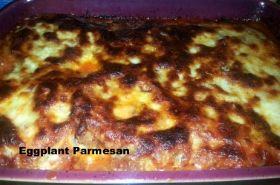 Eggplant Ingredients
2 medium-sized eggplant, sliced 1/4" thick
2 1/2 cups all-purpose flour (plain flour)
2 tbsp. kosher salt
1 tbsp. ground black pepper
4 tbsp. Italian seasoning, divided
4 large eggs, well beaten
3 cups (1 lb.,) fine breadcrumbs
Vegetable or Canola oil for frying
3 bowls and 1 large deep skillet
2 cups shredded mozzarella cheese
1 cup grated parmesan or Romano cheese
Method
Preheat the oven to 375 degrees F.
1. Place the flour in a large bowl and add the salt, pepper and 2 tbsp. of Italian seasoning. Mix well.
2. In another bowl, add 1 tbsp. Italian seasoning to the beaten eggs. Repeat by adding the remaining herbs to the breadcrumbs in another bowl. You now have 3 seasoned bowls.
3. Coat the eggplant slices in the flour (shaking off the excess flour,) then the egg mixture and lastly the breadcrumbs, pressing down on both sides to coat well. Place the breaded eggplant on a sheet pan and refrigerate for 30 minutes. This allows the breadcrumbs to be happy and stick to the eggplant! After 30 minutes, heat the oil 1 inch deep in a large wide skillet and fry the eggplant on both sides until golden brown, approximately 2 - 3 minutes per side. Drain on paper towels.
4. Build your casserole: - In whatever dish you wish to present this, ladle 2 cups of sauce in the bottom of the dish and add a little water to thin it out (it should look runny.) This avoids the eggplant from sticking to the dish! Layer the eggplant (overlapping) on top of the sauce.
Ladle more sauce on the eggplant, followed by mozzarella and parmesan or Romano cheese. Repeat layers, ending up with the cheeses on top. Bake in the oven for approximately 20-30 minutes or until the cheese is golden brown. Remove from the oven and let it rest for 15 minutes before serving.
This recipe is utterly delicious and great with a simple salad along with a good glass of red wine, if you so wish!
You Should Also Read:
Visit my sister site for hundreds of great home cooked recipes


Related Articles
Editor's Picks Articles
Top Ten Articles
Previous Features
Site Map



Follow @CateringMom
Tweet



Content copyright © 2023 by Allyson Elizabeth D´Angelo. All rights reserved.
This content was written by Allyson Elizabeth D´Angelo. If you wish to use this content in any manner, you need written permission. Contact Allyson Elizabeth D´Angelo for details.