Cherry Tomato Bombs with Clam Stuffing Recipe
I have to share this recipe with you because it was a competition entry that didn't make it through cyberspace, twice. This now gives me the opportunity to share it with you, where otherwise I couldn't have if it had been an entry in the competition.
This recipe for my Cherry Tomato Bombs with a Triscuit Clam Stuffing is a fantastic appetizer anytime. They are juicy, sweet and savory – and with the added Triscuit topping give a nice little crunch to them! They explode with flavor!
The theme for the competition was Cherry Tomatoes and Triscuit crackers which was the Martha Stewart challenge you may have seen on T.V. in America. So, I came up with this cute little appetizer. Along with a little inspiration from the Italian side of my family who originated from the east coast sucking up the clam world, these came out a winner.
They are very attractive on a platter and easy to make. The only tedious part is putting the stuffing into the tomato, but you get the hang of it after two or three and you can rally the kids and adults to help you.
You can serve these as pictured but, I asked one of my 11 year old daughters what she thought of these as an appetizer and she said, after taking the picture below, "mom, you need to put a toothpick in them so they are easy to pick up." I agreed, but we'd eaten almost all of them preceding that statement. :)
I hope you try them. They are one fun amuse bouche - which in French means - a one bite party in your mouth (roughly transcribed!)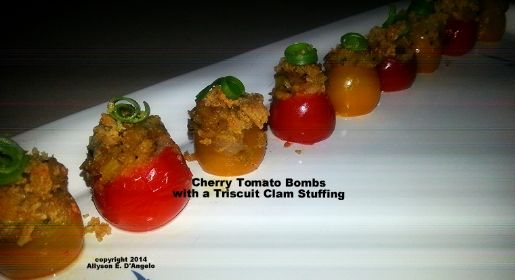 Ingredients
3 tbsp. olive oil
1/4 cup sweet onion, finely diced
1/4 cup celery, finely diced
1/4 cup scallions (white and light green parts) sliced thinly
1 large clove fresh garlic, roughly chopped
2 tsp. red pepper flakes (optional or adjusted to your palate)
1/4 tsp. each of ground black pepper and kosher salt
1/ 4 cup white wine (your favorite - I used Chablis)
1/2 cup clam juice
Juice of 1 small fresh lemon
8 oz. whole canned clams, drained, rinsed and finely chopped
2 cups of ground Triscuit garlic crackers, (1/4 cup reserved)
24 Cherry tomatoes, any color (choose the larger tomatoes if possible)
1 tbsp. melted butter
1 tbsp. grated parmesan or Romano cheese and some for garnish
Method
Preheat a regular oven or toaster oven to 375 degrees F. Or preheat the broiler (salamander, overhead grill) after you have stuffed the tomatoes.
1. Heat the olive oil for 2 minutes on medium heat. Add the onion, celery, scallions, red pepper flakes, garlic, black pepper and salt. Cook, stirring occasionally for 5 minutes. Then, raise the heat to high and add the white wine, clam and lemon juices. Cook for 5 - 8 minutes until reduced by half. Add the clams for 1 minute more. Remove the pan from the heat and add 1 1/2 cups of the ground Triscuit garlic flavored cracker crumbs. Stir well to combine and seaside to cool a little. The crackers will soak up all of the wonderful juices.
2. In the meantime, combine the melted butter and the remaining Triscuit crumbs, along with 1 tbsp. of the grated cheese and set aside.
3. Cut the top off of the tomatoes (not too deep) and scoop out the tomato seeds with a melon ball tool (or stick your little finger in them upside down over the sink and all of the seeds will shoot out,) then drain them upside down for 10 minutes on paper towels.
4. Stuff the tomatoes with the filling (I use my fingers because it's easier) and top with the Triscuit buttered topping garnished with more parmesan or Romano cheese on top. Bake for approximately 6 - 7 minutes or just until the cheese has started to brown. Note: You do not want to burst the tomatoes, so keep an eye on them. This cooking time is variable. Garnish with a scallion curl and serve on a platter.
Scallion curls are easily made. Cut 2 to 3 inch pieces of scallions and either cut them in half (or not) and make incisions half way down the pieces. Place them in the refrigerator with ice cubes and water - watch them curl in no time. Experiment with this - you can even make an eco-friendly pastry brush with a whole scallion using the same method. It's fun!
Makes approximately 2 dozen bombs!
You Should Also Read:
Visit my Home Cooking Site for more delicious recipes!


Related Articles
Editor's Picks Articles
Top Ten Articles
Previous Features
Site Map



Follow @CateringMom
Tweet



Content copyright © 2022 by Allyson Elizabeth D´Angelo. All rights reserved.
This content was written by Allyson Elizabeth D´Angelo. If you wish to use this content in any manner, you need written permission. Contact Allyson Elizabeth D´Angelo for details.