Collecting Beer Mats - Tegestology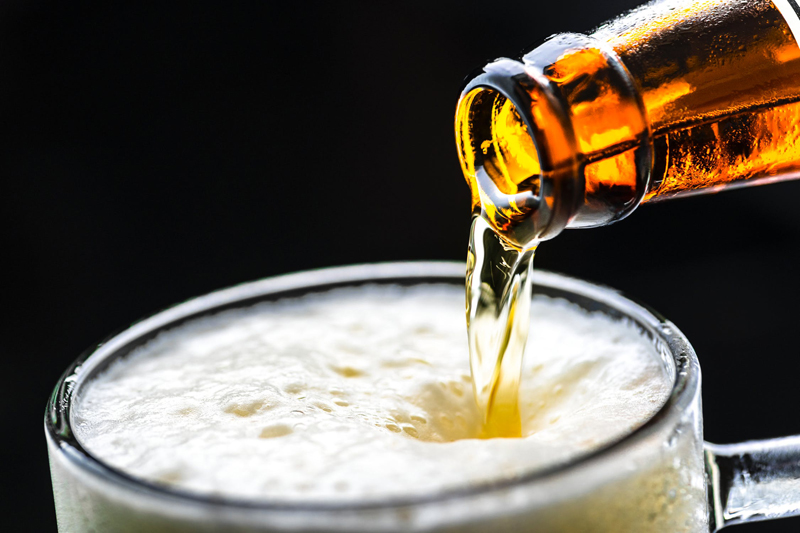 Some might call it "tabletop communication" – one of the easiest and least expensive hobbies to launch in the world of collectible beer paraphernalia, or breweriana. Appealing...entertaining...non-intrusive...historical.

The art of TEGESTOLOGY!

Derived from the Greek "tegestos" and referring to a small reed mat, tegestology is the collecting of beer mats – coasters used under beer glasses to absorb spills and the sweat from cold beverages.

A Brief History

"Necessity is the mother of invention," and so it was with the beer mat. During the 19th Century, wealthier classes in Saxony popularized the beer tankard, a hefty, molded mug with tin lid that was highly effective in protecting beer from intrusion by insects or debris from the surrounding trees. Lower working classes could not afford such luxuries and began the practice of covering their drinks with a felt mat. After absorbing beer spillage, water, and debris, the odors that developed in the felt became noxious after a few days, and newer solutions were sought.

The first card-based beer mats appeared in Weisenbach, Germany, around 1880. By 1893, Robert Sputh of Dresden, Germany patented the process for making "fibre cast mats" from paper pulp, poured and pressed into moulds. Two years later, the process was streamlined by industrialization, and marketers discovered a new medium for targeted advertising. In 1900, brewery names appeared on the beer mats in single colors; then expanded in multi-colored, eye-catching appeal with the advent of the letterpress. In the 1960's, fourdrinier cardboard (a continuous roll) was developed, with letterpress eventually being overtaken by offset printing and punch, allowing the production of customized shapes with greater ease than ever before.

In the German Gasthaus, the coaster was employed by the "Fraulein" as a system for counting drinks and victuals. An "X" indicated Weissbier, while diagonal marks noted Helles. Honor among customers allowed special privileges, so bar patrons refrained from initiating contradictions by tampering with the tab.

In the UK, beer mats appeared between 1918 and 1938, with a cease in production during the war years. Common use became popularized by Public Houses, where the coasters were spread across tables for their patrons. Over 20,000 different styles have been produced, with over 1,000 of these representing Guinness alone.

"Sand mats" became a clever engineering feat in the 1930's. These mats were brilliant little designs that illustrated beer as it poured.

The newest development in the beer mat alerts the bartender when the glass of the patron needs a top up. This computerized beauty detects the weight of the glass and flashes a blinking light at the bar when the drink is nearly finished.

A Guide to Collecting Beer Mats

Although some will joke about the reasons to collect beer mats (to use in games of Frisbee, for leveling tables, or to have something to read that won't stress the brain), serious tegestologists concentrate on historical and social changes within designated time periods, the processes used in production, the organization of sets, beer mat graphics and design, and the maintenance necessary to preserve extensive collections.


A Guide to Collecting Beer Mats (published 2006) by Ian Calvert is a must-have for expert and novice tegestologists. Printed on heavyweight, bright white stock with sturdy cover, this book is designed for heavy use by collectors. Within its pages, Calvert presents definitions, printing processes, design and engineering, production processes, and tips for collectors on storage and maintenance for a premium collection. He delves into subsections on proof mats, misprints and errors, translations, sources, and the British Beer Mat Collection Society.

The Gallery Section showcases over 1,000 beer mats, organized into sections – Flimsies, British Breweries A-Z, Microbreweries, Sexism, False Claims, Copyright Infringement and Offensive Design - with such show-stoppers as "Blow Job," advertising a brewery next to a glass blowing factory, or "Ginger Minge," featuring three fat women on a bench, naked, with their arses in full view.

For more details on Ian Calvert's book, log on to his website at:
https://www.calvert-beermats.com

Although you can purchase the book by personal email, I would recommend going through eBay. You can best find it by going to the eBay website at https://www.ebay.co.uk

– use the search box – type in "Guide to Collecting Beer Mats" It will take you to the list, and Calvert's book is currently listed for £16.99.

You may also seek guidance and global contacts through local and international beermat clubs:

IBV – International Collectors Association, Germany, established in 1958
https://www.ibv1958.de/
British Beermat Collectors Society, Burton on Trent, UK, established in 1960
https://www.britishbeermats.org.uk/
Victorian Coaster Collectors Club
c/o Paul Jeffrey, 37, Pengiun Street, Melton, 3337 Victoria (Australia)
Katz International Coasters, Germany, established 1903
https://www.Katz-coasters.com/eng/

Austrian Leo Pisker gained entrance into the Guinness Book of Records for his collection of 150,000 beermats from 160 different countries. If records were made to be broken, this may be the commencement of the greatest challenge in your lifetime.

Cheers!
 
You Should Also Read:
Clydesdales , Shires & Horse - Drawn Beer
Breweriana - Collectors' Corner of Beer Stuff
Beer & Molasses History - The Great Molasses Flood of 1919


Related Articles
Editor's Picks Articles
Top Ten Articles
Previous Features
Site Map





Content copyright © 2023 by Carolyn Smagalski. All rights reserved.
This content was written by Carolyn Smagalski. If you wish to use this content in any manner, you need written permission. Contact Carolyn Smagalski for details.