Polish Beer & Eastern European Cuisine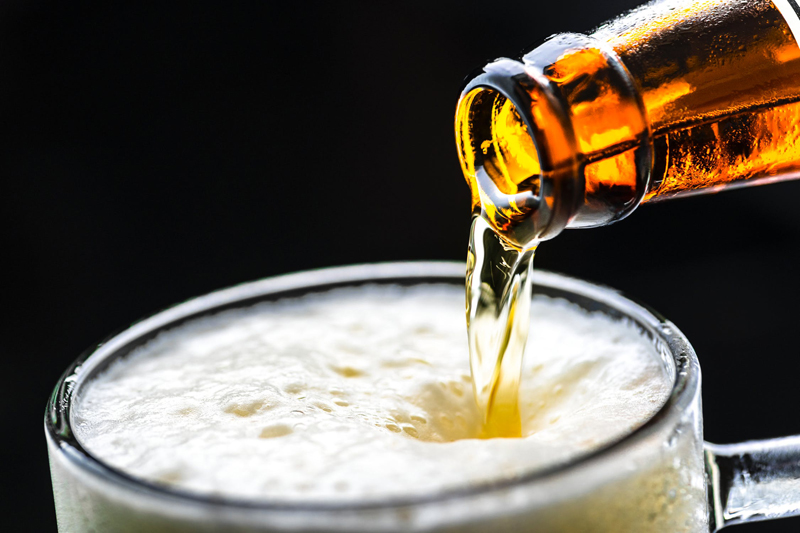 Americans are fortunate to be a part of a huge gilded quilt, a melting pot of ethnicity in which the traditions of hundreds of countries are brought together. As of itself, ethnicity never seems to be particularly special. Whether the neighborhood has its roots in Eastern Europe, Italy, Spain, the United Kingdom, Scandinavia, Japan, Argentina, Africa, India, or China, the familiarity of festivals, food and drink are considered to be the norm within each mini-nation. To one who peers in from the outer perimeter, however, ethnic food is a thing of beauty.

On a recent excursion to England, I was treated to one such custom-drenched haven of delight, Patio Restaurant at 5 Goldhawk Road in the Shepherd's Bush area of West London. Upon entering this lovely Polish restaurant, the subtle flavor of Eastern European hospitality brought back fond memories of traditions that were a part of my own childhood. Was it the nondescript aromas of delicately merged cuisine in the background or the warmth with which owner Eva Michalik greeted us? Somehow, it was charming, familiar and engaging.

The menu was fit for European royalty. Duck a la Polonaise, Blinis with smoked salmon, Herrings with sour cream, white Borscht with egg and sausage, light, ruffle-edged pierogies for the meat lover or vegetarian, red Borscht, Hunters stew, smoked Trout, and Pork in caraway seed sauce were just some of the many dishes created with the culinary skill of an artist. Consistent with classic Polish hospitality, abundant dishes of breads, vegetables, beets, potatoes, slaws, fresh fruits and chocolate-coconut cakes accompanied the dinner, along with complimentary shots of flavored vodka. As beer lovers, we were delighted to choose from a tasty list of Polish beers, adding a layer of satiating quality to a fine evening.

A Mini-Briefing on Polish Beer

Political turmoil was the norm in Poland during the 19th and 20th century. Borders seemed to move with the wind, so it is difficult to pinpoint the emergence of a particular style associated with Poland. Of note, however, was a top fermented smoked wheat beer, Grodziskie, believed to be indigenous to the basic region. It had become vastly popular across northern Germany during the late 20th century, but fell out of style in the mid 1990's and was dropped from production.

European Lager and Pilsener are, by far, the most prevalent beer style in Poland, although within the beer landscape, delineation of style is neither clear nor consistent. Of the seventy-one breweries operating in Poland, most produce pale lagers of 4-6% ABV. Some brew session beers of 3-4% ABV that are referred to as schankbier or výcepni. Baltic Porter may also be found but is less common, as more multinational beer companies enter the arena and eradicate the less popular styles from the repertoire.

A top fermenting version of Belgian Pale Ale has now been created by Browar Belgia in Kielce, Poland, as well as a Euro Strong Lager that is reconditioned in the bottle at Rodenbach brewery in Belgium, bringing world attention to the brewing landscape within Poland.

In the USA, Zywiec Breweries PLC, a division of Heineken, has gained a strong following, as has Okocim(Carlsberg) and Browar Belgia. A smorgasbord of many fine Polish beers can be found at a specialty beer wholesaler, such as Shangy's -The Beer Authority in southeastern Pennsylvania.

Beer Fox Guide to Polish Beer

Zywiec Porter – Zywiec Breweries PLC (Heineken), Zywiec, Poland
Style – Baltic Porter, 9.5% ABV
The body is ebony in color with ruby highlights and a lasting, cocoa-brown head that leaves spotty lacing on the glass. Strong aromas of treacle and brown sugar blend with alcoholic dark rum, espresso and anise. Flavors are heavy and lush – toasted malt, roasted coffee, burnt Black Patent and plums, with velvet slickness and the warmth of an Imperial Stout. A fine match for pork, beef dishes and duck, this would also make a superb after-dinner sipper or late night accent.

Dojlidy Polski Porter – Browar Dojlidy S.A., Bialystok, Poland
Style – Baltic Porter, 9.5% ABV
A voluminous head of tawny brown spews forth to top a gorgeous mahogany body with a creamy coat. Generous sheeting lines the glass as the silky elixir disappears across your lips. Nutty, roasted malts fill the nose, while roasted chocolate, raisins and alcohol touch the tongue. Finishes dry.

Okocim Porter – Browar Okocim S. A. (Carlsberg), Brzesko, Poland
Style – Baltic Porter, 8.1 % ABV
The perfect, crimson-lit, walnut-brown body is topped with a soft, creamy cocoa-tan head that falls gently within the glass. Bittersweet espresso notes mix with dark fruit in the nose. Sweet, roasted malts, dark chocolate, coffee, licorice, black cherries, figs and cognac emerge in the palate. Full-bodied and rich, hints of alcoholic warmth are ever-so-subtle. Superb for drinking as a cold beverage or warmed as a sipper. Exquisite with a creamy dessert, trifle, or rich chocolate mousse!

King Cobra – Browar Belgia, Kielce, Poland
Style – Euro Strong Lager, 8% ABV
A beautiful 750ml bottle of brown glass with cork and cage is the perfect host for this golden-bodied wonder, with thick, creamy head and zesty effervescence. Sweet aromas of lemon, apples, pears, and honey fill the olfactory senses, as they mix with grassy character and a floral hop profile. A bready maltiness touches the palate, mixed with grass, before the heat of alcoholic pleasure emerges. Fruits of kiwi and apple are subdued by herbal hops that finish dry with a slight, acidic tang.

Brewed in Poland, this gem is an outgrowth of the original Cobra Lager, but with higher alcoholic strength. After brewing, it takes a journey to Belgium's Rodenbach Brewery for a jolt of flash pasteurization, after which yeast is added to the bottle for two weeks' conditioning in secondary fermentation.

Rycerskie – Browar Namyslów Sp z o.o., Namyslów, Poland
Style – Euro Strong Lager, 7% ABV
Golden body has electric clarity, while a constant stream of effervescence supports a snowy-white head. Florals, grass and light fruit touch the aroma of grainy malt. Sweet malt flavors linger in the mouth, dried by alcohol warmth in the finish. The clean, smooth mouthfeel begs for pairing with caviar, liver pâté, crudités, and smoked salmon.

Tatra Pils – Zywiec Breweries PLC (Heineken), Zywiec, Poland
Style – Czech Pilsener, 5.7% ABV
Light, clear and golden body carries a fluff of foam with delicate fingers that rise as constant bubbles of carbonation, reminiscent of a fine champagne. Aromas are lightly sweet and grainy, with full hop spiciness. Flavor is smooth and malty, with a pervasive hoppiness that blend well with the delicate flavors of blinis and salmon, pierogies, salads, and white borscht. Superb in drinkability, this is a pleasure for the palate.

Perla Chmielowa (Hop Pearl) – Perla Browary Lubelskie S.A., Lublin, Poland
Style: Euro Pale Lager, 6.2% ABV
A rush of white foam coats the glass in sheets, atop a clear golden body. Aromas are clean and malty, with a touch of citrus. Clean, malt flavors fill the mouth - bready, with lemon and flowers peeking through. Such crisp flavors merge well with stuffed cabbage, Polish sausages, and Cod with dill sauce.

Zywiec Beer – Zywiec Breweries PLC (Heineken), Zywiec, Poland
Style – Euro Pale Lager, 5.7% ABV
Technology touched, Zywiec Beer carries the original, brilliant, little "beer thermometer," a feature in which the Zywiec logo appears in a blank box on the back of the label when the beer has reached the ideal drinking temperature. At precisely the right time, uncap that bottle, and pour out the sparkling amber liquid.

A thin white head drops to a fragile ring, while biscuit, honey, florals and hops fill the air. Flavors of dried apricot mix with malt flavors, biscuit dough, dry leaves and bark. The finish is crisp, yet refreshing, gaining passionate followers in many regions of the USA.

Lomza Export – Browar Lomza Sp. z o.o., Lomza, Poland
Style – Dortmunder/Export Lager, 5.7% ABV
Translucence through a topaz body sets the stage as eye candy, while a billowy, pretentious head of white sits proudly above, leaving clumps of delicate lace on the inner crystal. Yeast, malt and a light mustiness dominate the nose. Graininess and peppery hops rush over the lips, and fill the mouth with the crisp zest of lime and surprising alcoholic warmth. Sweet malts, hops and alcohol linger in a dry, but long, finish.

This brief sampling of Polish beers will whet your palate for an international tour into the world of the sophisticated styles available across the globe.

Cheers!
 
You Should Also Read:
Shangy's - The Beer Authority - A Utopia for Beer Lovers
The Grand Embellishment of Food with Beer
Beer Fox Guide to Dortmunder


Related Articles
Editor's Picks Articles
Top Ten Articles
Previous Features
Site Map





Content copyright © 2022 by Carolyn Smagalski. All rights reserved.
This content was written by Carolyn Smagalski. If you wish to use this content in any manner, you need written permission. Contact Carolyn Smagalski for details.