Patriot Brewer Collection Recreates a Taste of the Colonies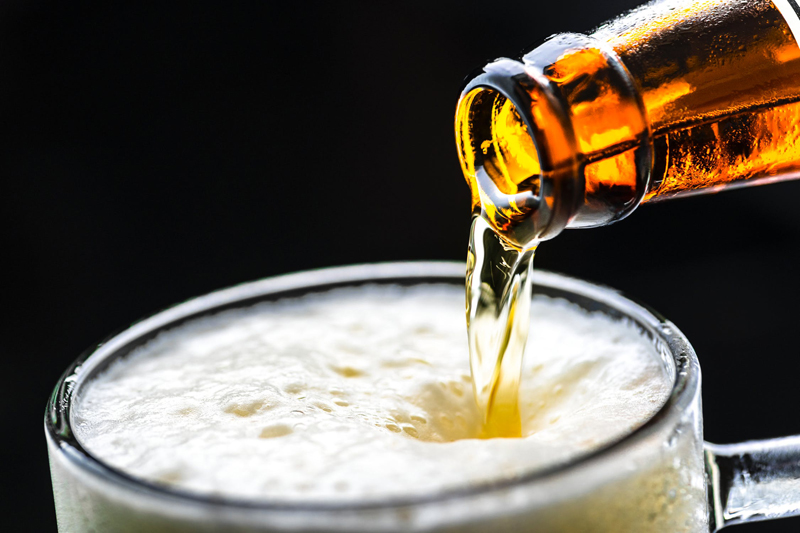 American brewers are to be applauded. In 1976, two hundred years after the signing of the Declaration of Independence, craft brewers declared their own renaissance with the launch of "boutique" or "micro" breweries by such legends as Jack McAuliffe and Fritz Maytag, creating a wave of excellence that spread across the continent with diversity and distinction. Like participants in their own revolution, this new breed of brewers developed unique flavors and a more sophisticated process in brewing technology.

The brewing renaissance caught on like a blazing fire, igniting a lust for finely crafted beer that continues to thrive thirty years later. Forging ahead with a thirst for traditional knowledge, these new brewers have gone so far as to research antique books and letters from our extremist forefathers. The resultant discovery of new styles delights both passionate enthusiasts and converted beer connoisseurs.

Jim Koch, founder of Boston Beer Company in 1984, established an early respect for these extremist patriots when he brewed his first beer, releasing it to the market in April of 1985 as Samuel Adams Boston Lager.  Just months later, it was awarded First Place in the Consumer Preference Poll at the Great American Beer Festival which spread enthusiasm for micros into the northeastern section of the country, particularly New England and the Mid-Atlantic states.

With the celebration of the Benjamin Franklin Tercentenary in January 2006, a look at the revolutionary legends of early historical records displays a reverence for brewing that demands celebration. Boston Beer has again risen to the occasion with the Brewer Patriot Collection.

Brewing in the Early Colonies - A Patriots' Perspective

Colonial America was an amalgam of talent and traditions of the English, French, Dutch and Spanish, uniting diversity while maintaining the differences within each culture. Standards of measure were not the norm, and the ability to obtain ingredients for cooking and brewing ran in sporadic waves. Those who learned to improvise were the most successful. Beer was considered a basic staple of life, so important, that the Second Continental Congress guaranteed troops a daily ration of beer.

Molasses was, perhaps, the most popular sweetener of the day. Bitterness that developed in cooked molasses served to cut the sweetness of corn and malt in beer, much like the results after adding bittering hops to the boil. Although Kent Goldings hops were beginning to become available in the 18th Century, sources of trade between England and the colonies were unreliable.

Ginger was used as a flavoring in food and beer. Its medicinal characteristics of easing nausea, "quickening" the blood, and aiding digestion also added to its popularity, and because it fermented quickly, historians believe all original ginger ales were alcoholic in nature. In his book, Wines and Beers of Old New England, Sanborn Brown writes of the popularity of ginger beer, stating, "commercial sale of ginger beer exceeded both hopped beer or cider."

Despite the ragtag historical recipes available, Jim Koch, with the help of experts on Colonial America, recreated four authentic beers for the connoisseur market: Traditional Honey Ginger Ale; George Washington Porter; James Madison Dark Wheat Ale; and 1790 Root Beer Brew.

Thomas Jefferson - Traditional Ginger Honey Ale

Just after their marriage in 1772, Martha Wayles Skelton Jefferson recorded brewing a 15-gallon cask of "small beer" every two weeks. Jefferson's many letters to James Madison reveal a high level of skill in brewing, with references to the 1762 book, The Theory & Practice of Brewing, by English brewer Michael Combrune. In addition to the "healthy" profile of ginger, lemons were known to prevent scurvy, and were also used in beer from the Jefferson cellars. Jefferson guided the training of his servant Peter Hemings as his estate brewer, and wrote of how Hemings, "of great intelligence and diligence," learned to brew beer "with entire success." Hemings brewed 100 gallons of ale every spring and fall, storing it in corked bottles of green glass or stoneware jugs, stored upright and packed in sand.

Traditional Ginger Honey Ale resembles the style of beer brewed on the Thomas Jefferson Estate at Monticello. Upon the pour, this traditional ale displays soft tones of orange-tinged gold, with a veil of translucent voile adding haze to the unfiltered body. A foamy head of off-white caps the top, while tiny streams of bubbles effervesce from the bottom. A bolt of ginger spice, followed by vague citrus and an earthy biscuit aroma, immediately captivates your nose. Flavors of ginger and light honey abound, tempered by the citric tang of lemon peel. Your mouth is treated to a velvety softness in this very unusual brew. 5.5% ABV.

George Washington - George Washington Porter

George Washington might easily have increased his widespread popularity due to his love of good porter, cementing alliances with prominent Philadelphia businessmen and foreign dignitaries at City Tavern as they shared a few pints. After Samuel Adams drafted the Non-Importation Agreement of 1774, signed at the First Continental Congress in Philadelphia, Pennsylvania, all trade with England ceased and placed brewing in the hands of the colonists. Washington favored porter brewed by Robert Hare of Philadelphia and arranged to have it delivered to the presidential mansion through the efforts of beverage agent, Clement Biddle.

George Washington Porter pours chestnut-mahogany, while a dense head of creamy yellow props against the walls of the glass. Giant rings of foam cling enduringly to the edges. Fresh malt swirls around your head, dropping crystals of molasses, licorice and brown sugar into the air. Your lips are awakened by the immediacy of rich malt, slathered in molasses and earth, touched with bittersweet chocolate. Licorice and dark-roasted malt spread across the tongue in a second wave, followed by an assertive, but dry, finish. 5.7% ABV.

James Madison - James Madison Dark Wheat Ale

James Madison learned much about the brewer's art from Thomas Jefferson who regularly wrote him letters, recommending books and sharing information about the ingredients and process. Very much the pragmatist, Madison endeavored to use the resources available to him, but barley did not grow well at his Montpelier Estate in Montpelier Station, Virginia. He generally used wheat and rye that would retain smoky flavors from the drying of grains, an unavoidable characteristic of this process.

As part of the Brewer Patriot Collection, James Madison Dark Wheat Ale has a clouded chestnut glow with thin beige cap and lacing of thick Irish lace. Malted toffee, slathered in cocoa, mixes with grainy wheat and a touch of spice in the nose. Subtle smoke brandishes the tongue, while the sweetness of wheat and chocolate linger. A citrus tartness seeks to end the finish, while smoke and smooth viscosity in the mouth add a layer of complexity. 5.4% ABV.

The American Patriot - 1790 Root Beer Brew

By the late 1700's, the original colonists had developed recipes based on ingredients that were more common to each social group and geographic area. 1790 Root Beer Brew swaths as unfiltered, hazy, crimson-orange from the bottle, with a creamy tan head. Root bark from the Sassafras Tree was made into a medicinal tea at the time and comes alive as an identifiable aroma that mixes with wintergreen, licorice root and vanilla. Caramelized sugar and molasses awaken the tip of the tongue, as spices, sassafras, licorice and honey linger through to the finish. 5.5% ABV.

So did the patriots of the early colonies unite as revolutionaries, or was it just improvisation to brew better beer?

Samuel Adams Brewer Patriot Collection is available in 4-packs, with antique cream labeling and embellished burnt-umber graphics.

Cheers!
 
You Should Also Read:
Beer & Molasses History - The Great Molasses Flood of 1919
Ask the Beer Fox - History of Molasses in Beer
Porter - History of Beer and Imagination


Related Articles
Editor's Picks Articles
Top Ten Articles
Previous Features
Site Map





Content copyright © 2018 by Carolyn Smagalski. All rights reserved.
This content was written by Carolyn Smagalski. If you wish to use this content in any manner, you need written permission. Contact Carolyn Smagalski for details.