Beer Fox - Craft Brew Awards 6/25/05 to 11/27/05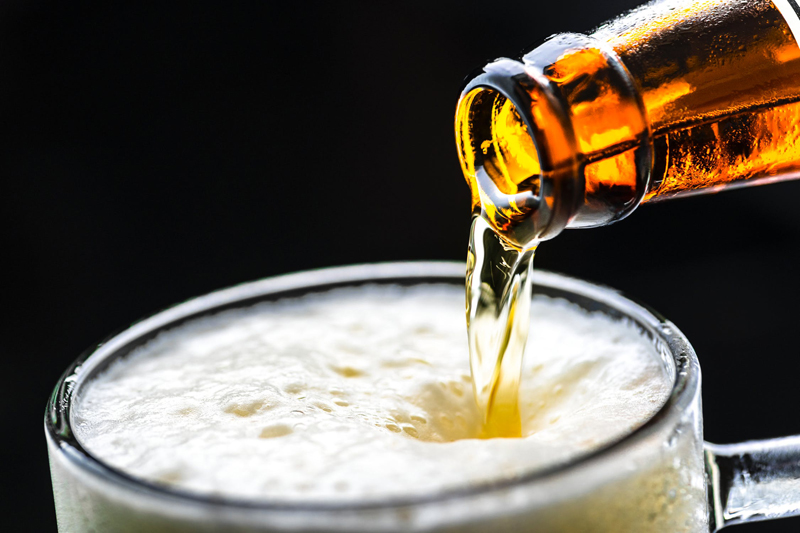 June 25, 2005 to November 27, 2005
Throughout the past 30 years, craft brewing in the United States and abroad has expanded to encompass styles of great variety and sophistication to the delight of a growing body of beer connoisseurs, both men and women. To honor the creativity and technical expertise of so many world-class brewers, the Beer Fox selects the Craft Brew of the Week, and has listed each distinguished beer in the Beer & Brewing Newsletter at BellaOnline since December, 2004. As an easy reference tool, the Craft Brew of the Week Awards are listed by date, extending over each six month period. 
Note:  These are in their original context, and have not been updated to reflect any changes that might have occurred. (for example: retired beers, new brewery locations)

Beer Fox – Craft Brew of the Week Awards – June 25, 2005 to November 27, 2005

Craft Brew of the Week Award 06/25/2005:

Mountain Mantra from New Belgium Brewing Company, Fort Collins, Colorado, USA
Style: American India Pale Ale
Pure golden-orange, crystal clear and sparkling like a gem in a jewelry store! A thick white head contrasts the inner lights, while the glass laces delicately when swirled.
Smooth and complex, with a decidedly Belgian base. Citrus, florals and honey are accented by a symphony of hops!

Craft Brew of the Week Award 07/18/2005:

Abbey Pale Ale, Capitol City Brewing, Washington, D.C., USA
Style: Belgian Pale Ale
Lights of amber and orange dance beneath generous thunderheads of fluffy white. With 5.7% abv, this delightful brew surges with the complexity of cotton candy and malt, while bitterness waits in the wings to grasp your ankles and hold you captive. The lingering finish seduces you into another go-around, preventing escape and prolonging the pleasure.

Craft Brew of the Week Award 07/24/2005:

Fire Drake Barleywine brewed by John Harvard's Brewhouse in Manchester, Connecticut, USA
Style: English Barleywine
Deepest ruby red with hints of orange in hue, with frothy off-white head and a tight little rim of microscopic carbonation. Fills the nose with dark dried fruit aromas, alcohol, and a kick of hops. Initially smooth and sweet, with a complex balance between flickering biscuit and molasses and an inferno of hops, non-cloying, and seductively warming in the throat. Dangerously smooth on the palate...Superb!

Craft Brew of the Week Award 07/31/2005:

Duvel - Brouwerij Duvel Moortgat NV, Belgium
Style: Belgian Strong Pale Ale
This Devil of a beer is light golden in color with a thick, deliciously white, rocky head with enormous staying power and seductive lacing that coats the glass to the final moment.  The peppery, yeasty, malty nose fills with spices as it warms. A complex fruit flavor-profile is splashed with shadows of sweet malt, spice in the middle and a clean bitter finish.

Craft Brew of the Week Award 08/07/2005:

Gumballhead - Three Floyds Brewing LLC, Munster, Indiana, USA
Style: American Pale Wheat Ale
Body is hazy and golden amber, like looking through a stained glass window at an iridescent sunrise. A dense, creamy head poises itself like snow atop a magnificent mountain peak, while light effervescent bubbles rise beneath in a silent dance. The nose whets your appetite with aromas of tropical orange and dry pine needles, while an exotic spice drifts lightly through the air. Your taste buds awaken, as if touched by a magic wand. Malted grain and wheat, wrapped with delicately spun sugar, blend with the tart complexity of orange citrus. Bitterness washes over your tongue with the floral juice of spiced hops, drenching it with desire for more intoxicated, quenching satisfaction.

Craft Brew of the Week Award 08/13/2005:

Black Hole - Weyerbacher Brewing Company, Easton, Pennsylvania, USA
Style: Old Ale
Deep ebony, like shining keys on a piano, with thick tan head that settles to a patchy veil. Aromas are of burnt, sweet chocolate - slightly nutty. Rich flavor, sweet dark fruit, then bitter, malty, touched with earth and wood, organic, nut-like chocolate and mild caramel. Creamy mouthfeel. Begins as a few notes on a keyboard, and ascends into a crescendo of symphonic song.

Craft Brew of the Week Award 08/28/2005:

Scheherezade - The Tap Haverhill Brewery Inc, Haverhill Massachusetts, USA
Style: Flanders Oud Bruin
Opaque, cloudy walnut mahogany, with satin sheen like buffed wood beneath a short tawny head. Nose is of sweet and sour cherries and red plums, with an aura of alcohol amidst light caramel. Flavors are resplendent with apple, cherries, and woody maple sugar, with tart plums that add to the complexity. Light bodied enough to satiate your thirst, yet meaty enough to satisfy a hunger for the brew.
Craft Brew of the Week Award 09/04/2005:

Leatherlips IPA - The Tap/Haverhill Brewery, Haverhill, Massachusetts, USA
Style: India Pale Ale
Golden apricot crimson hue with substantial, sticky off-white head.  Resinous and plush, exuding aromas of fresh pine cones, florals, and citrus fruit. These enticing flavors roll across your lips with commanding prominence, then captivate the inner recesses of your mouth - the tongue, inner cheeks, gums and throat. A wisp of malt peeks out
momentarily, then gives way to more flavors of citrus, peach, mint, and pine. Fantastically unique!

Craft Brew of the Week Award 09/10/2005:

Founders Red's Rye - Founders Brewing Company, Grand Rapids, Michigan, USA
Style: Rye Beer
Hazy, lazy crimson in appearance with a constant, slick, off-white head on top, sporting exuberant sheets of lace. The nose is full of spiced tropics - a cornucopia of fruit and lupulin: fleshy grapefruit, kiwi, orange marmalade and resiny oils. Palate fills with malt and fruit explosion, and a sharp, clean spicy bitterness. Easy to love!

Craft Brew of the Week Award 09/18/2006:

Captain Swain's Extra Stout - Cisco Brewers Inc., Nantucket, Massachusetts, USA
Style: Foreign / Export Stout
Penetrating Mahogany body with thick, ample head of deeper tan and tight, sticky bubbles. Aromas are of dense, bittersweet chocolate bars, roasty grains of barley and oats, and spiced with imported coffee and spruced
earth. The palate is dry, with bitter chocolate and sweet, roasted caramel, with a touch of dark fruit. Pleasant bitterness lingers long after the explosion of flavor has settled. An All-Star among Export Stouts!

Craft Brew of the Week Award 09/25/2005:

Supplication - Russian River Brewing Company, Santa Rosa, California, USA
Style: American Wild Ale
Hazy amber, lightly tinted in soft wisps of pinkened sunlight, with a sticky, tan head of seafoam and woven lace. Aromas of Brett and tart cherries, awash with clean aftertaste and medium body. Oaken barrel flavors of Flemish hybrid, similar to a Rodenbach, and of heavenly quality. Inspiring and superior brew! Proof that American craft brewers hold a place of honor in the world!

Craft Brew of the Week Award 10/02/2005:

Pine Mountain Pils - Deschutes Brewery, Bend, Oregon, USA
Style: European Style Pilsner
Sparkling, reflective amber body with large, frothy head lays as a temptress, in wait for the next pleasure ride. The olfactory sense is brushed with sweet malt at the start, then infused with clean lemon. Fresh crispness greets the palate, delightfully smooth and creamy, with fresh grassy herbal notes and biting spiciness. A true lady of lasting sensuality!

Craft Brew of the Week Award 10/10/2005:

Ipswich Dark Ale - Mercury Brewing Co. Inc., Ipswich, Massachusetts, USA
Style: American Brown Ale
Deep brown body, brushed hazy like nighttime madness, with a creamy, ample head and spotty lacing. Aroma rises to the nose, filling it with malty notes of roasted caramel and fruity sweetness. A yeasty fresh bread characteristic is touched with lemon citrus, pine, and fresh orange rind. Bitterness hovers above, but never overpowers the smooth mouthfeel. Finishes round.

Craft Brew of the Week Award 10/17/2005:

Rauchbier - Triumph Brewing Company, Princeton, New Jersey, USA
Style: Rauchbier
Glowing Copper body with sunshine clarity sits proudly beneath a foamy white head that dissipates to a healthy ring. Munich malts impart a nutty character, with aromas of Beechwood in the background. Floral notes balance the malt sweetness for a truly unforgettable and satisfying brew.

Craft Brew of the Week Award 10/23/2005:

Morimoto Imperial Pilsner - Rogue Ales Brewery, Newport, Oregon, USA
Style: American Double Pilsner
Morimoto's glistening, golden body lingers beneath a thick, frothy eggshell head, while fresh, sweet pils aromas drift lazily among clean notes of florals, herbs and citrus.
A blast of hop bitterness greets the tongue in an immediate celebration, while spiced peach and citrus shadows make love in the upper balcony, enlightened with the presence of yeast, spice and malts.
Mouthfeel is firm but soft and classically Czech, with an added infusion of high-powered TNT. An explosive masterpiece of quintessential excellence!

Craft Brew of the Week Award 10/30/2005:

Old Scratch Amber Lager - Flying Dog Brewery, Denver, Colorado, USA
Style: American Style Amber Lager
Sparkling, clear jewel-tone of coppery topaz glistens within the glass, while a head of ivory cream rises in a frothy mound with holding power. Aromas are lightly sweet - toasted caramel and yeast, splashed lightly with fruit and hops. Flavors are richer blends of Munich and crystal malts, dashed in harmony with citrus fruits, pear and sweetened apple, while warm alcohol and leafy hops ride it out through an enduring finish.

Craft Brew of the Week Award 11/08/2005:

Lost Sailor India Pale Ale - Berkshire Brewing Company Inc., South Deerfield, Massachusetts, USA
Style: English India Pale Ale
Slightly hazy ochre amber, with tiny-bubbled, voluminous head. Aromas are of floral hop oil and sweet, pale malt. Earthy hops and a handful of grapefruit cast boldness into the mouth, while crystal sweetness, pine needles and peach tones lend balance to this masterpiece.

Craft Brew of the Week Award 11/13/2005:

Kellerbier - Triumph Brewing Company, New Hope, Pennsylvania, USA
Style: KellerBier / Zwickel Bier
A hazy body of golden mist sends tiny threads of carbonation upward to greet a voluminous head of creamy egg-white foam. Yeasty baked bread and lemon zest rise to the nose, with sweetened fruit lingering in the secret attic. Bready malts balance on a tightrope with floral and citrus hop-companions to create a memorable act. Finishes clean and crisp with a pleasantly grainy aftertaste.

Craft Brew of the Week Award 11/20/2005:

Small Craft Warning (Über Pils) - Clipper City Brewery, Baltimore, Maryland, USA
Style: American Double Pilsner
Bright, light golden yellow, with tightly-packed, sticky white head. Beneath, steady streams of light carbonation bring awakening aromas of fresh citrus, dried rose petals, and spicy hops to dance among the senses. Smooth, slightly sticky, big-bread malts balance on a perfect tightrope-of-excitement with piney, grassy, floral and citrus hop flavors. Round softness adds to the complexity. Incredible!

Craft Brew of the Week Award 11/27/2005:

YuleSmith - AleSmith Brewing Company, San Diego, California, USA
Style: American Double IPA
A body of nebulous, amber-peach and copper lies innocently beneath a luscious, creamy layer of rocky cream, while aromas of pine, grapefruit skins, apricot, tangerine, floral cones, and grass pierce the air with voluminous tenacity. Sweet malts drift alluringly to the fore, seducing you to revel in Holiday hop-stacy.  Bready sweetness lingers on the lips as a bold, spicy tingle enlivens the inner recesses of your mouth. The 8.8% ABV remains hidden like a clandestine lover, and lures you into euphoric pleasure. This is what the season of good cheer is all about!

More Beer Fox – Craft Brew of the Week Awards:

Beer Fox – Craft Brew of the Week Awards – December 04, 2004 to May 30, 2005

Beer Fox – Craft Brew of the Week Awards – December 4, 2005 to May 23, 2006

Beer Fox – Craft Brew of the Week Awards – June 02, 2006 to November, 2006

Beer Fox – Craft Brew of the Week Awards – December 20, 2006 to April 6, 2007

Beer Fox – Craft Brew of the Week Awards – June 5, 2007 to November 18, 2007
Beer Fox - Craft Brew Awards - December 30, 2007 to May 26, 2008

Cheers!
You Should Also Read:
Tapas and Beer - Tasty Food Pairings
Beer for Sophisticated Restaurateurs
Great Grains - Great Beers with Michael Jackson


Related Articles
Editor's Picks Articles
Top Ten Articles
Previous Features
Site Map





Content copyright © 2019 by Carolyn Smagalski. All rights reserved.
This content was written by Carolyn Smagalski. If you wish to use this content in any manner, you need written permission. Contact Carolyn Smagalski for details.