Beer Fox - Craft Brew Awards 12/4/05 to 5/23/06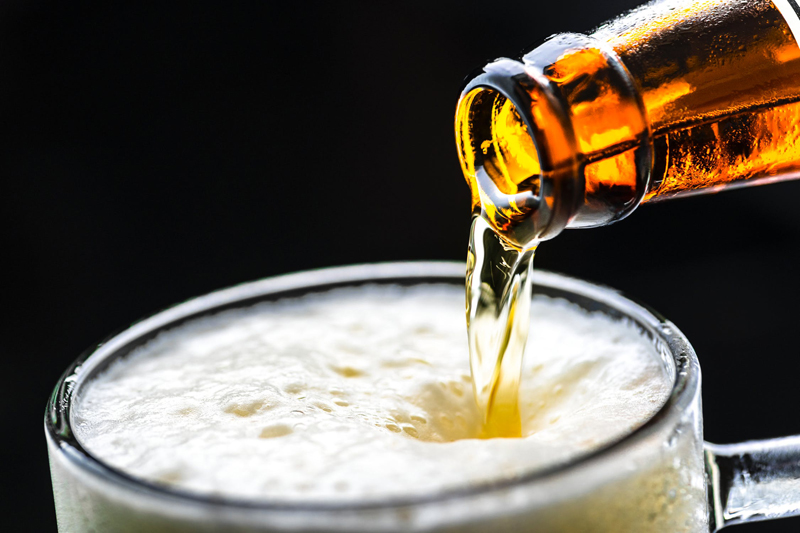 December 4, 2005 to May 23, 2006
Throughout the past 30 years, craft brewing in the United States and abroad has expanded to encompass styles of great variety and sophistication to the delight of a growing body of beer connoisseurs, both men and women. To honor the creativity and technical expertise of so many world-class brewers, the Beer Fox selects the Craft Brew of the Week, and has listed each distinguished beer in the Beer & Brewing Newsletter at BellaOnline since December, 2004. As an easy reference tool, the Craft Brew of the Week Awards are listed by date, extending over each six month period. 
Note:  These are in their original context, and have not been updated to reflect any changes that might have occurred. (for example: retired beers, new brewery locations)

Beer Fox – Craft Brew of the Week Awards – December 4, 2005 to May 23, 2006
Craft Brew of the Week Award 12/04/2005:

Heresy - Weyerbacher Brewing Company, Easton, Pennsylvania, USA
Style:  Russian Imperial Stout
Deep ebony with a tawny head that shrinks to a layer of ringlets with cobwebby lacing on the crystal surface of the glass.  Aromas are intensely oak and vanilla, with chocolate and nuts rising to the nose.  Roasty, nutty malt are dressed with dark fruit flavors of raisins and plum pudding, while bittersweet chocolate merges with bourbon magic to coat your throat in velvet.  Warmth lingers in the back of the mouth. Satiating!
Craft Brew of the Week Award 12/10/2005:

Gouden Carolus Noel / Christmas - Brouwerij Het Anker, Mechelen, Belgium
Style:  Belgian Strong Dark Ale
Slightly ruddy, scarlet-chestnut body glows beneath a fluffy, light bone head.  Rum, cherries, plums, raisins and deep malt tones rise to the nose.  Rum and alcohol wash over your lips, while deep fruit flavors of wild cherries, raspberries and plums captivate your tongue.  Body is chewy, infused with a ginger and anise background.  Light bitter complexity adds to the refreshment.  Carbonation is lively - foaming bubbles run circles in your mouth and jump down your throat in joyful celebration.  A spectacular beer to share with friends!
Craft Brew of the Week Award 12/24/2005:

Duchesse de Bourgogne - Brouwerij Verhaeghe, Vichte, Belgium
Style:  Flanders Red Ale
Its deep ruby hue sparkles on the edge of mahogany, as a majestic, creamy tan head rises like a crown, leaving  a wash of lace on the inner recesses of the glass.  Slow, steady carbonation brings forth a spicy nose of sweet, overripe fruit - plums, sour cherries, currants and raspberries.  Some earth and oak lingers in gentle waves.
Flavors of sweetness glide with sour notes as they gently wrestle in a delightful tug-of-war:  sweet fruitiness with tartness on top;  then a bit of sweet maltiness, tempered again by acidic notes.  Spiced oak rises to the fore momentarily.  The tip of the tongue tingles with the pleasures of sweet and sour interplay.  Finish is satisfyingly acidic, dry and lingering.
Craft Brew of the Week Award 12/31/2005:

St. Sebastiaan Grand Reserve - Brouwerij Sterkens N.V., Meer, Belgium
Style - Belgian Strong Pale Ale
A single batch of Grand Reserve is brewed each year, and this is a beauty.  This  limited edition Belgian Ale comes in a cream-colored ceramic bottle with swing top.
The Egyptians said that the topaz gem was colored with the golden glow of the mighty Sun God Ra.  This Belgian beauty glitters clear topaz with a creamy, dense off-white head and delicate sheets of lacing that cling generously to the inside of the crystal.
Aromas are a complex mix of pineapple, grapefruit and peaches, with sweet malt and brown sugar.  Spiced rum and pepper drift to your olfactory senses.  Maltiness comes forth in the taste, along with the fruit delights of peaches and grapefruit, cinnamon, licorice and rum, with a bitter bite that lingers in the throat.  Mouthfeel is extraordinarily smooth, like the velvet touch of angels. Perhaps angels brewed this!  Spectacular!
Craft Brew of the Week Award 01/16/2006:

Cask Conditioned Uncle Teddy's Bitter - Victory Brewing Company, Downingtown, PA, USA
Style:  English Bitter
This authentic "ordinary" bitter grabs your immediate attention with its golden body, awash with orange lights and a creamy head that has true staying power.  Subtle aromas of fruit and malt drift up to meet your olfactory senses - lightly earthy, with an air of floral hops.  Your mouth is greeted by malt sweetness and light toast, airily scattered with mild fruit flavors and an impeccable balance of biting hops. Highly drinkable, this is what session beer is all about!
Craft Brew of the Week Award 01/24/2006:

Hacker-Pschorr Hefe Weisse Naturtrub - Hacker-Pschorr Brau GmbH, Munchen, Germany
Style:  Hefe Weizen
Body lays like cloudy, apricot sunlight beneath a creamy, off-white head.  Aromas of lemon, banana, oranges and clove leap out to greet your senses.  Flavors are of fruit and spice, with grainy malts and a bit of earthiness.
Light carbonation glances the tongue, while tastes feel solid.  Spicy hops and lemon linger in a clean finish.
Quenching and drinkable!  This is easy to love!
Craft Brew of the Week Award 01/31/2006:

Fuller's Vintage Ale - Fuller, Smith & Turner PLC, Chiswick, London, UK
Style:  Old Ale
Crystalline, deep-amber bronze body sparkles intensely, while a dense, creamy head of light-tan lays slathered, like loosely-whipped egg whites, over the gleaming body below.  Aromas are of malt, sherry, floral hops and caramel.  Flavors explode in a bouquet of complexity - chocolate, dark fruits, sherry and toffee, accented by English hops.  Creaminess washes thick in the mouth, while bitter hops and alcohol race in a balanced medley for the finish-line.
Craft Brew of the Week Award 02/06/2006:

Black Sun Stout - Three Floyds Brewing Company, Munster, Indiana, USA
Style:  Irish Dry Stout
Ebony piano keys...a moonless night...Darth Vader's cape...black.  An ethereal dense body with sticky, burnt sienna head awaits you.  Roasted coffee and bittersweet chocolate greet the nose, mingled with pine and citrus notes, and a touch of alcohol.  Belgian-esque in its character, the rich malts come to the fore, riding on the back of tart black cherries that carry the mocha to the finish.  Ends on the pinnacle of distinctively American hops character.
Craft Brew of the Week Award 02/19/2006:

Arctic Devil Bourbon Barrel Barleywine - Midnight Sun Brewing, Anchorage, Alaska, USA
Style:  English Barleywine
Ruby auburn highlights flicker in the glass, showing off a complexity of color as an ambient translucence calls you to meet the devil.  An eggshell white head fizzes up to emit aromas of vanilla, bourbon, oak, figs, raisins and whiskied cherries, enticing your spirit to surrender to the temptations of this wily brew.  Caramel, figs and an English hop character pull insistently on your tongue, while plums and dark fruits merge with tones of cognac, taking you on a wild ride to the halls of euphoric limbo.  Dominates the spirit in a spectacular finish!
Craft Brew of the Week Award 02/26/2006:

Moylander Double IPA - Moylan's Brewery, Novato, California, USA
Style:  American Double IPA
A reflective, copper-red body sizzles beneath its dense head of off-white cream, emitting aromatics of toasted caramel and pine needles, grapefruit, citrus-orange, apricots, apples, melon and vanilla.  The tongue is painted with a surprising dash of sweet malt, then mellowed with resinous hops that lay soft and spicy on the palate.  Crystalline malt sweetness returns with each progressive mouthful, tempered in waves with a varietal medley of citrus and pinecones crushed on a forest floor.
Lays smooth on the tongue, potent and dry, yet spicy and warming, with lingering hop vine bitterness. Outstanding!
Craft Brew of the Week Award 03/06/2006:

Aviator Red - Flying Bison Brewery, Buffalo, New York, USA
Style:  American Amber/Red Ale
Pours a deep ruby-copper with sticky, compact tan head that grabs the side of the glass in spotty flecks.  Your nose fills with a bready, caramel aroma, decorated with chocolate-nut toffee, juicy hops and earth.  Flavors of crisp, roasted caramel wash across the tongue with gentle carbonation, while wood and earth arise in keen bitterness.  Great session beer, good with food, easy to enjoy!
Craft Brew of the Week Award 03/12/2006:

Old Leghumper Robust Porter - Thirsty Dog Brewing Company, Independence, Ohio, USA
Style:  Robust Porter
Body pours deep walnut with intense highlights of garnet shining at the edges when held up to light.  A creamy head of off-white begs for attention, leaving swaths of lace on the sides of the glass.  Aromas light your olfactory senses with sweet toffee and roasted malts, while espresso notes charge into the forefront with unyielding force. Flavors of imported coffee enter your mouth with rich assertiveness, as they enhance the roasted notes of caramel, toffee and nuts.  Finish is dry and lingering.
Craft Brew of the Week Award 03/18/2006:

Hop Wallop - Victory Brewing Company, Downingtown, Pennsylvania, USA
Style:  American Double IPA
A gargantuan, creamy white head sits like a thunderhead atop the slightly hazy, golden amber body, flecked with tiny particles of yeast.  Citrus rises up to meet the nose, with pine, spruce, pineapple and an herbaceous character.
Your senses awaken with its smooth texture as it floats across your lips and palate, alerting you to the delights of grapefruit, spices, firm malt and sharp pine.  An IPA lovers' IPA!
Craft Brew of the Week Award 04/01/2006:

Harvest Ale - Sierra Nevada Brewing Company, Chico, California, USA
Style:  American Pale Ale
Body lays clear and copper, while a frothy, sticky, cream-colored head sits above leaving solid sheets of lace on the inner recesses of the glassware.  A big bouquet of hops greets the nose - grass, pine and citrus - blended with a satiating sense of freshly baked French bread.  The slick, malt sweetness is cut with sharp hop overtones that play "in-your-face" symphonies on the tongue.
Craft Brew of the Week 04/06/2006:

Lagunitas Nuevo Noir - Lagunitas Brewing Company, Petaluma, California, USA
Style:  Belgian Brown Ale
A crystalline chestnut-brown body, dressed with glimmers of garnet, emanates beneath a creamy, off-white eggshell head.  Aromas of spiced caramel tango with brown sugar and dark fruits.  Titillating tongue sensations of sweet maltiness, and fruit merge with dark and whole wheat bread, drifting into spice, tart fruit and light alcohol in the finish.
Craft Brew of the Week Award 04/15/2006:

Trumer Pils - Trumer Brauerei Berkeley, Berkeley, California, USA
Style - German Pilsener
Pours as a diamond-esque clear golden straw body with a dense, off-white head and persistent carbonation.  The slick head slowly fades to a light collar, leaving delicate webs of lace on the glass.  A clean, spicy aroma of herbal quality intoxicates the inner recesses of your nose, while grainy malt sweetness greets the tongue, balanced by a spicy, floral grand slam of German Hops.  The finish is crisp and dry, wholly quaffable!
Craft Brew of the Week Award 04/23/2006:

Dark Doppelbock - Capital Brewery, Middleton, Wisconsin, USA
Style:  German Style Doppelbock
A gem-like clarity of burgundy-chestnut rests beneath a thin, hoary-tan head that dissipates to a light ring with delicate lacing.  Caramel, toffee, bread, and plums rise to the nose, beckoning you to delve into its temptations.  A sweet, toasted warmth of spices, figs, wood and toffee
greets the palate with full-bodied density and rings of alcohol enveloping your head in its silken texture.  Finishes dry and smooth.
Craft Brew of the Week Award 05/02/2006:

Red Hydrant Ale - Big Dog's Brewing Company/Draft House, Las Vegas, Nevada, USA
Style - English Style Brown Ale
Pours deep copper red with small white head and spidery lacing that decorates the interior perimeter of the glass.  Sweet waves of caramel and toffee swirl in the air.  Malt, light peaches and caramel meet the palate, with a touch of hop bitterness for balance.  Mouthfeel is smooth and lingering on the tongue.
Craft Brew of the Week Award 05/14/2006:

Red Wheat - Bear Republic Brewing Company, Healdsburg, California, USA
Style - American Pale Wheat Ale
Glistening, glittering, clear red liquid fills the glass, with thin, tight, long-lasting head that leaves tiny specks of white dew on the interior surfaces of crystal.  Sweet malt notes fill the nose, while hops threaten to break loose, surrounding your head with swirls of hypnotic aroma.
Flavors of grainy wheat and assertive hops grab your taste buds and scream for attention.  You have no choice but to answer the call.  "More!"  you say.  "Bring it on and quench my thirst!"
Craft Brew of the Week Award 05/23/2006:

Fort - Dogfish Head Craft Brewery, Milton, Delaware, USA
Style:  Fruit/Vegetable Beer
Coppery, melon-tinged orange with voluminous, creamy almond head.  Aromas of raspberries arise in sweet/tart complexity. Palate is of sweet malt and a powerful display of framboise orchestration, grabbing at the back of the mouth with a balance of floral hops and a tart fruity twinge, delicately warming in the finish.
Fantastic!
More Beer Fox – Craft Brew of the Week Awards:
Beer Fox – Craft Brew of the Week Awards – December 04, 2004 to May 30, 2005
Beer Fox – Craft Brew of the Week Awards – June 25, 2005 to November 27, 2005
Beer Fox – Craft Brew of the Week Awards – June 02, 2006 to November, 2006

Beer Fox – Craft Brew of the Week Awards – December 20, 2006 to April 6, 2007

Beer Fox – Craft Brew of the Week Awards – June 5, 2007 to November 18, 2007
Beer Fox - Craft Brew Awards - December 30, 2007 to May 26, 2008

Cheers!
You Should Also Read:
Real Ales - Cask Conditioning - Mark Dorber Style
Fuller Smith & Turner - London Style
Trappist Beer - The Select Seven


Related Articles
Editor's Picks Articles
Top Ten Articles
Previous Features
Site Map





Content copyright © 2019 by Carolyn Smagalski. All rights reserved.
This content was written by Carolyn Smagalski. If you wish to use this content in any manner, you need written permission. Contact Carolyn Smagalski for details.