Beer & Pub Magazine - Tokyo Style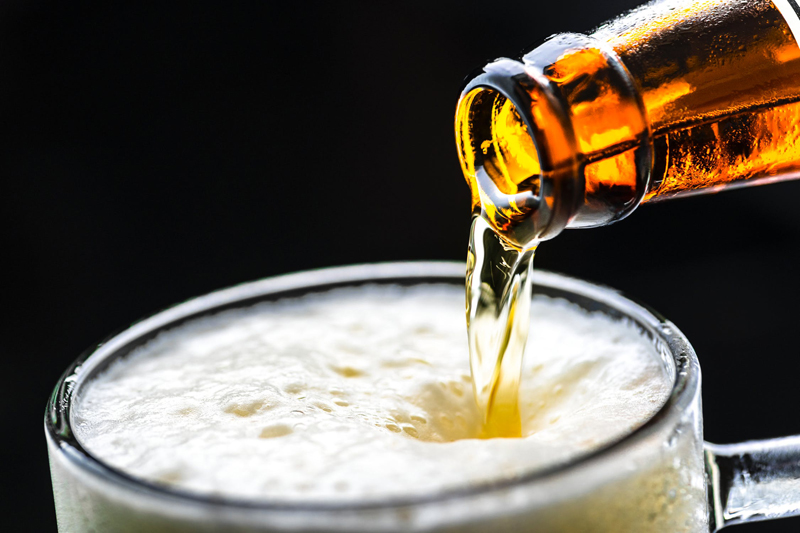 The end of Summer holds a strange fascination for me. In the northeastern United States, locusts rattle their snappy rhythms in search of one last fling. A few leaves drop prematurely from staggering heights, and flowers wither, forming seed-pods that guarantee proliferation next season. Perhaps my late August birthday launches some strange inner signal about this being a time of discovery.

In a walk down memory lane, the Beach Boys sing "Surfer Girl" while we bid the Atlantic adieu for the season. Who would think that life could change so dramatically in the future, creating a new dimension for familiar words?

Although the "surfer girl" title remains, the medium has changed. Now my ocean is the internet and discovery encompasses every culture in the global market. Life has expanded to magnify human similarities and we reach out to communicate with those on other continents.

In the 2004 Health Data Report of the Organization for Economic Co-Operation and Development, beer ranks as the number one alcoholic beverage consumed throughout the world. Annually, this is over 100 billion liters of beer, with consumption on the rise due to the increasing availability of a variety of styles and flavors. Anthropologically, people have brewed for thousands of years, creating links from Ancient Egypt, Greece and China to present-day Europe, Australia and the Americas.

Is beer, then, the greatest peacemaker available to human civilization?

During a reception at the White Horse Pub, Parsons Green, London, I had the privilege of meeting Hiroyuki Fujiwara, Editor-in-Chief of Beer & Pub Magazine of Tokyo, Japan. The reception, hosted by The British Guild of Beer Writers as a kick-off to the Great British Beer Festival 2006, gave media-hounds the opportunity to meet brewers, sample new beer styles, and celebrate camaraderie within the beer community. Fujiwara and Toshi Ishii of Yo-Ho Brewing Company, Karuizawa, Japan, had traveled from the other side of the globe for opinions from the Western world.

Fujiwara thrust an issue of Beer & Pub Magazine into my hands. He clearly wanted me to look through the pages. The text was in Japanese. He excitedly pointed to the features, turning the pages as he rattled on about each section. Distracted by the madding crowd, I found it difficult to understand his "English," but enthusiasm is infectious. His level of excitement peaked my curiosity. I wanted another look.

A few days later, amidst the stacks of books and beer in a colleague's office, Beer & Pub caught my eye. It was easy to spot. Brilliant color splashed across a heavy cover, washed with a high-gloss, aqueous finish. Japanese books are read with text starting from the top right. Pages turn to the right, opposite the layout of an American or English magazine.

With this orientation in mind, it was easy to understand the format of the magazine – features about pub crawls and dedicated beer people, articles matching food with beer, columns detailing appetizing beer ingredients and their use in brewing, beer gadgets, content about beer styles, and a bit of Western humor – woven within the eye candy of popping photography and prismatic blocks of cobalt, ebony and vermillion on velvet-glossed paper.

A Detailed Look at Beer & Pub

Japan shares a love for baseball with the USA. As an American, the beer and baseball articles in Beer & Pub create a sense of familiarity. One story features a Kirin "draft-walker" that dispenses cold, fresh, hand-draft beer in the stands at a baseball park – complete with the adorable sex-goddess at the serve. Another takes a satirical look at the Bad News Bears in a full-page comic strip called "Beer & Cinema." The illustrations alone make me laugh. Humor is universal.

A story about "Popeye the Cellarman" contains vibrant pictures that "speak" to the reader about the importance of cask conditioning, the dedication necessary to be a world-class cellarman, and the resultant quality of freshness that can dramatically enhance flavor. Popeye has 40 beers on tap, a phenomenal feat in cellarmanship.

This story rolls easily into a food and beer section with food photos that stimulate salivation. Comfort pictures of dining bars, intimate moments with beer at the center, and people in harmonious repartee are scattered throughout. A substantial pub crawl section showcases such bars as Oryo Standing Bar, The Rose & Crown, Rock Fish, '98, The Oregon Bar & Grill, and Kura Lounge, complete with a map and red dots for ease of location.

Belgian beer enjoys a huge following in Japan. Beer & Pub draws the similarities of German Weissbier into a feature on Belgian Wit, complete with titles, descriptive flavors, and detailed information on each. Featured are Cantillon, Oude Gueuze, Boon, Timmermans, Mort Subite, Blanche de Bruges, Grisette Blanche, Hoegaarden, Andechser Weissbier, Maisel's Weiss, Erdinger, Weihenstephaner, Blanche des Honnelles and more.

Future issues feature a report from Portland - America's Beer Zone, A Pub Crawl of 22 Bars in Shimbashi, and more on good beer and where to find it. Hiroyuki Fujiwara has created a high quality beer magazine with an international flair.

In Japan, find Beer & Pub at bookstores, in popular beer bars and at:
https://www.otonagumi.com/magazine/index.html


Cheers!
 
You Should Also Read:
Real Ale in Japan - Yona Yona Beer
Beer for Sophisticated Restaurateurs
Belgian Beer at the Brickskeller


Related Articles
Editor's Picks Articles
Top Ten Articles
Previous Features
Site Map





Content copyright © 2022 by Carolyn Smagalski. All rights reserved.
This content was written by Carolyn Smagalski. If you wish to use this content in any manner, you need written permission. Contact Carolyn Smagalski for details.