Extract Champions Beer with Shelton Brothers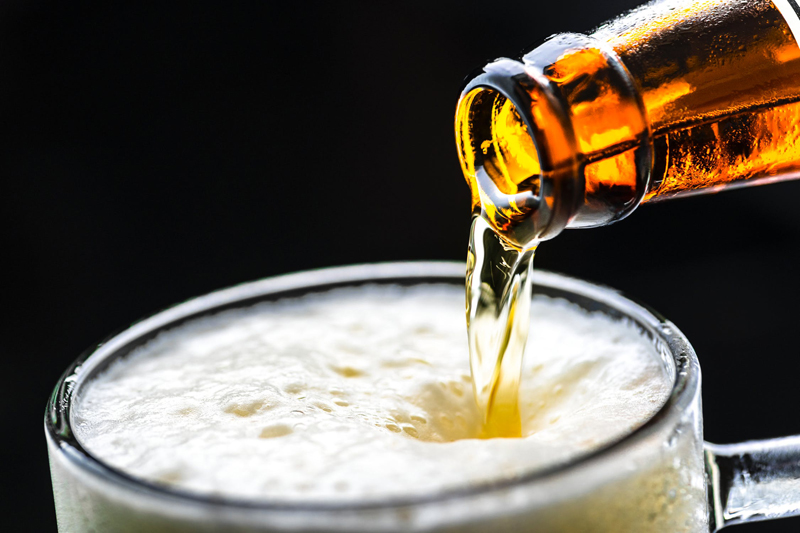 When he said his name was Ron Extract, I laughed. How far will an importer of premium craft beer stretch a joke? All the way to Belchertown, Massachusetts?

He swore "Ron Extract of Belchertown" was neither a joke nor a marketing strategy. As an active partner in Shelton Brothers, Ron Extract does, indeed, operate from offices in Belchertown, Massachusetts and Chicago, Illinois. He asserts the name "Extract" was not a bastardization from Ellis Island days, but it has served to attract media attention to this man who knows beer.

Along with the Brothers Shelton – Dan, Joel and Will – Extract dedicates his life to promoting a culture that appreciates the complexity, the flavor and the balance inherent in well-designed beer.

Subtle Flavor Demands Subtle Sophistication

To those who value good food - the ethereal flavors of Tournedos Chasseur or Oysters a la Florentine, for instance - beer with subtle character is a priority. Fine cuisine deserves a compatible mate. Much of the American craft-beer world is focused on creating beer at extreme levels with over-the-top hops or elaborate adjuncts. A handful of these beer geeks perceive subtlety as bland. They scoff at beer with 4-5% alcohol, tossing it aside as meager. Extract understands there is a place for "extremes" in beer, but sophistication-in-taste demands balance and delicacy.

Says Extract, "Nobody talks about 'extreme' wine, and when shopping for wine, no serious buyer looks at the price tag and then looks next at the alcohol content to determine whether the price is justified…I think it's unfortunate that beer geeks are willing to pay a lot more for a novelty or gimmick than they are for even the most complex and nuanced 5% lager that's brewed from nothing but malt, hops, water and yeast."

He continues, "It seems right to me that there are a number of people, and I can probably include myself in this group, who, after first discovering that it's possible for beer to have flavor, immediately explore the outermost bounds of the various flavors they find before garnering an understanding of and appreciation for their more subtle nuances. The progression from the brash to the sophisticated is what the maturation of taste is all about."

How an Amateur Turns Pro

Ron Extract speaks with authority, as an experienced beer connoisseur, one whose own maturation developed through exposure to beer as it exists in diverse cultures. For him, this exposure began at 14, when his German teacher, Herr McAuley, chaperoned a trip to Germany in the looser climate of 1984. Since McAuley viewed beer as an important part of German heritage, he and his students visited the historic Staatliches Hofbräuhaus, the 17th century royal brewery (Kingdom of Bavaria), in München, Germany. This began an enduring curiosity that was to continue beyond Extract's senior year in high school when a second trip to Germany gave him even more exposure to beer as a cultural ingredient.

Extract's academic nature drew him to enroll in Princeton University, (majoring in philosophy), where he immersed himself in Ivy League traditions, including those associated with beer. Princeton, the 4th oldest institution of higher learning in the United States, had a reputation as a huge beer school that gave birth to the traditional "beer jacket" and Prospect 11 – defined as "the act of drinking a beer at all 11 eating clubs on The Street in one night," [changed to Prospect 10 and Prospect 13, at times, depending on the number of "eating clubs" in operation during each particular year]. As a team player, Extract did his best to explore these traditions.

"Eating clubs" were private off-campus, social clubs for upperclassmen that included dining services, taprooms, and free-flowing beer. Most of the student population had access to these clubs, and Extract was no exception. Since beer at these clubs was free – or included in a pre-paid membership fee - students usually drank within the confines of their own club.

However, Debasement Bar, also known as D-Bar, was located in the graduate college and had a glowing reputation for its exotic imports and micros. Lured by the curiosity of such an interesting cache of beer, Extract and his adventurous friends ventured out from the confines of their own eating-clubs to explore the D-bar scene. As new styles of beer rolled across his palate, his interest in beer expanded. He began to seek more information on the distinctive traits associated with finely crafted beer.

Michael Jackson, the leading world authority on beer, had written a companion for the beer connoisseur, Pocket Guide to Beer, in the mid-1980s. This became Extract's primary guide on his many tasting treks. Jackson's eloquent descriptions of the world classics led Extract to an ever-greater exploration of the global beer market.

Within a few years, Extract managed to join a work abroad program during which he tended bar at a real ale pub in London, explored the Great British Beer Festival, and traveled to breweries throughout the United Kingdom and Europe. While abroad, homebrewing captured his attention, and he thrust himself into this new facet of beer upon his return to the states. After graduation, he took another beer-focused tour throughout Europe the following summer.

Although he chose to pursue philosophy in a graduate school program at the University of Chicago, the prospect of a career in beer was fast overtaking his sensibilities. Did he not realize that his life was already committed to the pursuit of the finest beer in the world?

The Pub at Ida Noyes, a Chicago beer bar with a dozen select taps and over 200 bottles of beer, secured his services, and he immersed himself in an ever-expanding array of duties. His reputation for knowing beer led local stores to consult him for recommendations. Recognizing his propensity for homebrewing, he endeavored to become a professional brewer and enrolled in an intensive course at the Siebel Institute of Technology and World Brewing Academy, earning an official brewer's certificate in two short weeks. Temporary and sporadic stints at a few struggling breweries led him to the realization that professional brewing may not provide the future he envisioned.

Paradise Found – Dedication to Quality

He had already developed a strong grasp of beer styles throughout the world, so he turned this strength into promoting the rich array of beer available in the US, UK, and Europe. Smooth roads in the retail and wholesale business were entwined with rocky bumps, twists and turns. As he brought premium beer into the Chicago market, his association with Dan Shelton took form, and eventually became solidified in a partnership between "three brothers and one good friend." Continuous dedication to promoting the color, diversity, complexity and sensual pleasure inherent in well-brewed beer is the trademark of Shelton Brothers.

Ron Extract recognizes the importance of examining the terroir from which beer is born. He understands how the land, climate and wind-borne yeast or microflora can impart unique character to different styles of beer. He has developed a respect for traditional brewing, perceived as a Godly calling by the Trappist monk, a rite of birth by the Lambic brewer, and an inborn talent by many a European family.

Shelton Brothers
Shelton Brothers imports World-class beer from forty hand-picked breweries in Canada, England, Scotland, Belgium, France, Germany, Italy and the Netherlands.  Among these top performers are such stars as:
Cantillon Gueuze - fuzzy reflective orange washed in gold, with a tart beginning and strands of sweetness; light, acidic, and bone dry;
Biere Darbyste – hazy, golden orange bouquet of fruit slides like velvet across the tongue.  A dry fruit character merges with earth, mustiness, and herbal tones.  Lingering dark fruit extends the finish, for a delightfully refreshing quencher;
Fantôme de Noël – sports a body of cloudy chestnut red, with glowing amber and an effervescent head.  Yeasty malt, candy and caramel are splashed with hints of licorice, fruit (dripping with juiciness), earth, spice and oak;
Kulmbacher Eisbock – a reddish brown body allows its fluffy head to project aromas of molasses and dark figs, prunes, chocolate and malt to surround your olfactory senses.  A strong malt backbone grabs your tongue, drenched in dark fruit.  Alcohol lingers with warmth into the aftertaste, coating your lips with a pleasurable slickness;
La Choulette Blonde – citrus and spice unfold in a pale peach haze, subtle and complex with hints of pepper;
LongLeg Fuggles Hop Ale – peach body, glowing with golden edges, hold up a rocky white head.  Aromas of citrus tangerine and malt permeate the air.  Fuggles dance around in the background, with toffee flavors joining toasty malts;
Mahr's Hell – hazy sunlight with a posh, white head, aromas of pale and Munich malts dust the air.  Easy maltiness on the tongue finishes crisp with grass, citrus and light bitterness;
Pissenlit – coppery apricot with shrimp coral glowing from within, while herbal, earthy spices emanate from the center.  Flavors are of toasted, pale malt, yeast and spices;
Rochefort 10 – reddish violet-brown with huge taupe head of rocky foam, surrounds your head with pears, bananas and voluminous fruit.  Bubblegum lingers.  Faint milk chocolate drenches the palate, while dark fruits and vanilla announce their presence;
Slaapmutske Triple Nightcap – cloudy brass with creamy eggshell head hold up fruit flavors of banana, tropical fruit, and malt.  Flavors of grainy malt grab center stage, while vanilla, fruit, yeast and alcohol grab at your palate.
Shelton Brothers is not a transformation scene created by wine-turned-beer enthusiasts, but a cache of dedicated beer connoisseurs who import the most compelling line-up of beer on the planet. Ron Extract and his partners strive to offer winning alternatives to those who appreciate the finest in gastronomic pleasure.

For more information:
https://www.sheltonbrothers.com

Cheers!
 
You Should Also Read:
Real Ale - Cask Conditioning - Mark Dorber Style
Fuller Smith & Turner - London Style
Beer for Sophisticated Restaurateurs


Related Articles
Editor's Picks Articles
Top Ten Articles
Previous Features
Site Map





Content copyright © 2022 by Carolyn Smagalski. All rights reserved.
This content was written by Carolyn Smagalski. If you wish to use this content in any manner, you need written permission. Contact Carolyn Smagalski for details.