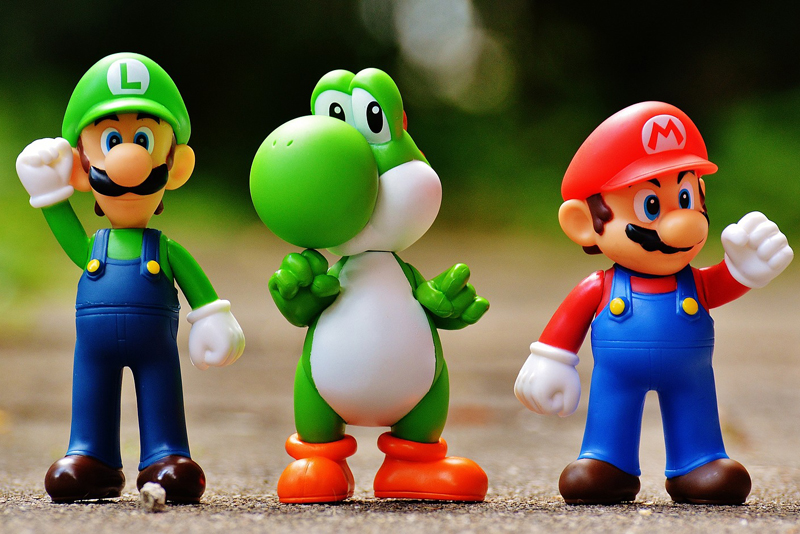 The Wii Fit "game" for the Wii is far more than a game! It comes with a balance board and lets you practice yoga, strength training, aerobics and other fitness games with your very own Personal Trainer.
First, how it works. There is a white plastic balance board you stand on, which is in essence a multi-part scale. It can tell exactly where you are standing on the board, and where your weight is. If you lean forward, it senses the weight shift. If you stand on one foot and wobble around, it can sense that wobble. *Precisely*.
So for example, in the yoga area one of the exercises is "tree pose". This is the classic yoga pose you see with one foot against the other leg and the hands up in the air. You stand that way for about a minute. The Wii knows exactly how steady you are, and shows you a red dot dancing around the screen to show your fluctuations. Of course, if you are really good at this, it shows that dot calmly at rest.
Being a scale, the system tracks your weight loss (or gain) each time you use it, and because you put in your age and height, it tracks your BMI as well. The charts show you how you progress each day, and what your daily exercises levels are, broken down by the various categories.
You can choose a male or female trainer, and the trainer demonstrates the moves visually on the screen while you watch. So for push-ups, the trainer is on the screen, doing them properly, giving you advice on form and what to do. They tell you exactly what muscles you will be working out. They provide front-and-back views so you can get a better sense of what you're doing, and give audio messages as well so you know when to change position.
There is really a lot of variety here. There are games like hula hoop and walk-the-tightrope to give you some fun. There are different levels of some games you can unlock. You can "go for a run" where you have the Wii controller in your pocket and run (not on the board) in place, while an interesting scenery scrolls past on the TV. The speed the scenery moves is based on your own running speed, so you can go faster or more slowly. You can even run with a friend!
You are told NOT to jump on the board and in fact the game will restart a given level if you do, to help make that clear. The board is a scale, as mentioned, and they do their best to have you treat it relatively gently.
You really can work up a sweat if you do harder activities, but there is a LOT in here for the out of shape to start slowly.
Now all of this begin said, there are several downsides to this game that they really should have added in.
First, they have lots of little short games - and no way to connect them together! You have to track down activity 1. Go through it. Then go back out to the menus and track down activity 2. It can take literally a minute to go between one thing and the other, with lots of button clicking. They should have let you string together "my fitness set" to do this more easily. They do have a "favorites" menu that lets you see the 10 things you do the most, but it's not the same.
Next, they don't recommend anything at all based on your weight / BMI. You are completely on your own to know what to do. You can tell it "I want to lose 20 pounds in 6 months". Fine. It doesn't give you any help or guidance at all. No "hey you lost 20 calories" or "only 10 minutes to go!" You have to make your own plans. Normally this is what a trainer does for you - so their virtual trainer is pretty useless.
Which goes into another thing a real trainer would help you with - the order of activities. Muscle groups work in combination with each other and you should warm up, then do a combination of activities, then cool down. The Wii Fit has no information at all about this type of planning. You could randomly choose things to do that all work out your legs for example and never touch your lower back. You could cause strain on your body by leaping into the higher activities without doing a warm up lower activity. This would have been SO simple for them to build into the system, but they did not.
The scale unit tops out at 330 pounds. I work with many obese people and there are MANY people out there over 330 pounds who this system would have been ideal for. They can't use it. I know someone who was 270 pounds who used this and the system kept giving them errors. I know they can't have an infinite weight scale, but something a little higher end would have been very encouraging.
To me these things are all "really should put into Version 2" issues. I will still give WiiFit 5 stars for being a groundbreaking entry into the video gaming world - something that can really change lives and help people become more healthy. There are all sorts of other "would be great" enhancement ideas - for example, if you hooked up a video camera, you could see how YOUR downward facing dog looked, to see if it matched the "trainer" on the screen. That could be hugely helpful for people.
WiiFit is definitely a great software package - I wouldn't call it a game - and I highly recommend that everybody get their hands on one if they can. It's a system that appeals to all ages, is healthy for all ages, and is a lot of fun too.
Buy the Wii Fit from Amazon.com
You Should Also Read:
Wii Fit - A Year as a Top Seller


Related Articles
Editor's Picks Articles
Top Ten Articles
Previous Features
Site Map





Content copyright © 2022 by Lisa Shea. All rights reserved.
This content was written by Lisa Shea. If you wish to use this content in any manner, you need written permission. Contact Lisa Shea for details.