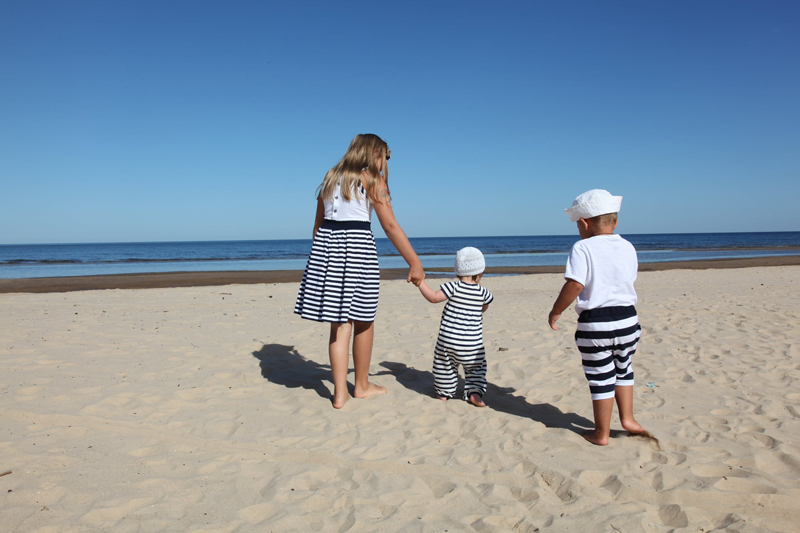 Looking for a travel-related gift for your baby or toddler? Here are ten options to choose from.

1. An aluminum baby cup. Let your baby travel in style with a Sigg brand baby water bottle. The designs are bright and fun, and you can purchase a "kidz grip" (two handles) to make it easy to hold.

2. A baby carrier. When you're out and about, most babies prefer being held to riding in a stroller. If you're new to babywearing, try an easy to use sling (like the New Native Baby Carrier) or a sturdy backpack carrier.

3. Travel toys. New toys can buy you a lot of quiet travel time in the car or on the plane. Look for toys with moveable parts, shiny mirrors, or playful tags (check out the line of toys offered by Taggies).

4. A Winkle. Chewable toys soothe a teething baby and give them something to do while you're driving or waiting in line. My kids have loved the Winkle toy from Manhattan Toy. The brightly colored loops are great to gum and make the toy easy for baby to grab on to (and easy for you to retrieve when baby drops it during a car ride).

5. Disposable necessities. A box of disposable bibs is very convenient when traveling with a messy eater. You'll be able to protect their clothes and leave the mess behind. Disposable changing pads are great for use in airport bathrooms and other areas when you don't want to use your regular changing pad.

6. A portable bed. If your baby needs his own bed on vacation, consider purchasing a portable crib or bassinet. It will give you piece of mind (hotel cribs may not be up to current standards). You can even find models with screening that you can take along to the beach to keep bugs away from a napping baby and provide shade.

7. Linking Rings. These brightly colored plastic rings (widely available in the baby department) are great for chewing and shaking. They also come in handy for attaching toys to the handle of a stroller, making the toys less likely to be kicked out and lost.

8. A set of nesting bowls. A set of small plastic bowls is very useful once your traveling baby starts eating solids. You won't have to worry about Grandma's fine china and you can use them in restaurants to share your dinner with your baby.

9. A travel blanket. A huggable travel blanket is a great travel companion, serving as a snuggle toy and warmth for a napping baby. The blanket will also come in handy as a shady cover for the stroller or as a play mat (keep it in the bottom of the stroller for a play break).

You Should Also Read:
Gift Ideas for Traveling Families
Travel Gifts for Children
Holiday Travel Tips


Related Articles
Editor's Picks Articles
Top Ten Articles
Previous Features
Site Map





Content copyright © 2019 by Kimberly Misra. All rights reserved.
This content was written by Kimberly Misra. If you wish to use this content in any manner, you need written permission. Contact Tiffiny Spire for details.