Chris Black & The Falling Rock Tap House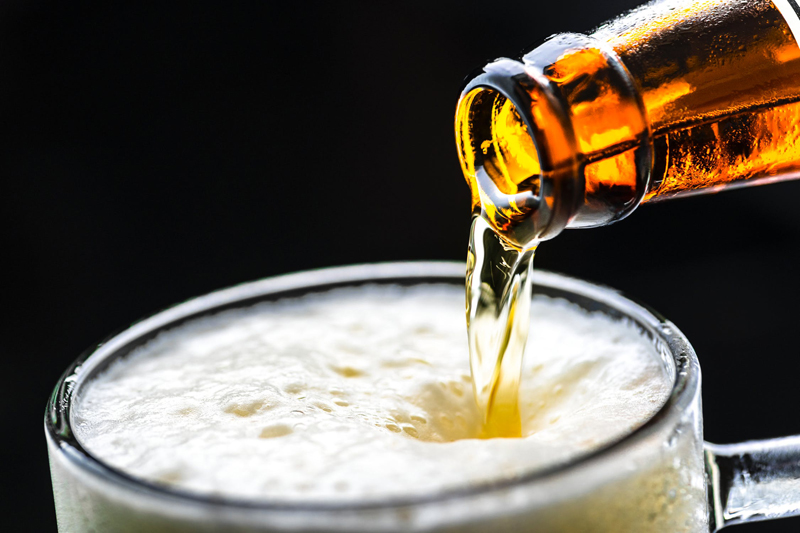 When Fritz Maytag, one of the first demigods of the craft beer revolution, became sole owner of Anchor Brewing in 1969, he never thought that, in four years, he would unknowingly mark an eleven-year-old with an indelible impression, one so strong that it would endure into adulthood. Chris Black, now 43 and owner of The Falling Rock Tap House in Denver, Colorado, recalls vivid memories of Anchor Steam, discovered by his dad during frequent business trips to California. Anchor Steam, in his dad's opinion, was worth the price. He brought home a six-pack, and the young "taster" thought it was… unreal!

During high school, Black had the opportunity to spend five weeks in Salzburg, Austria, where he discovered the same type of impressionable characteristics in Stiegl Bio-Paracelsus Naturtrub, a double bock with flavors of cocoa, coffee and toasted caramel. Such flavors were rare in American beer, but his interest in pursuing good beer was piqued by his exposure to the possibilities.

Within a few short years, Black was earning his degree in Cartography and Remote Sensing [with a minor in German] from the University of Texas in Austin, where he discovered Maggie Mae's Pub. As his palate took sensory note of world beer styles, his mind stole mental snapshots of Maggie Mae's – the warmth of the lengthy shotgun bar; displays of beer bottles from all over the world, lined up like dominoes above the bar; the latest in live music, reaching into his guts with orgasmic revelry. He began his own collection of beer bottles. By the time he graduated in 1986, he had amassed 300 different shapes and sizes, displaying silk-screened images or labels printed with highly creative graphics.

With degree in hand, Chris Black searched for a job in Defense Mapping, but the economy had taken a lean turn and there were no prospects on the horizon. He traveled to Germany and Austria, and found himself, once again, at Stiegl, Austria's largest private brewery. The Stiegl "Brauwelt" is Europe's largest exhibition of beer, displaying original documents of historical importance, beer curiosities, processes, and beer lore. Once again, the mental camera activated images in his subconscious archive.

He admits that his enthusiasm for beer seduced him into looking for an ever-growing selection of distinctive brews. As a distributor and importer of Paulaner in the Houston area, he discovered The Ginger Man and Monkey Duck. His enthusiasm was infectious, and he began conducting beer tastings on Saturdays, introducing local beer lovers to the higher sophistication of palatable flavors.

In 1995, his dad approached him with an opportunity. Many investors would have asked for a business plan, complete with Powerpoint presentation, financial analysis, a list of assets and your first-born child. Black's dad, however, asked only for "A Goal." Chris's thoughts were clear.

"I want to have one of the best beer bars in the U.S. in 5 years."

Waves of mental notes poured into his brain. Images of his favorite beer bars; beer flavors found in Schlenkerla Rauchbier, Paulaner Salvator, and Fuller's Golden Pride; his growing collection of breweriana; a wall of tap handles to boggle the mind of the greatest beer connoisseur; music and laughter so intense it could wake the dead.

The best place to do this would be in Denver, Colorado – center of the annual Great American Beer Festival; city ranked number-one for beer production per capita in the United States; the locale, teeming with successful breweries; the area dubbed "Napa Valley of Beer."

Said Black, "If you want to make a splash in a hurry, that's where you do it."

Falling Rock Tap House, 1919 Blake Street, Denver, Colorado, USA, opened in June, 1997. His younger brother Alan managed the bar routine and an impressive list of 69 beers on tap. During the Great American Beer Festival that year, Chris Black handed out 1,200 business cards at the Thursday and Friday sessions. "The Rock" drew such a sizeable crowd, a passing tourist would have thought they were handing out bags of money.

On October 6, 1997, Tom Dalldorf, publisher of Celebrator Beer News in Hayward, California, sent Chris Black a letter: "YOUR PLACE IS F___ING AWESOME!" All capital letters.

In 1998, The Falling Rock was on the Celebrator Beer News list of Top Beer Bars in the USA. By 2004, CBN rated The Falling Rock Tap House as "Top Alehouse in the USA."

Chris Black admits his ideas for The Rock are taken from those beer bars, pubs and alehouses he most admired. The feeling is excitingly eclectic. He points out the "fine Corinthian-leather ceilings" - vinyl creativity at its best. The walls are lined with 2,200 beer bottles – the ones he remembered to bring home. A vintage Hammonds Ale sign from West Yorkshire, England, whispers memories to those patrons from the Bradford or Huddersfield pubs of the 1950's and 60's. Breweriana from Fuller, Smith & Turner in Chiswick, England, reflects passing images. A beer lover can get as many as 75 beers on tap most nights, along with an infinite list of bottled beers from all over North America and the globe.

Is this Beer Heaven?

Chris Black thinks so. He is quick to mention his wife Cheryl, the one woman he "loves, likes and lusts after," the fun of conducting business in a great industry, and the happiness that comes from being surrounded by people he loves and admires.

Photo above: Chris Black, Tom Dalldorf, and Stephen Beaumont celebrate the final night of the 25th Great American Beer Festival 2006 at the Falling Rock Tap House

Cheers!

 
You Should Also Read:
Celebrating the Celebrator - Tom Dalldorf
Fuller Smith & Turner - London Style
Beer & Brewtopia at Cooter Brown's


Related Articles
Editor's Picks Articles
Top Ten Articles
Previous Features
Site Map





Content copyright © 2023 by Carolyn Smagalski. All rights reserved.
This content was written by Carolyn Smagalski. If you wish to use this content in any manner, you need written permission. Contact Carolyn Smagalski for details.