Recurrent Dreams, Nightmares - Dream Symbols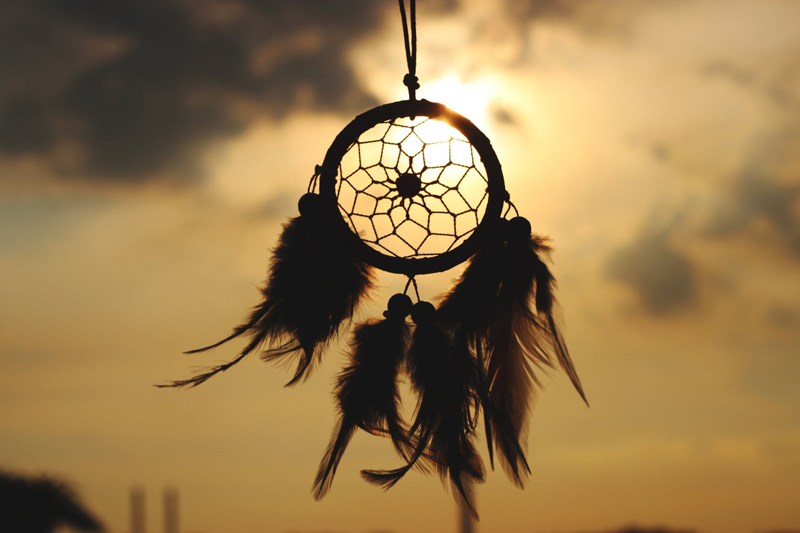 Many people experience recurrent dreams. Sometimes the dreams are pleasant and involve a place visited so often in dream life that it feels as real and familiar waking life retreat. These dreams may be a mental or psychic respite from waking life or the place may have some deep spiritual meaning.
Other times the dreams are less than pleasant--far less. There are chronic nightmares that constantly plague us, or dreams that occur again and again while the dream meaning remains elusive. Some people are so disturbed by their dreams they dread going to sleep.
Common themes of recurrent dreams are those of being chased, being attacked, falling, teeth falling out, vehicle crashes, being naked in public, taking a test, death dreams, dreams of mutilation, being lost, being trapped somewhere, or other nightmarish images.
Links to many of these images are listed below, but what may be most helpful in getting answers to these dreams is examining your waking life situations.
Ask yourself when these dreams first started. Is there any major event that occurred--either before or after--the dreams began? Sometimes the root of a recurrent dream may be found in some situation that has become imbedded in one's mind. Oftentimes an event occurs and the mind takes it and uses it as a symbol for feelings associated with the original event. For example, if one experienced the death of a parent as a child, a dream associated with that event might begin showing up as a recurrent dream. One might begin dreaming of an empty house that symbolizes the feelings of emptiness one felt in one's soul. As one grows, this theme may recur--either as a symbol for the unresolved emotions one has around the event or as a symbol that shows up whenever one is feeling lost or empty or longing for security in one's life.
Some dreams that appear nightmarish may actually be dreams that can be quite helpful if one can past the fear and into the meaning. For example, dreams of being chased can be dreams attempting to let you know that there is something from which you have separated yourself, something that simply wants acknowledgement and integration. It may be something painful, but the fruit of integrating the pain may be well worth the unpleasant feelings. Psychic wholeness and full self-integration allows one unparalleled creativity, personal power, peace in the soul and frees one from the fear of the unknown.
But how does one do this?
One can first try to ascertain what the root problem is that is causing the dream and looking at it openly and honestly. Another way to deal with these dreams is via creative visualization and/or guided imagery.
To do this, visualize the dream the dream you have. Talk to the characters. For example, if you are being chased, visualize yourself back in the dream and turn around and face whatever it is that is chasing you. You may not be able to see what is at first, but it doesn't matter. Talk to it, ask it to reveal itself to you, ask it what it wants, why it is chasing you, if there is something it wants to say to you. This may feel silly at first but you are the only one who has to know you're doing these exercises, do don't worry! If you don't get anything at first, don't give up--it may take a bit to get the images to speak.
Another idea is to try and get back into the dream immediately after you've had it. You can do this by laying very still and seeing the dream in your mind. Imagine the ending of the dream, imagine what you'd like to see happening. Do what filmmakers do and create and alternate dream ending.
Below are links to articles on specific dream symbols that may help you:
Dream Symbols - Chase
Dream Symbols - Teeth Falling Out, Tooth Loss
Dream Symbols - Flying and Falling
Dream Symbols - Nakedness and Nudity
Dream Symbols - Crashes, Wrecks, and Accidents
Death Dreams
Until next time, sleep well and dream out loud!
*~Aisling Ireland~* is an ordained Spiritual Counselor providing dream interpretation and Tarot readings. To make an appointment check out her website at:
web.mac.com/aisling.ireland
Below are two great books on dreams and dream symbolism--I own them both. "Man and His Symbols" is probably the most accessible and informative book you can find on C.G Jung's ideas on dream interpretation.
You Should Also Read:
Sleep Paralysis
Dream Symbols - The Shadow
Prophetic Dreams


Related Articles
Editor's Picks Articles
Top Ten Articles
Previous Features
Site Map





Content copyright © 2023 by Aisling Ireland. All rights reserved.
This content was written by Aisling Ireland. If you wish to use this content in any manner, you need written permission. Contact Lori Chidori Phillips for details.