Holiday Turkey with Cranberry-Beer Dressing Recipe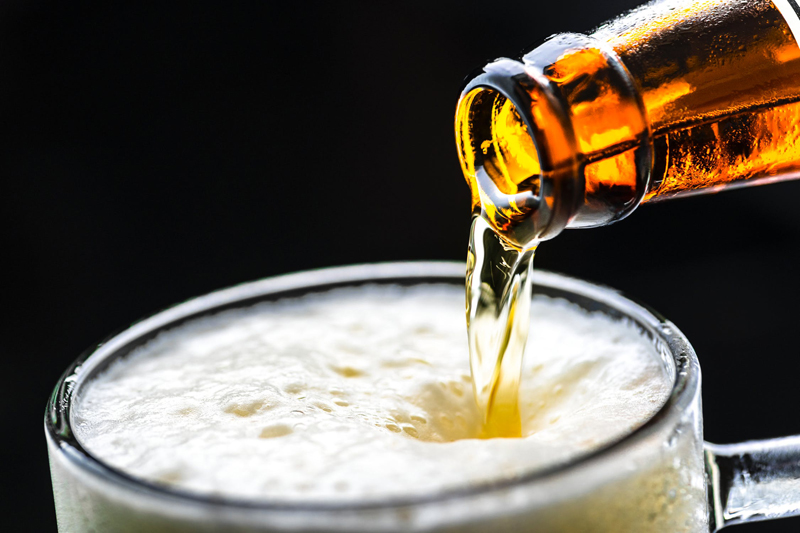 Historically, brine is a solution of sea salt, to which is added sugar and aromatics. Master chefs on large estates created these brine solutions to preserve meats for extended periods, much like villagers did with smoked meats or salted fish. Brining awakens flavors in turkey, and allows spices to penetrate the fleshy parts of the bird. As an old-fashioned Thanksgiving tradition, brining the bird in cranberry and beer is a treat that will gain a memorable place in the halls of Holiday lore.

Holiday Turkey with Cranberry-Beer Dressing

For Brine:
1 quart cranberry juice
2 C. firmly-packed brown sugar
2 C. sea salt
1 quart water
¼ C. black peppercorns
1 tablespoon pine nuts
6 bay leaves
3 cinnamon sticks
8 pints Old Chub Scottish-Style Ale

One 8-10 lb. Turkey

For Dressing:
1 14-oz. package Pepperidge Farm Seasoned Bread Crumbs
1 lb. dried cranberries
2 sticks butter
2 large yellow onions, chopped
3 stalks celery, chopped
2 garlic cloves, peeled and smashed
1 lb. pork sausage
2 eggs
1 tablespoon dried parsley flakes
1 tablespoon paprika
1 teaspoon sage
1 teaspoon rosemary
4 C. chicken stock
One turkey oven roasting-bag
2 tablespoons flour
4 oz. Old Chub Scottish Style Ale
2 tablespoons cornstarch
3 carrots, sliced lengthwise

Cranberry Beer Brine Soak:
Combine cranberry juice, brown sugar, and sea salt in 4-quart saucepan. Heat and stir until sugar and sea salt are dissolved. Remove from heat. Blend in water, peppercorns, pine nuts, bay leaves, and cinnamon sticks.

Pour mixture into a large non-metallic container (use a plastic container or 40-quart cooler). Combine with Old Chub Scottish Style Ale, blending well. Remove neck and giblets bag from turkey. Rinse turkey, inside and out. Submerge turkey, upside-down, in brine. Cover with plastic wrap. Refrigerate for 24 hours.

To prepare Dressing:
Melt 1-1/2 sticks butter in saucepan. Saute onions, celery and garlic until lightly browned. Remove and set aside. Without rinsing pan, add sausage and cook until lightly browned.

In large bowl, combine Pepperidge Farm Seasoned Bread Crumbs, cranberries, sautéed onions, celery, garlic, and sausage mixture. Combine thoroughly. Add eggs, parsley, paprika, sage, rosemary and 1 cup of chicken stock. You may wish to hand-mix to assure thorough blending of ingredients. Add more chicken stock until dressing sticks together firmly.

Remove turkey from brine. Pat dry, inside and out. Stuff turkey with dressing, and truss.  Melt remaining butter, and rub outer skin with melted mixture.

Shake flour inside turkey oven roasting-bag. Use large roasting pan. Lay carrots in bottom of bag and place stuffed turkey in bag, on top of carrots. Pour 1/2 cup chicken stock in bag, securing with fastener, as directed. Slit top of bag with six ½ inch slits. Cook as directed for stuffed turkey in 325° oven. Cooking times will vary for size of bird.

When done and lightly browned, immediately remove turkey from bag, and place on large serving platter. Let rest for 20 minutes before carving.

Pour liquid from roasting pan into 4-quart saucepan, melt remaining butter, and add it to the mixture, along with remaining chicken stock and 4 oz. Old Chub Scottish Style Ale. Heat to gentle boil. Add salt and pepper to taste. Dissolve cornstarch in cold water. Blend into boiling liquid until thickened.

To serve, scoop out dressing from turkey and serve in a decorative bowl. Carve turkey. Serve with gravy and your favorite side dishes.

Cheers!
 
You Should Also Read:
Hedonism & Midnight Wit at Legacy Brewing
Beer Theme Movie Classics
Cigars and Beer - Beer Fox Pairings


Related Articles
Editor's Picks Articles
Top Ten Articles
Previous Features
Site Map





Content copyright © 2022 by Carolyn Smagalski. All rights reserved.
This content was written by Carolyn Smagalski. If you wish to use this content in any manner, you need written permission. Contact Carolyn Smagalski for details.