Dry Comal Creek Winery, Texas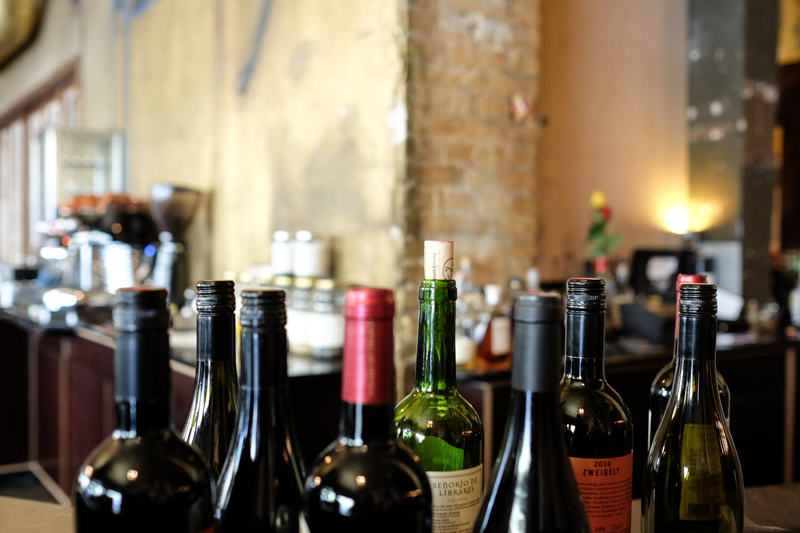 An exuberant band was playing a lively Texas rhythm when I arrived at Dry Comal Creek winery, near New Braunfels between Austin and San Antonio.
I'd come during the annual grape stomp competition. One person furiously pounded mounds of grape bunches with their bare feet in a cut-down wine barrel while their partner collected the juice and restocked grapes. The ones with the most juice would be winners, but all would see their names listed on the large back labels that would be affixed to the 'Foot Pressed' wine made from the juice produced that day.
I met owner Franklin Houser who'd bought 130 acres of land near Dry Comal Creek in the 1970's. When he retired from practising law in 1992 he planted 4,000 wine grape vines and set about building his distinctive winery with its circular stone tower topped with a rooster weather vane. Floods and bad weather damaged the vineyard but its death knell was Pierce's Disease, a bacterial infection spread by insects that kills vitis vinifera vines and against which there is no cure.
Instead of giving up Franklin and his wife Bonnie looked around for something they could grow and make wine from. They found it in the traditional Texan Black Spanish variety. Also known as Lenoir and Jacquez, this mysterious variety has some vinifera in its bloodline and yet it can thrive in areas blighted by Pierces.
Dry Comal Creek would become known as the pioneer of Black Spanish and such has been its success that the winery has to also buy in fruit from nearby growers in order to meet demand.
"This year's crop is exceptional," Franklin told me, "We have Brix of 24-5 degrees and some we buy is 29 Brix." Brix is a measurement of sugar content which equates to just over twice the eventual alcohol by volume of the finished wine, so it seems 2012 vintage will be around 13.5 – 14% abv.
It was about 110 degrees Fahrenheit (43.3C) so I was surprised to see a line of filled barrels baking in the sun outside the winery. "That's my own method for making port," Franklin told me. "After making the port wine, [from Black Spanish with added brandy] we fill the barrels and leave them outside for three years. During that time they cook and evaporation takes about half. What is left is thick and mature."
We tasted from a year old barrel but couldn't get the wine thief (pipette) to reach down far enough in a three year old barrel, so Franklin opened a bottle so we could taste the development of this amazing wine, from rough to sweet and smooth as silk in 1096 days.
Dry Comal Creek also make a range of vinifera wines from grapes they source from New Mexico and California. A best seller is 'Bone Dry' French Columbard: although it's technically dry it has a sweetness to it, a result of the yeast used which, says winemaker Joe Donnow, "rounds out the rough edges."
All wines are available to taste; this policy dates from when the Houser's visited Napa and found they couldn't taste what they wanted to because the wineries limited tasting to just a few.
The winery is a few minutes easy drive west from I35 freeway between Austin and San Antonio at New Braunfels. See www.drycomalcreek.com
Have you visted Dry Comal Winery or tasted Black Spanish? Tell us on our
forum
.
| | | |
| --- | --- | --- |
| | Peter F May is the author of Marilyn Merlot and the Naked Grape: Odd Wines from Around the World which features more than 100 wine labels and the stories behind them, and PINOTAGE: Behind the Legends of South Africa's Own Wine which tells the story behind the Pinotage wine and grape, also available for the Kindle. | |
---
Note: Peter F May travelled in Texas at his own expense. His offer to pay for the tasting was graciously declined.
You Should Also Read:
Sunset Winery, Texas
Munson Memorial Vineyard, Denison, Texas
T V Munson - The Texan who Saved the World's Wine


Related Articles
Editor's Picks Articles
Top Ten Articles
Previous Features
Site Map





Content copyright © 2022 by Peter F May. All rights reserved.
This content was written by Peter F May. If you wish to use this content in any manner, you need written permission. Contact Peter F May for details.