Munson Memorial Vineyard, Denison, Texas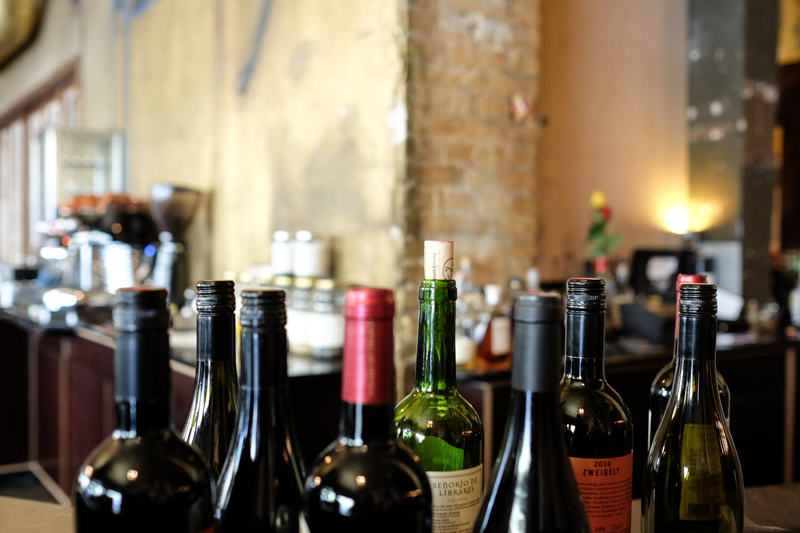 I was lucky to meet Professor Justin Scheiner who administers the Munson Memorial Vineyard and who kindly offered me a guided tour. See part one at
Searching Texas for Munson
The Munson vineyard in Denison, Texas was planted in 1975 with 57 different varieties bred by T V Munson. They had been gathered from over the United States and abroad by Professor Roy Renfro, founder of the vineyard, instigator of the Munson Building and co-author of Munson's biography.
The trellising system used is the Munson Three Wire Canopy Trellis, which has a cross bar at each end of the rows to keep wires separated and which, from a distance, gives the vineyard the look of a graveyard.
Certain of the vines that are considered may have promise as wine producers have been propagated so that there are enough of each to make a sufficient quantity of vine. These are planted in rows next to the library of 57 vines. The hope is to find Pierce's resistant varieties that will make a wine of a quality suitable for modern palates.
At the top of the vineyard I saw a row of young vines with bright green leaves. These were Riesling and other vinifera vines that had been planted by students two years previously. The intention is to show the effect of the local environment on vinifera vines. These need regular spraying against various maladies, and they will succumb to Pierce's disease which makes growing vinifera impossible in most of Texas. The neighbouring Munson vines, have never been sprayed in almost 40 years, and until recently, had no irrigation.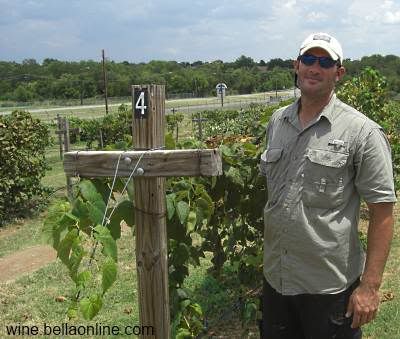 Pierce's is a bacteria spread by leaf hoppers. These tiny insects rose like a living cloud whenever I brushed leaves of the Munson vines. Professor Scheiner (pictured above) explains that wherever the bacteria gets into a vine it reproduces in clusters blocking the transmission of nutrients to the rest of the vine which dies. The disease isn't fully understood but is seems that it does most damage in hot areas. The Texas High Plains, to the west of the state, where vineyards are planted in higher altitudes where it is much cooler, are where the majority of vinifera are grown in the state.
Munson scoured Texas looking for native vines and developed some 300 new varieties by crossing them. The vineyard differs from commercial vineyards by the size of some vines that sprawl for yards along the trellis with trunks as thick as a man's thigh. These vines grow vigorously during the season developing thick canes and an abundance of foliage, such is their comfort in the hot dry Texan climate. They are severely pruned back each winter and it is only recently after a few successive summers of extreme drought that drip-feed irrigation has been installed, but it rarely need to be used.
There is a large variation in leaf sizes, shapes and colours. Some leaves are covered with tiny hairs, some are silver, others as large as a dinner plate, others are delicate and look almost like snowflakes. Some vines have canes that grow upright, some just flop down and have to be tied to the wires to keep them off the ground.
As we walked along the rows of vines we disturbed birds feeding on the grapes. After the college has harvested grapes wanted for winemaking the vineyard is opened to the public to help themselves, but this year the birds got there first. I managed to taste from those remaining. Some were 'slip-skin' grapes where just by slightly squeezing the grape its jellylike flesh pops out in a ball leaving the skin behind. The tastes varied, some were deliciously sweet and would be ideal for the table, although tastes nowadays prefer grapes to be seedless, others had that distinctive native grape taste called 'foxy' and others were too sour for eating but might make good wine.
While it may be some time before wines made from Munson's vines are commercially available, the vines he collected and bred, and their descendents, are still in use around the world. Dog Ridge, collected by Munson, is recommended as a rootstock in both Florida and India for its draught tolerance in addition to disease resistance.
The chance is that the next wine you drink, no matter what it is or where you are, will come from a vine whose roots can be traced back to Texas and T V Munson. So drink a toast to the 'Grape Man of Texas', Thomas Volney Munson, 1843-1913.
Would you like to visit the Munson vineyard? Tell us on our
forum
.
| | | | |
| --- | --- | --- | --- |
| | Grape Man of Texas is a detailed and exhaustive biography of T V Munson. Co-author Roy E Renfro founded the Munson Memorial Vineyard and has been a driving force in ensuring T V Munson is not forgotten. | | This book was never reprinted after the plates were destroyed in wartime bombing. Peter F May spent a year transcribing this new edition of A I Perold's masterpiece. Not a scan or photocopy, this is a newly typeset edition available in both hard and softcopy. |
---
You Should Also Read:
Searching Texas for Munson
T V Munson - The Texan who Saved the World's Wine
Dry Comal Creek Winery, Texas


Related Articles
Editor's Picks Articles
Top Ten Articles
Previous Features
Site Map





Content copyright © 2022 by Peter F May. All rights reserved.
This content was written by Peter F May. If you wish to use this content in any manner, you need written permission. Contact Peter F May for details.